It's Cinco de Mayo this week and Mexican Chocolate Pudding Cake is the perfect dessert to serve at your celebration!
I have been making  another Mexican dessert, Chocoflan for years and this pudding cake shares the same concept. Both of these recipes have layers of cake and custard that reverse while baking. This happens because the heavier custard batter sinks to the bottom and the lighter, air filled cake batter rises to the top.
Mexican Chocolate Pudding is best served warm. You will have pudding at the bottom with a brownie like cake on the top. Go ahead and put some fresh whipped cream or ice cream on it and you are set to go!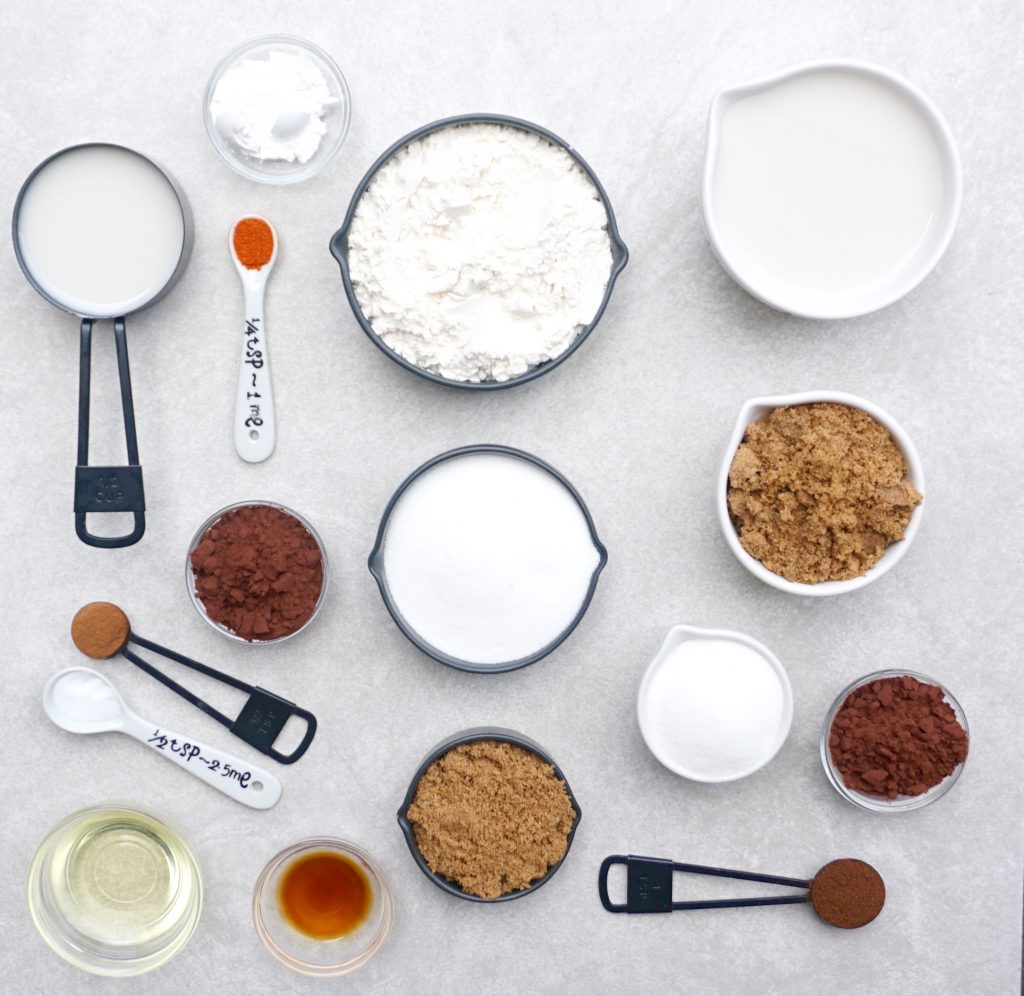 Mexican Chocolate Pudding Cake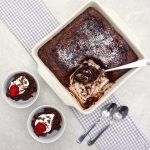 Print This
Ingredients
CAKE:

1 cup all purpose flour

½ cup granulated sugar

¼ cup brown sugar

2 tablespoons dark cocoa

2 teaspoons baking powder

½ teaspoon cinnamon

½ teaspoon salt

¼ teaspoon cayenne pepper

2 tablespoons vegetable oil

½ cup almond milk

1 teaspoon vanilla extract

TOPPING:

¼ cup granulated sugar

½ cup brown sugar

1 teaspoon espresso powder (optional) *see notes

2 tablespoons dark cocoa

1 cup almond milk
Instructions
Preheat oven to 375 degrees . Grease and 8" x 8" baking pan.
CAKE:
In a large bowl, whisk together the flour, sugar, brown sugar, cocoa, baking powder, cinnamon, salt and cayenne pepper.
In a small bowl combine the vegetable oil, almond milk and vanilla extract. Pour into the dry ingredients and combine well.
Spread the cake mixture evenly into your greased baking pan.
TOPPING:
In a medium bowl combine the sugar, brown sugar, espresso powder and cocoa. Add the almond milk and combine well.
Pour over the cake mixture and spread it evenly over the top of the cake.
Bake for 40 minutes. You want the edges to look crispy and the top to be completely dry to the touch.
Let the cake cool for a few minutes.
Serve with whipped cream or ice cream.
Notes
This recipe calls for Almond milk. Whole milk can easily be substituted. Espresso powder adds a darker, richer, flavor to chocolate and it used by baker's. If you do not have this readily available do not worry! You can skip it and still have a delicious dessert.