Lemon Asparagus Quinoa is a great dish to make in the spring when asparagus is in season. I prefer the slender stalks that are readily available at this time of the year, but the thick spears are also great when you are able to get them fresh and local. Asparagus has a fairly short season so I like to eat as much as I can while it lasts!
I usually serve this dish on the side with grilled chicken or fish, but it could certainly be eaten on its own. Quinoa not only has a great nutty flavor but it is also very filling and is a great source of protein.
This dish can be served warm or cold, like a salad. The lemon dijon dressing that is poured over it adds a light freshness and the lemon zest really intensifies that nice citrus flavor.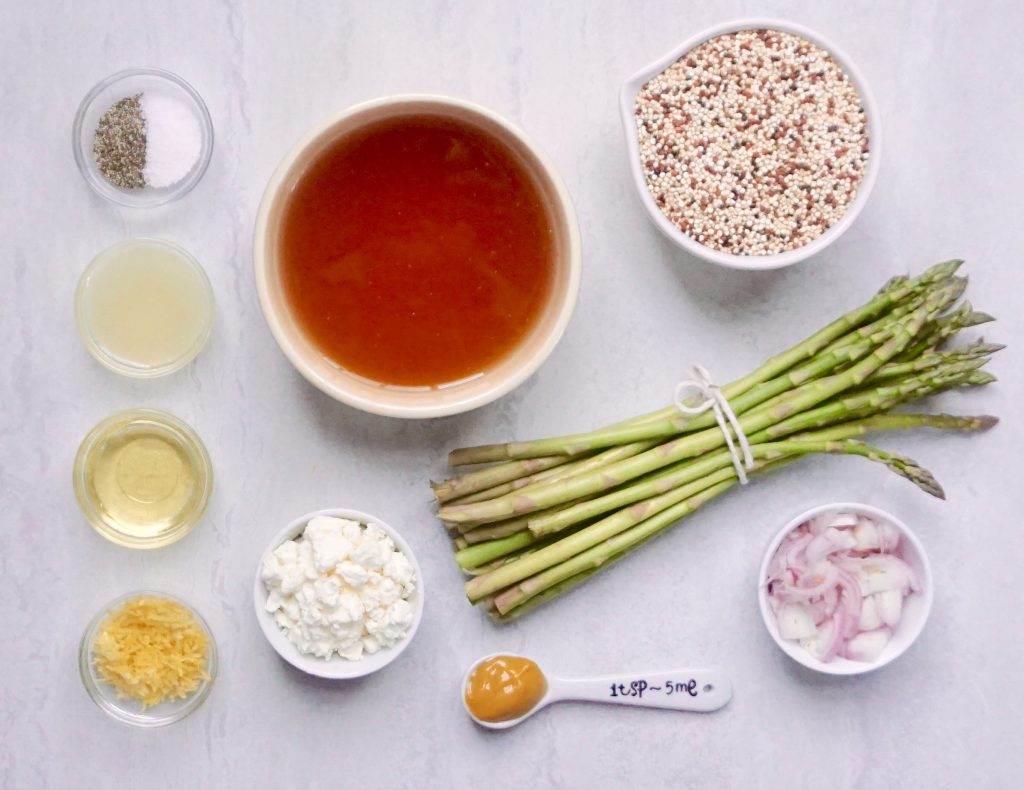 Lemon Asparagus Quinoa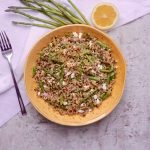 Print This
Ingredients
1 cup rainbow quinoa
2 cups vegetable broth
1 bunch asparagus (25 thin spears)
2 ounces feta cheese, crumbled
1 tablespoon lemon zest (1 lemon)
1 small shallot, sliced thin
1/4 cup olive oil
2 tablespoons fresh lemon juice
1 teaspoon dijon mustard
salt and pepper to taste
Instructions
Rinse the quinoa and place in a medium size saucepan with the vegetable broth. Bring to a boil, then cover the pan and reduce the heat to low. Simmer for 15 minutes until all of the liquid is absorbed.
Cut the tough ends off of the asparagus and slice into pieces about 1 and a 1/2 inches long. The asparagus can either be steamed or blanched.
If you are using a steamer, add about 2 inches of water into a saucepan. Place your steamer basket into the pan. Bring the water to a boil and place a cover on the pan. For slender spears of asparagus steam for about 3 minutes until the asparagus is bright green and slightly tender. If you are using thick spears of asparagus you will need to add one to two minutes additional cooking time. Remove from the heat and drop into a bowl of ice water to stop the cooking process.
If you do not have a steamer insert, add 3 inches of water and a teaspoon of salt to a large stock pot. Bring to a boil. Add the asparagus slices and boil for 3 minutes if you have slender spears of asparagus. Add an additional minute or two if you have thick spears. Drain the asparagus and drop into a bowl of ice water to stop the cooking process.
For the dressing:
In a small bowl combine the olive oil, lemon juice, dijon mustard, and sliced shallots. Add salt and pepper to taste.
In a large bowl, combine the quinoa, asparagus, dressing, and lemon zest. Stir to combine well. Sprinkle the crumbled feta cheese over the top to serve.
If you are planning on serving this warm; add all of the ingredients, with the exception of the feta cheese, back into the pan that you cooked the quinoa in. Heat over medium low heat, stirring occasionally until it is heated through. Transfer to a serving dish and sprinkle the crumbled feta cheese over the top.