Mint Julep Bread Pudding has the ingredients we love in the classic cocktail. There is bourbon in the custard base of the pudding. Mint simple syrup and bourbon add lots of flavor to the glaze that goes over it.
The great thing about making bread pudding is that you have a lot of flexibility. The recipe calls for challah bread but you could really use any bread you have on hand or even a combination of breads. Bread puddings were created as a way to use stale bread. You can also be flexible with the dairy in the recipe. If you do not have half and half, you can use all milk or substitute cream. I would not recommend using milk however that has less than 2 percent fat.
You can be flexible with the glaze as well. If you do not want to make the mint simple syrup, substitute milk.
If you want to try another bread pudding that is great for the spring, check out Strawberry Bread Pudding.
You might also like Chocolate Brioche Bread Pudding, Pumpkin Rum Bread Pudding, and Bailey's Bread Pudding.
If you would like to try a different sauce, check out Chocolate Condensed Milk Bread Pudding Sauce.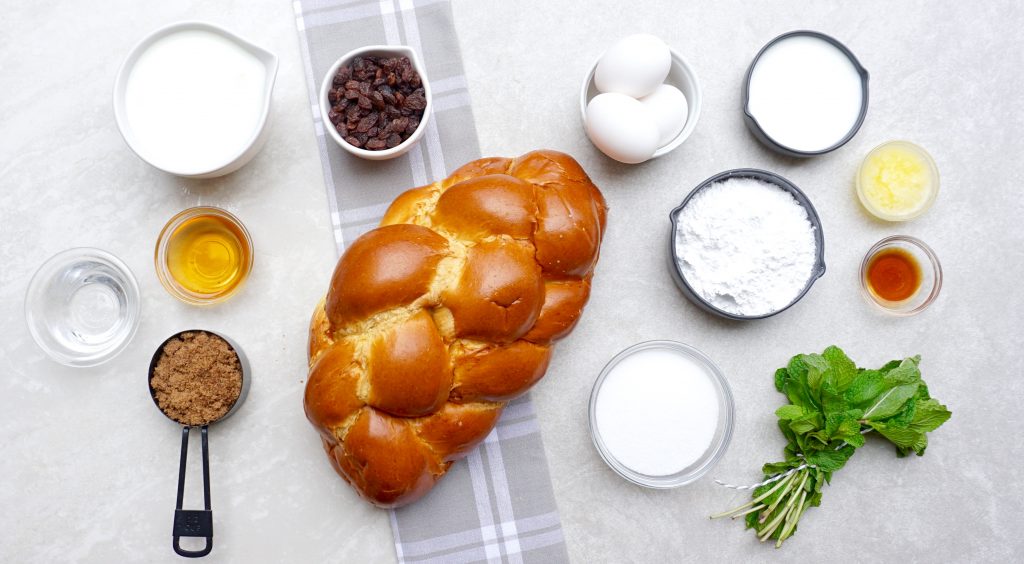 Mint Julep Bread Pudding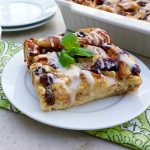 Print This
Ingredients
BREAD PUDDING:

6 cups challah bread, cut into 1 inch cubes, stale is best

½ cup raisins

3 large eggs

2 cups half and half

½ cup whole milk

½ cup brown sugar

2 tablespoons bourbon

1 tablespoon butter, melted

1 teaspoon vanilla extract

GLAZE:

2 cups powdered sugar

1 tablespoon bourbon

3 tablespoons mint simple syrup

MINT SIMPLE SYRUP

½ cup fresh mint leaves

½ cup granulated sugar

½ cup water
Instructions
BREAD PUDDING:
Preheat the oven to 350 degrees.
Grease or spray a 9 inch square baking dish. Place the bread cubes evenly into the dish. Sprinkle the raisins evenly over the bread.
In a large bowl, beat the eggs. Add the half and half, milk, brown sugar, bourbon, melted butter, and vanilla extract. Whisk everything together until it is well combined.
Pour the egg mixture evenly over the bread and raisins. Push on the top of the bread cubes with a fork to make sure they are thoroughly soaked with the egg mixture.
Bake for 50 minutes or until thoroughly set and golden brown. Can be served either warm or cold.
GLAZE:
Place the water, granulated sugar and mint leaves in a small saucepan. Turn the heat to high and bring the mixture to a boil. Lower the heat to low and let the mixture simmer for 2 minutes.
Let the mixture steep in the saucepan for 15 minutes. Pour the syrup through a strainer to remove the leaves. Additional syrup can be kept covered in the refrigerator for 2 weeks.
In a medium bowl, combine the powdered sugar, bourbon and 3 tablespoons of the mint simple syrup. Mix together throughly.
You can drizzle the glaze over the entire bread pudding or serve it on the side.