I think that tacos of any kind are really fun to serve any time of the day, but there is something extra special about having them for breakfast! 
These Breakfast Tacos are  combination of freshly scrambled eggs with chorizo sausage as the base. A simple fresh tomato salsa, shredded cheese and some avocado top them off. The combination of all the ingredients works well together and they are all pretty easy to make.
Avocado Crema is a great addition for serving if you want to add a creamy element.
 These are easy to assemble or if you are entertaining you could just put out all of the different ingredients and let your guests assemble their own.
If you like a Mexican inspired breakfast you should check out Mexican Corn Cakes and Chorizo Breakfast Burritos.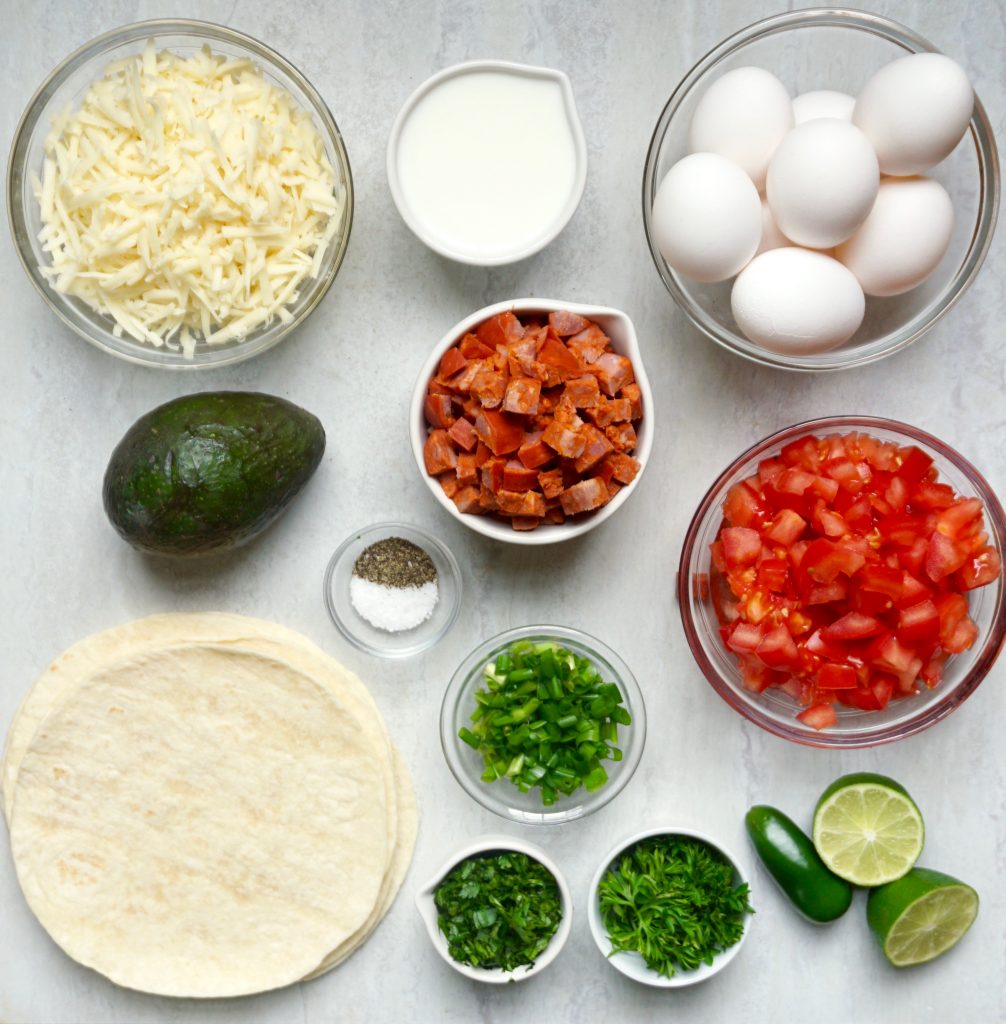 Breakfast Tacos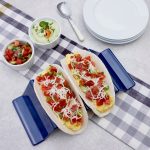 Print This
Ingredients
8 large eggs

½ cup milk

8- 6 inch flour tortillas

½ teaspoon salt

½ teaspoon black pepper

2 cups Monterey jack cheese

8 ounces chorizo sausage, diced

1 avocado, diced into small cubes

SALSA:

2 cups fresh tomato, diced

4 green onions, sliced thin

¼ cup fresh cilantro leaves, chopped

1 tablespoon fresh lime juice

Salt and pepper to taste

Optional: ½ jalepeno pepper, seeds removed and diced
Instructions
In a large bowl, whisk together the eggs, milk, salt and pepper. You really want to whisk them hard as you are adding air into them!
Spray a large non- stick skillet with cooking spray or melt 1 tablespoon of butter in the pan . Add the eggs and cook over medium low heat, stirring with a heat resistant rubber spatula. Continue stirring until there is no liquid left in the eggs. Turn off the heat and keep stirring until the eggs are firm and set but still moist.
To cook the diced chorizo, spray a small skillet or add a teaspoon of oil to the pan. Turn the heat to medium low heat and add the chorizo. Cook, stirring occasionally for 3- 4 minutes until browned.
If you want your tortillas to be warm, stack them and wrap them with aluminum foil. Place them in a 350 degree oven for 15-20 minutes until they are heated through.
For the salsa: combine the diced tomatoes, green onions, chopped cilantro and lime juice. Add the jalepeno pepper if you are using it. Taste and then season with salt and pepper.
To assemble: Spoon ¼ cup of the scrambled eggs onto the tortilla and sprinkle with chorizo. Add a large spoonful of salsa, a couple tablespoons of the shredded cheese and some avocado cubes.
You could also make a "taco bar" set up with all of the ingredients and let everyone assemble their own.