Strawberry Banana Muffins are made from simple ingredients and they are flavorful and delicious. A banana based muffin and juicy strawberries are a perfect combination that makes a great breakfast. With a baking time of 18-20 minutes, they get breakfast on the table fast! What's better than a warm muffin straight from the oven? This easy muffin recipe is going to become a family favorite that you should bake this strawberry season.
Banana that is mashed to a puree makes these muffins very moist. Make sure that you use overripe bananas to get the optimal flavor. A banana that is turning brown is best.
I used fresh strawberries in this recipe but if you want to kick it up a notch you could use Roasted Strawberries instead. The roasting intensifies the flavor of the berries.
If you are a fan of the strawberry banana combination in these Strawberry Banana Muffins,  check out Strawberry Banana Pancakes and Strawberry Streusel Banana Bread .  They are both  great ways to use up your over-ripe bananas.
If you would like to try another easy muffin recipe to use overripe soft bananas, check out Banana Chocolate Chip Muffins.
You might also like 20 Simple Summer Strawberry Recipes.
SOME THINGS TO KNOW: FAQ'S 
SPECIAL EQUIPMENT NEEDED:
12 cup muffin tin
paper liners for muffin cups/cupcake liners
INGREDIENT TIP:
You want to be using an over ripe  banana for the best flavor in this recipe. Read this article from King Arthur Baking to see the Best Bananas for Banana Bread. The same would apply to the banana for these muffins.
SUBSTITUTIONS: 
You can substitute whole wheat flour for the all purpose flour in the same measure.
You can swap out the granulated sugar for light brown sugar.
If you do not have vegetable oil, you can substitute safflower or canola oil without changing the taste.
If you do not have whole milk, 2% milk, half and half, or heavy cream would be good dairy substitutes. If you prefer a non-dairy substitute use almond milk or oat milk.
You can substitute fresh strawberries with defrosted frozen strawberries.
HOW TO STORE LEFTOVER STRAWBERRY BANANA MUFFINS:
You can store any leftover muffins for a day in an airtight container or covered in plastic wrap at room temperature.
if you do not plan to use them by the next day, they should be frozen. Place the muffins onto a baking sheet and place them into the freezer. Once the muffins are frozen, remove them from the baking sheet and place them into an airtight freezer container or freezer bag. This is actually a great recipe to make ahead of time because these muffins freeze well.
You can easily defrost the muffins in the microwave on the defrost setting. It should take about 60-90 seconds for a muffin, depending on the power of your microwave.
You can also place the frozen muffins onto a wire rack to defrost.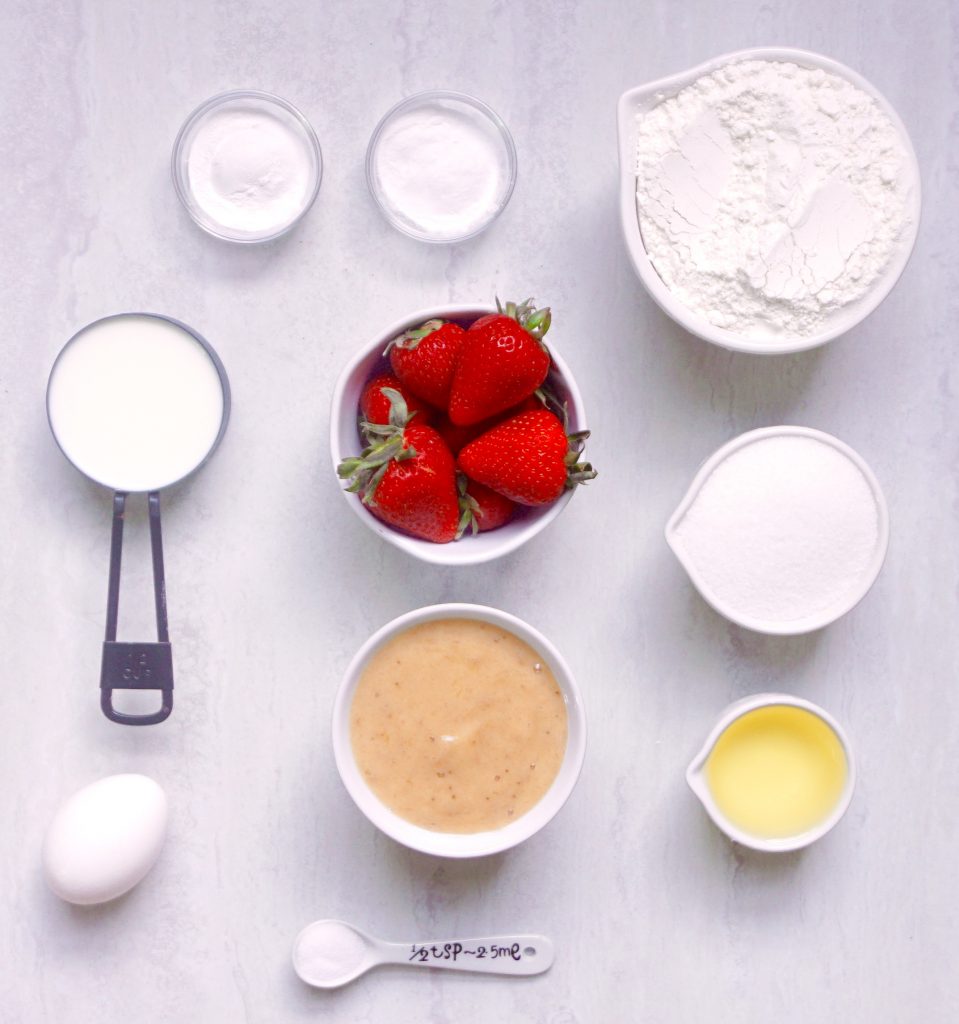 Strawberry Banana Muffins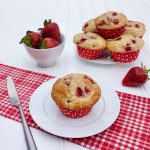 Print This
Ingredients
1 ½ cups all purpose flour

2 tsp Baking powder

½ cup granulated sugar

½ teaspoon salt

1 large egg (room temperature)

¼ cup Vegetable oil

½ cup whole milk

1 cup fresh chopped strawberries

1 large very ripe banana, mashed into a puree (this can be done with a fork)
Instructions
Preheat muffin to 400 degrees
Place 12 paper liners in a muffin tin.
In a large bowl combine the dry ingredients, flour, sugar, baking powder and salt.
In a small bowl, beat the egg. Add the milk, and vegetable oil. Mix well. You can do this with a whisk or hand mixer.
Add the wet ingredients to the flour mixture and combine well.
Stir in the fresh berries and mashed bananas  Combine well.
Spoon the muffin batter evenly into the 12 cupcake liners. Bake for 18- 20 minutes on the top oven rack, depending on how hot your oven temperature runs. Just make sure that the center of the muffins are completely set.
Cool for a few minutes in the muffin tin. Either serve warm or remove to a wire rack to cool completely.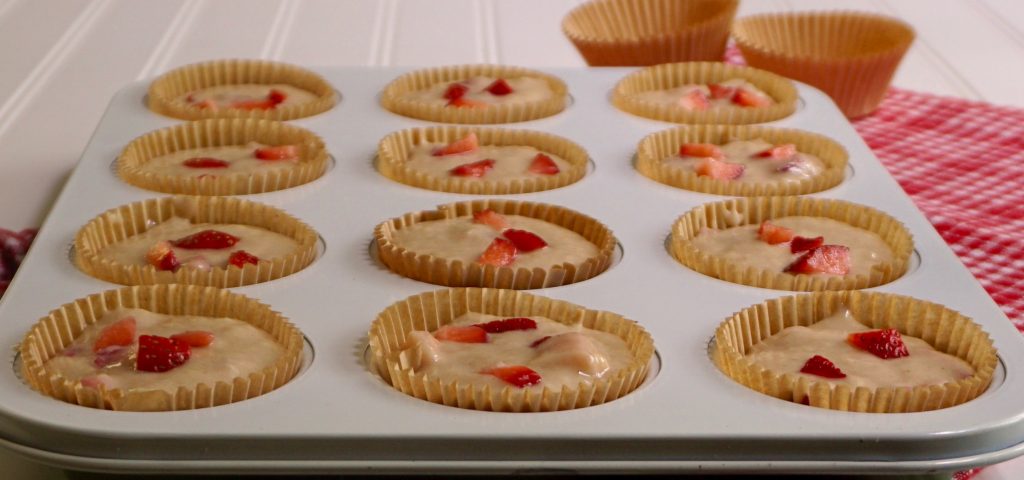 Reserve a few of the diced strawberries and drop them onto the tops of the muffins.