Pumpkin Oatmeal Pancakes are a great fall breakfast to make during pumpkin season.The pumpkin makes them moist and fluffy pancakes. The oatmeal and whole wheat flour makes them a healthy option that will keep you full for quite a while.
The batter is easily made in a blender with simple ingredients and these healthy pumpkin pancakes cook in only 5-6 minutes. I will give you mixing directions without a blender as well. You can cook them on a griddle or in a skillet. This recipe makes a dozen fluffy pumpkin pancakes. If that is more than you need don't worry! The extra pancakes will freeze nicely.
Pumpkin Oatmeal Pancakes would be a fun breakfast for both Halloween and Thanksgiving. If you want to try some other fall pumpkin recipes for breakfast check out Pumpkin Crumble Muffins, Pumpkin Waffles,Cream Cheese Pumpkin Bread, Pumpkin French Toast and Pumpkin Baked Donuts.
If you would like to try some other delicious pancakes for the holidays that are not pumpkin, check out Bananas Foster Pancakes and Gingerbread Pancakes.
If you would like to try some other healthy pancakes, check out Blackberry Pancakes.
SOME THINGS TO KNOW:FAQ'S
INGREDIENT TIPS:
If you can't find canned pumpkin puree, you can make your own by roasting pumpkin pieces and then blending them until smooth.
Pumpkin spice isn't only for pumpkin dishes. Try it in your coffee, oatmeal, or even on roasted veggies for a warm autumnal flavor. Here is how to make Pumpkin Pie Spice.
SPECIAL EQUIPMENT NEEDED:
 Blender  (see below if you do not have a blender)
Food processor
Large Bowl
Small Bowl
Whisk
SUBSTITUTIONS:
You can substitute 1 cup all-purpose flour for the whole wheat flour. If you want to maintain the health benefits, you can also use 1 cup of another whole grain flour, like barley flour or oat flour.
Substitute 1 cup quick oats or 1 cup steel-cut oats for the rolled oats. You could also use gluten-free oats.This might slightly change the texture of the pancake.
If you do not have dark brown sugar substitute 2 tablespoons of light brown sugar or 1 tablespoon molasses and  1 tablespoon granulated sugar.
If you do not have pumpkin pie spice substitute: 1/2 teaspoon ground cinnamon + 1/4 teaspoon ground ginger + 1/8 teaspoon ground nutmeg + 1/8 teaspoon ground cloves or allspice to create the spice blend.
You can use unsweetened almond milk, soy milk, oat milk, coconut milk or any other plant-based milk for a dairy-free option in the place of the whole milk. Or use buttermilk for a tangier flavor.
Substitute 1/2 cup mashed sweet potatoes, butternut squash puree, or carrot puree if you do not have pumpkin puree. Keep in mind, the flavor will change slightly based on the substitution.
If you do not have canola oil, substitute 2 tablespoons melted coconut oil, sunflower oil, vegetable oil, or melted vegan butter.
HOW TO STORE PUMPKIN OATMEAL PANCAKES:
If you're going to eat the pancakes within a day or two, place them in an airtight container or resealable plastic bag and store them in the refrigerator. You could also store them on a plate that has been tightly covered with plastic wrap.
Before freezing, let the pancakes cool completely  to room temperature on a wire rack to prevent condensation.Place a sheet of parchment or wax paper between each pancake to prevent them from sticking together. Place the layered pancakes in a freezer-safe bag or airtight container. Make sure to press out as much air as possible from the bag before sealing. To maintain the best quality only freeze the pancakes for 2-3 months.
Defrost the pancakes on a wire rack.
HOW TO REHEAT PUMPKIN OATMEAL PANCAKES:
To reheat the pancakes in the oven, preheat your oven to 350°F (175°C).Place the pancakes in a single layer on a baking sheet. Heat for about 10 minutes, or until they're hot and slightly crispy on the outside.
To reheat the pancakes in the microwave oven layer 1-2 pancakes between two paper towels (this will help absorb any excess moisture).Microwave on high for about 20 seconds for a single pancake or 40-60 seconds for two. The exact time will depend on your microwave's power.
To reheat the pancakes on the stovetop, heat a non-stick pan over medium-low heat. Once it's warm, add the pancakes in a single layer. Cook for 1-2 minutes on each side, or until they're warmed through and slightly crispy on the outside.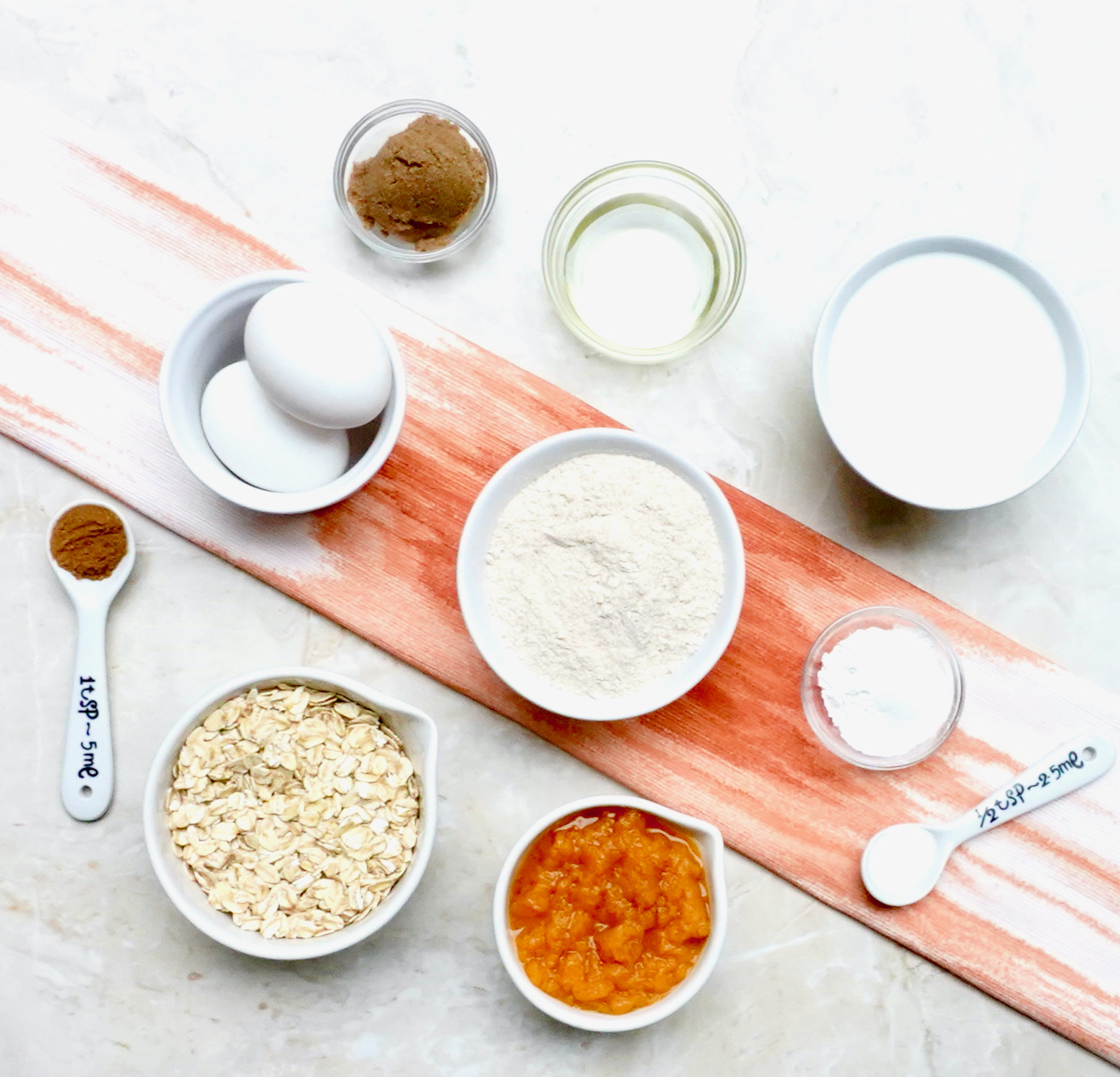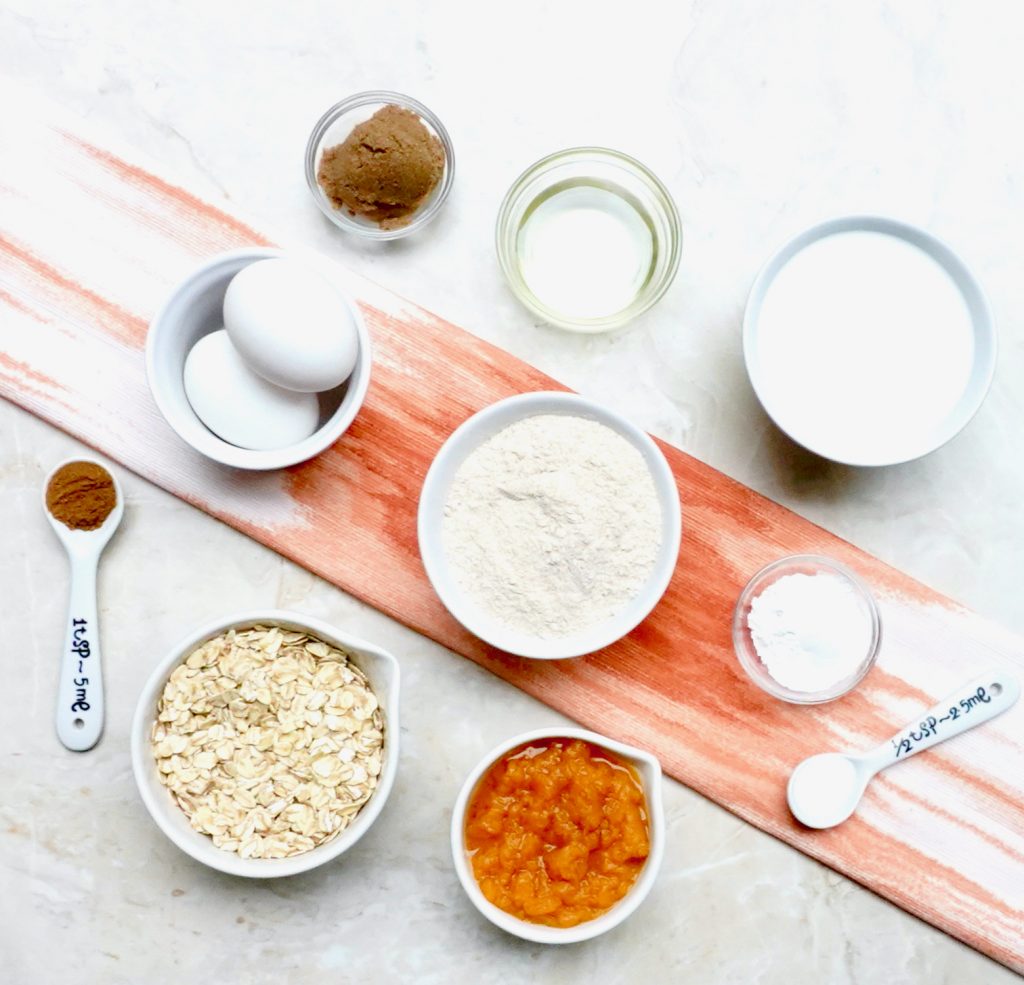 Pumpkin Oatmeal Pancakes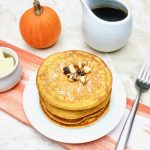 Print This
Ingredients
1 cup whole wheat flour

1 cup old fashioned rolled oats

2 tablespoons dark brown sugar

2 teaspoons baking powder

1 teaspoon pumpkin spice

½ teaspoon iodized salt

2 large eggs

1 cup whole milk

½ cup pumpkin puree

2 tablespoons canola oil

cooking spray
Instructions
To mix with a blender:
Add the flour, oats, brown sugar, baking powder, pumpkin spice, salt, eggs, milk, pumpkin,  and canola oil to your blender. Process until you have s smooth batter.
If you do not have a blender but have a food processor, add the oatmeal and process it until is smooth like flour.
In a large bowl, combine the flour, processed oatmeal, brown sugar, baking powder, pumpkin spice, and salt with a whisk.
In a medium bowl, whisk the eggs, milk, pumpkin and canola oil.
Add the wet ingredients to the dry ingredients and whisk together well.
Heat a griddle to 350 degrees or heat a large skillet over medium heat.
Spray the griddle or skillet with cooking spray.
Use a measuring cup to measure out ¼ cup of batter. Add ¼ cup at a time to the griddle or skillet, pouring slowly to create a round pancake.
Cook the first side for 2-3 minutes until bubbles start to form.
Use a metal spatula to turn the pancake over and cook another 2-3 minutes until the second side is golden brown.
If you are cooking the pancakes in batches in a skillet, place the first batch into a 200 degree preheated oven on a baking sheet to keep warm while you cook the remaining pancakes.
Serve the pancakes with pure maple syrup.