Bananas Foster Pancakes are a great recipe for a special breakfast or brunch. Fluffy buttermilk pancakes are topped with a sauce made with butter, brown sugar, maple syrup, dark rum and cinnamon. Banana slices are heated in the sauce and the banana topping is served over the stack of pancakes.Chopped walnuts are sprinkled over the top. The result is so delicious.
Homemade pancakes are an easy recipe to make. They are made with ingredients you might already have in your pantry and you can whisk them together. No mixer needed!
What's better than a stack of fluffy pancakes for breakfast? If you want to try some other new recipes besides the Bananas Foster Pancakes, check out Strawberry Whole Grain Pancakes, Red Velvet Pancakes, Pumpkin Oatmeal Pancakes, Caramel Apple Pancakes, Blueberry Cinnamon Pancakes, Gingerbread Pancakes and Strawberry Banana Pancakes.
SOME THINGS TO KNOW:
You want to use ripe bananas that are just ripe and still very firm. They need to be nice and firm so they will maintain their shape while heating.
If you prefer not to use rum in the topping, you can omit it and add 1 teaspoon of rum extract. You can increase the maple syrup by ¼ cup to maintain the same volume of liquid.
Extra pancakes can be kept in the refrigerator for 3-5 days in an airtight container.
You can freeze the pancakes for up to 3 months. For the best results, place the pancakes into the freezer on a baking sheet, single layered. Once they are frozen you can place them into a freezer bag and return them to the freezer.
To reheat pancakes, preheat the oven to 350 degrees. Place the pancakes onto a cookie sheet in a single layer and cover them with with foil. Place them into the oven for 5-7 minutes until they are heated through.
The topping is going to be best when it has just been made. The heat of the sauce will soften the bananas. Reheating the sauce will cause the bananas to start to break down.
This recipe calls for buttermilk in the pancakes. Did you know that you can easily make your own buttermilk at home. It is simple to do by adding white vinegar. For the 1 ½ cups of milk in this recipe, you need to add 1 ½ tablespoons of the vinegar. Stir it well and let it sit for 10 minutes before using.
Bananas Foster is a delicious dessert that was created at Brennan's Restaurant in New Orleans. The sauce and bananas are served flambé over a scoop of vanilla ice cream. Flambé is the process of pouring alcohol over something and lighting it on fire. For this dessert banana liqueur is poured over the banana topping and lit.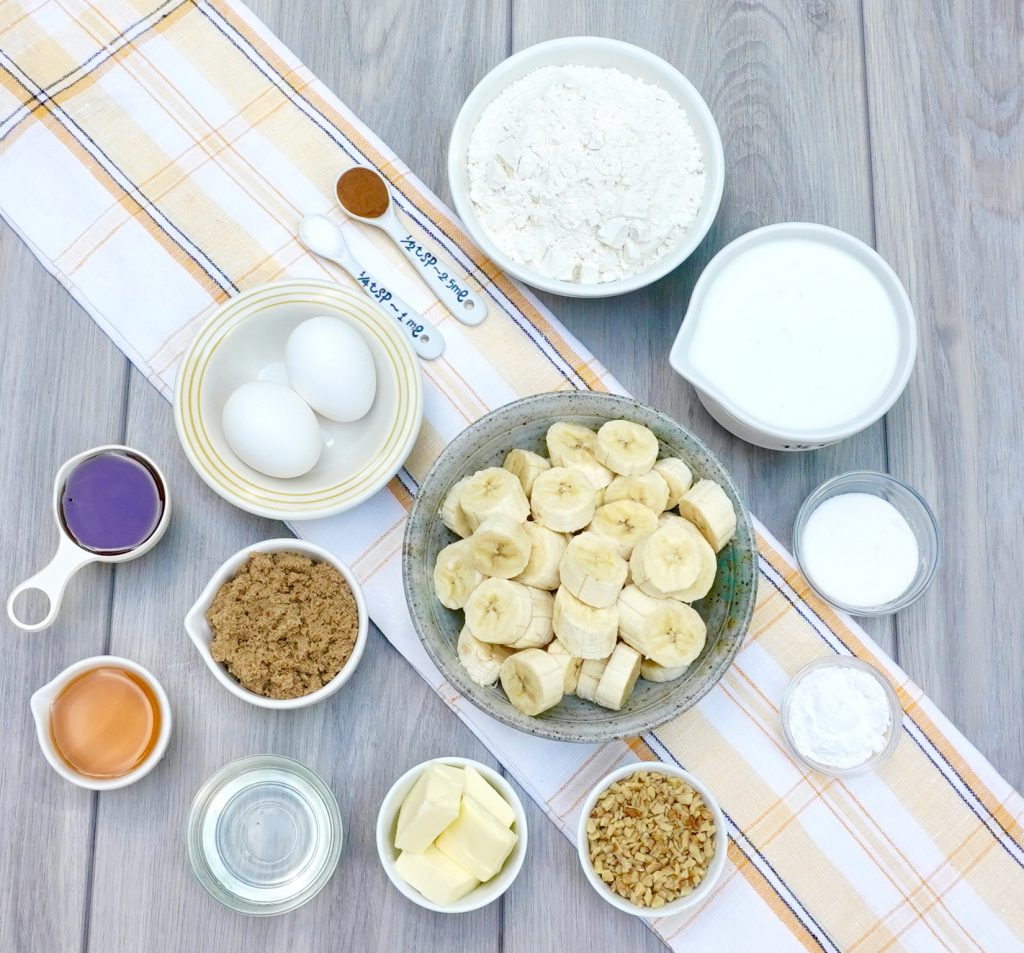 Bananas Foster Pancakes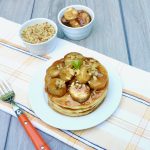 Print This
Ingredients
PANCAKES:

1½ cups all-purpose flour

3 tablespoons sugar

2 ½ teaspoons baking powder

½ teaspoon salt

2 large eggs

1 ½ cups buttermilk

3 tablespoons vegetable oil

*non stick cooking spray

FOSTER SAUCE:

4 tablespoons butter

½ cup dark brown sugar

¼ cup maple syrup

¼ teaspoon ground cinnamon

¼ cup dark rum

4 bananas sliced about ½ thick

¼ walnuts, finely chopped
Instructions
PANCAKES:
In a large bowl, mix the flour, sugar, baking powder and salt.
In a small bowl, beat the eggs. Stir in the milk and vegetable oil.
Pour the wet ingredients over the dry ingredients and gently whisk them together, mixing just until combined.
Spray an electric griddle or a large nonstick skillet with non stick spray and heat over medium heat.
Pour ¼ cup of the pancake batter onto the griddle for each pancake.  Cook until the top of each pancake is speckled with bubbles and some bubbles have popped open, about 2 minutes.  With a spatula, turn the pancakes over and cook until the underside is lightly browned about 2 minutes.
Serve immediately or place the pancakes onto a baking sheet and into a warm oven set to 200 degrees while you finish cooking the rest.
FOSTER SAUCE:
In a large skillet place the butter over medium low heat. Stir it occasionally while it melts.
Add the brown sugar, maple syrup and cinnamon to the melted butter in the skillet. Let the mixture simmer over medium low heat for 1-2 minutes until it thickens.
Add the rum and stir to combine well.
Add the bananas to the skillet and stir them in very gently. Let them heat through for 1-2 minutes.
Place the pancakes onto serving plates and spoon the  bananas and sauce over the over the top of the pancakes.
Sprinkle with ground walnuts and serve.