Lemon Chive Quinoa Patties are a great way to use fresh chives. These simple quinoa patties are vegetarian. They would make a great Meatless Monday meal.
You can top them withAvocado Crèma which is a mixture of avocado and sour cream or Tzatziki which is a simple yogurt sauce that is made with Greek yogurt, grated cucumber and fresh dill.They are both flavorful toppings.
 This recipe is perfect for meal prep which is the true cornerstone of healthy weekday eating.
Make a batch of these Lemon Chive Quinoa Patties on Sunday and have them for lunch a couple times during the week. These quinoa patties will keep well covered in an airtight container in the refrigerator for up to 5 days. You can also freeze them for up to 3 months in an airtight freezer container. To freeze them simply place the cooked quinoa cakes on a baking sheet that is lined with parchment or waxed paper into the freezer. Once they are frozen, place them into the container.
If you want to make some extra quinoa while you make this recipe, you could use it in Quinoa Citrus Salad, Pomegranate Quinoa Salad, Vegetable Quinoa Soup, Butternut Squash Quinoa Salad, Apple Cinnamon Quinoa, Zucchini Corn Quinoa Salad or Lemon Asparagus Quinoa.
SOME THINGS TO KNOW:
Chives are a great addition to your herb garden. They come back every year and get larger every season. If you plant them you will have fresh herbs on demand through the first frost. It's not a huge investment and it will save you a lot of money over time if you like to cook with fresh herbs.
If you do have access to fresh chives you can finely chop green onions or red onion for this recipe in the same amount as the chives.
Quinoa is a good choice when you are making a vegetarian recipe. It is a grain crop known for edible seeds. The whole grains are rich in protein, fiber and B vitamins and minerals.
If you do not have vegetable broth, you can simply cook the quinoa in cold water.
If you do not have Panko, bread crumbs will work fine in this recipe.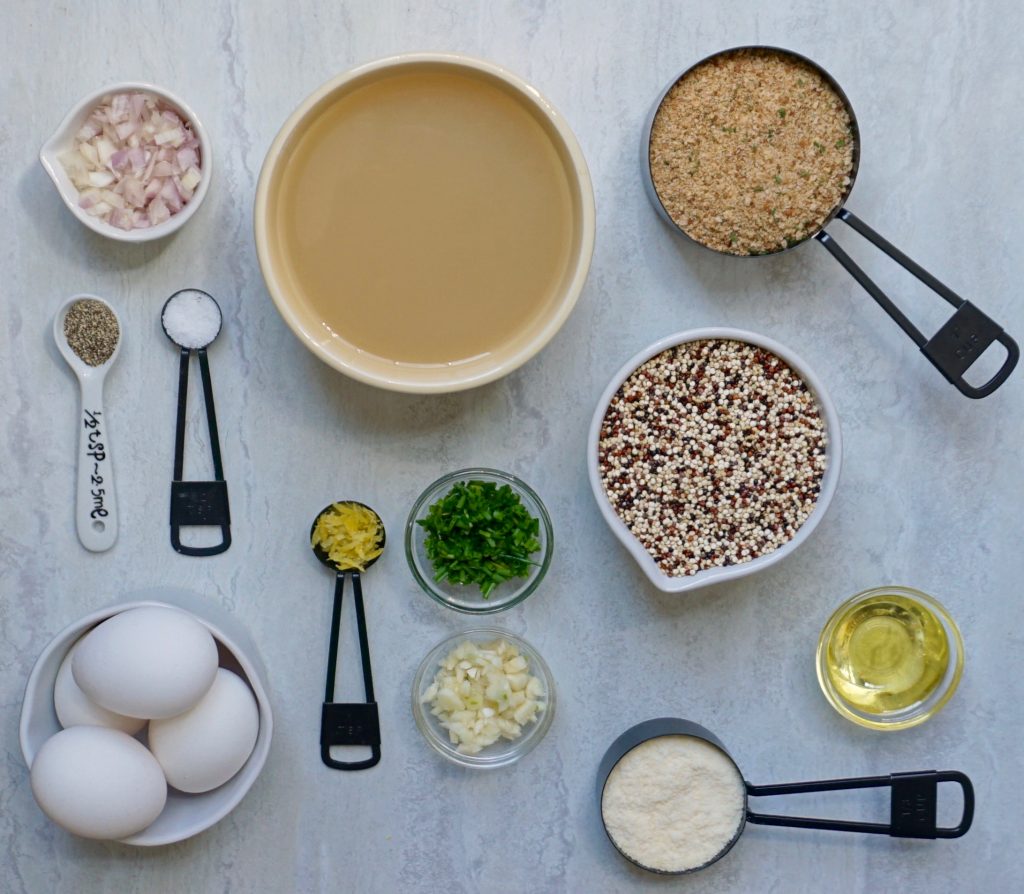 Lemon Chive Quinoa Patties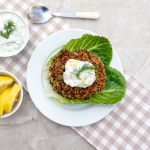 Print This
Ingredients
1 cup rainbow quinoa
2 cups vegetable broth
2 tablespoons fresh chives, chopped
1 teaspoon lemon zest
i teaspoon lemon juice
¼ cup shallots, chopped
2 cloves garlic, minced
1 cup whole wheat panko
1/3 cup grated parmesan cheese
4 eggs, beaten well
2 tablespoons olive oil
½ teaspoon kosher salt
½ teaspoon black pepper
Instructions
Place the quinoa in a medium saucepan with the vegetable broth and bring to a boil over medium-high heat. Reduce the heat to low, cover the pan and simmer for 15 minutes until all of the liquid is absorbed. Let the quinoa stand for 5 minutes.
In a large bowl combine the cooked quinoa with the chives, lemon zest, lemon juice, shallots, garlic, panko, parmesan cheese, eggs, salt and pepper. Combine well.
Stir to combine.Scoop level 1/3 cup measures of the mixture and form mixture into patties. You should have 12 patties.
Heat the olive oil in a large skillet over medium heat. Add six patties at a time to the pan. Cook for 4-5 minutes on each side until they are golden brown. Add additional oil if needed.
You can serve the patties hot from the pan or place them onto a wire rack and cool them to room temperature. You may want to blot away any of the cooking oil with a paper towel.
Notes
If you do not want to cook these all at once, you can freeze them uncooked and finish the cooking process at another time. They are a bit delicate so I froze them on a lined cookie sheet. Once frozen, I removed them and placed them into plastic bags for storing.