Tomato Ramen Soup is a simple, comforting vegan soup that is simple to make with pantry ingredients. Tomato soup is the ultimate winter comfort food and the addition of ramen makes it a bit more hearty.
This simple soup can be ready in under 30 minutes. There is very little work involved to create this flavorful meal.
This soup can be kept in the refrigerator for 3-5 days. It can also be frozen for 2-3 months. Make sure that it is placed into an airtight freezer container.
If you are a tomato soup fan, check out Tomato Rice Soup, Roasted Tomato Soup, Lasagna Soup and Mediterranean Vegetable Soup.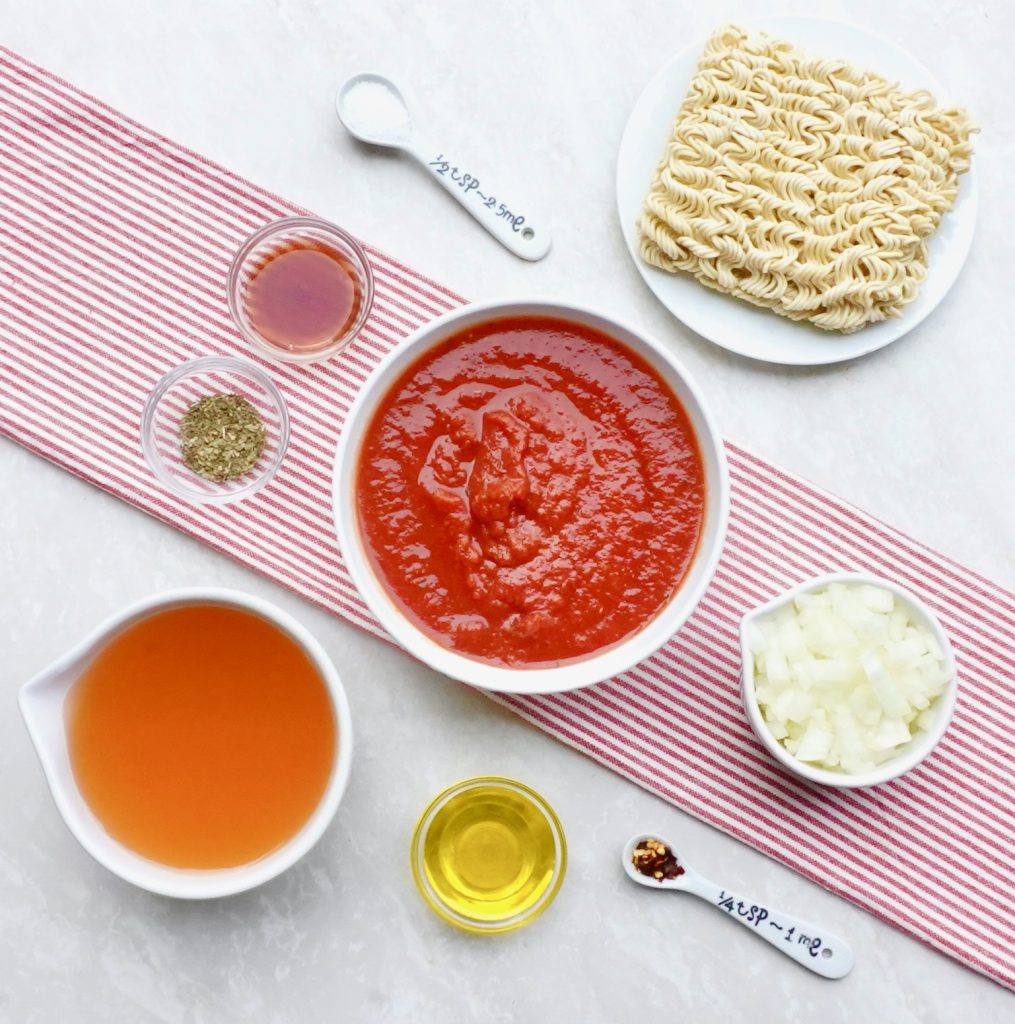 Tomato Ramen Soup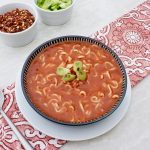 Print This
Ingredients
1 tablespoon olive oil

½ cup yellow onion, chopped

28 ounce can crushed tomatoes

2 cups vegetable broth

1 teaspoon red wine vinegar

1 teaspoon dried basil

½ teaspoon kosher salt

¼ teaspoon crushed red pepper

3 ounce package Ramen noodle soup mix ( do not use the soup flavoring packet)
Instructions
Heat the olive oil in a large pot over medium low heat.
Add the onions and cook, stirring occasionally until they begin to soften. (Do not brown)
Add the crushed tomatoes, vegetable broth, red wine vinegar, basil, salt and crushed red pepper. Combine well.
Raise your heat on your burner to the high setting and bring the soup to a boil. Once it boils reduce the heat back down to medium low.
Cook uncovered for 20 minutes, stirring occasionally. Keep your heat at either medium low or low. You want the soup to be at a gentle simmer.
While to soup is cooking, fill a medium saucepan with water and bring it to a boil.
Using your hands, break up the ramen noodles and add them to the pot. (Do not use the soup packet that comes with the noodle) Cook according to the directions on the package. Drain the noodles.
Once the soup has simmered for 20 minutes, stir in the ramen noodles. Let it simmer another 2-3 minutes so the noodles heat through.  Serve.