Tomato Rice Soup is a healthy vegan soup. It is hearty and comforting with lots of flavor. Homemade tomato soup is so easy to make and is mainly made with pantry staples. If you grew up eating Campbell's Old Fashioned Tomato Rice Soup you are going to love this! This soup is a real crowd pleaser and a great meal.
With just a few simple ingredients you can create a fresh tasting soup that is filling and delicious. This soup comes together fairly fast. With a cooking time of 30 minutes, you could easily make it for busy weeknights. Add a grilled cheese sandwich and you really have it all! This one will be a family favorite.
Make a batch of this soup and bring it for lunch. You can make it ahead of time and it tastes even better the next day. It will keep in the fridge for several days and it freezes well.  It is one of the most delicious soups of all. If you like tomato based vegan soups you should check out Mediterranean Vegetable Soup, Vegetable Quinoa Soup,  Lentil Soup, and Tomato Ramen Soup.
You might also like 10 Simple Vegan Soups.
SOME THINGS TO KNOW:
SUBSTITUTIONS:
If you do not have crushed tomatoes, you can use a 28 ounce can of tomato puree, tomato sauce or whole undrained tomatoes. Make sure to process the whole tomatoes in a blender or food processor until smooth.
You can swap out the white rice for brown rice or wild rice. The addition of brown rice will make the soup a bit healthier as it still has its bran and germ layer. These are stripped off of white rice. Both of these rices will require a longer cooking time than the white rice will. If you use them, check the package instructions for cooking times to make a tender rice.
You can use chicken broth or chicken stock instead of the vegetable broth if you do not need for this to be a vegan soup.
You can substitute Italian seasoning for the dried basil if you want.
STORAGE:
You can keep any leftover soup in the refrigerator in an airtight container for 3-5 days.
This soup will freeze well and can be kept in the freezer for 2-3 months. Make sure it is placed into an airtight freezer container. Defrost the soup overnight in the refrigerator.
REHEATING:
Place the leftover Tomato Rice Soup into a large saucepan and reheat over medium low heat.
MORE GOOD COMFORT SOUPS
Chicken Noodle Soup, Chickarina Soup, and Sun Dried Tomato Tortellini Soup.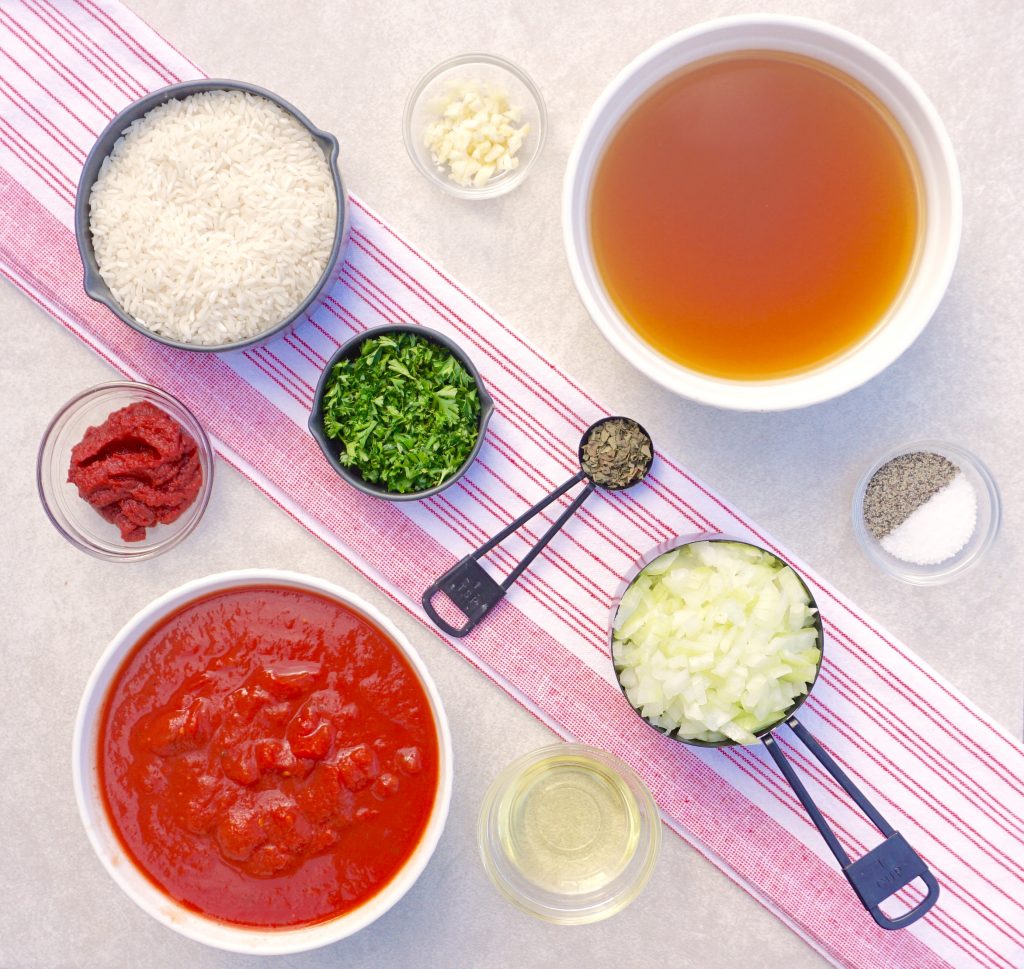 Simple ingredients come together quickly to make this soup.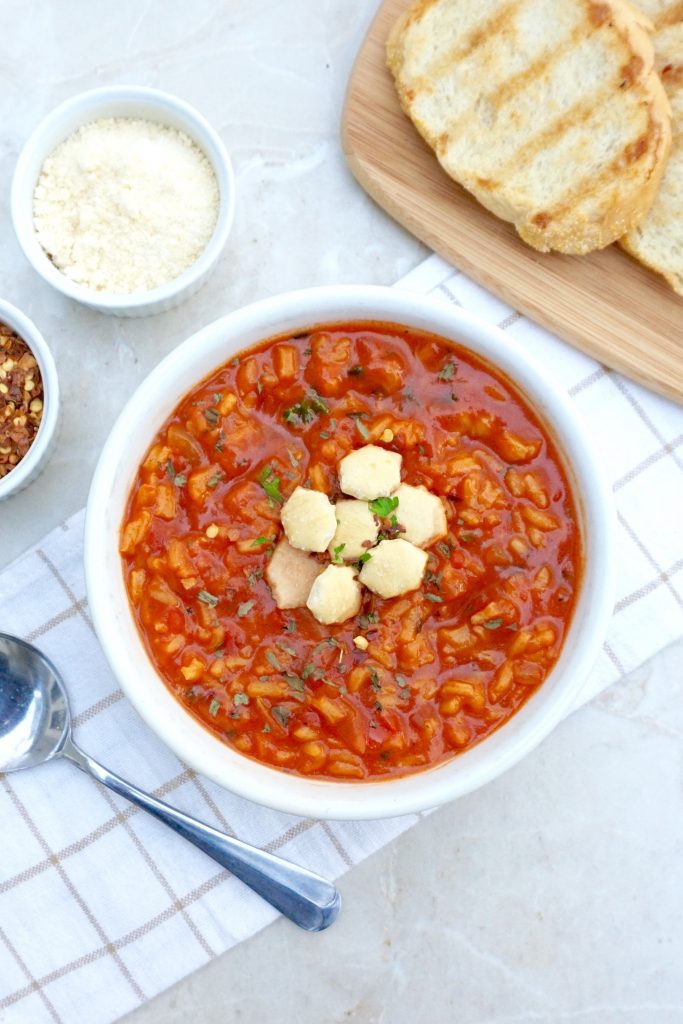 Tomato Rice Soup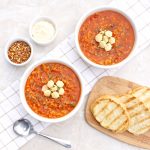 Print This
Ingredients
2 tablespoons olive oil or vegetable oil

1 cup yellow onion, chopped

2 garlic cloves, minced

28 ounce can crushed tomatoes

2 tablespoons tomato paste

1 teaspoon dried basil

½ teaspoon kosher salt

½ teaspoon black pepper

4 cups vegetable stock or vegetable broth

1 cup long grain rice

¼ cup fresh parsley or fresh basil

Optional: 1 tablespoon sugar *see note

1 bay leaf
Instructions
Heat the olive oil in a large pot over medium low heat. 
Add the onion and garlic and cook for 3 minutes, stirring often.
Add the tomatoes, tomato paste, basil, salt and pepper. Simmer uncovered for 10 minutes. 
Add the vegetable broth. Raise the heat to the  high setting  and bring it to a boil. 
Add the rice and adjust the heat back to medium low so you have a slow simmer. 
Cook, uncovered until the rice is tender, 15-20 minutes.
Stir in the parsley.
Notes
Sugar cuts some of the acidity in tomatoes.