This Chickarina Soup recipe is just what you need for the fall. It is simple to make, flavorful and delicious. This recipe is a copycat Progresso Chickarina soup that you can make at home. This is comfort food at it's best that a whole lot of people love!
Similar to an Italian wedding soup with small meatballs, it is a hearty soup that is great for a cold day in the fall and winter months. This recipe allows you to make a large pot which is far more economical than purchasing small cans of soup plus you can be sure that there are no artificial flavors or artificial sources added. This beloved chicken soup variation made with quality ingredients is sure to become one of your family favorite dishes.
If you would like to try some other chicken soup recipes for the cold months  ahead, check out Lemon Chicken Soup, Chicken Noodle Soup, Lemon Chicken Rice Soup, Chicken Brown Rice Soup, and Chicken Tortilla Soup.
If you would like to try another meatball soup, check out Spaghetti Meatball Soup.
SOME THINGS TO KNOW:
You can easily make ground chicken at home by placing boneless skinless chicken breast into the bowl of a food processor and pulsing it until ground. Use 8 ounces of the boneless chicken.
If you prefer to use homemade homemade stock in this soup and you do not have a recipe, check out Homemade Chicken Broth for a good healthy version.
Pearl couscous is also known as Israeli couscous. It is little pasta pearls that have been lightly toasted. If you cannot find this at your store you could substitute orzo pasta in the recipe. Orzo is a small, rice shaped Italian pasta. Acini de Pepe pasta is another option. It is a tiny seed like pasta. You could also use any small pasta of your choice.
If you do not have parmesan cheese you can substitute grated Romano cheese.
You can store any leftover soup in an airtight container in the refrigerator for 2-3 days.
This soup will freeze well. Place it into the freezer in an airtight container for 2-3 months.
Place the frozen soup into the refrigerator overnight to defrost.
Reheat the soup in a pot on the stove over medium low heat.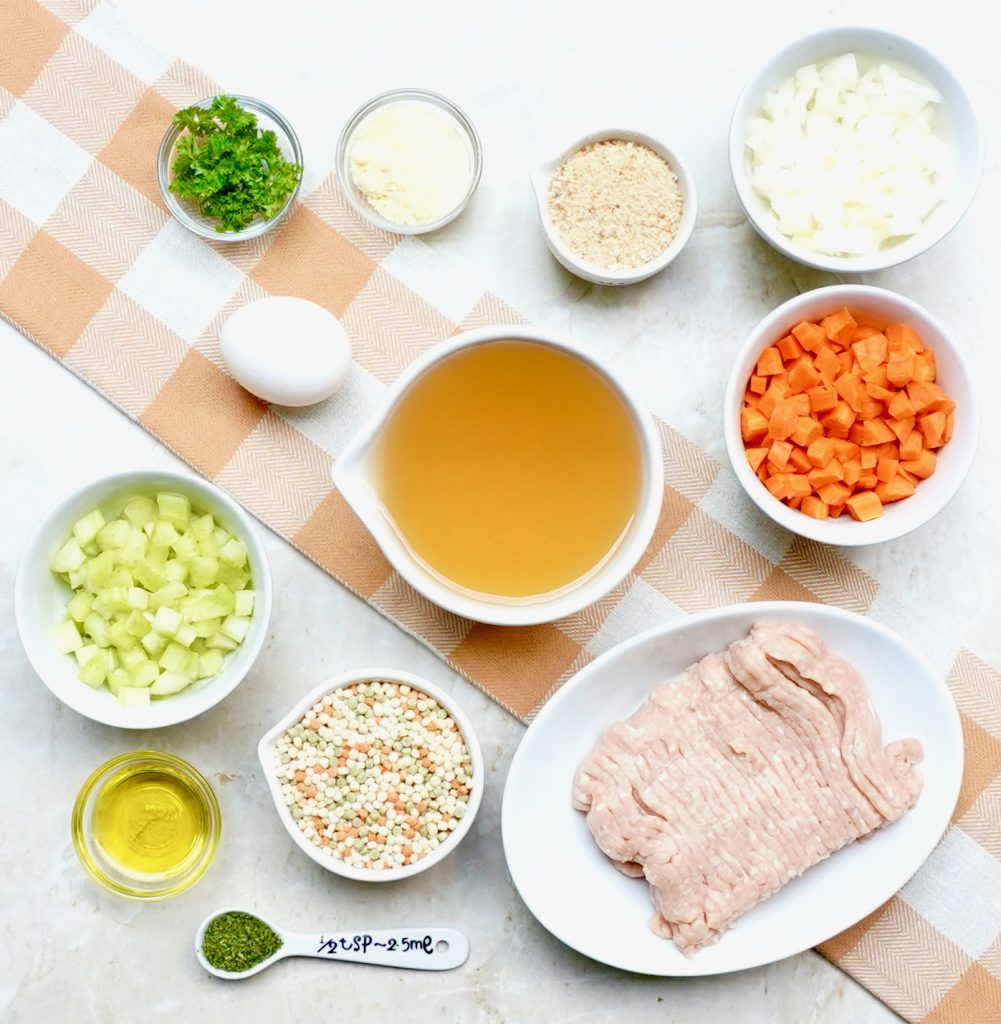 Chickarini Soup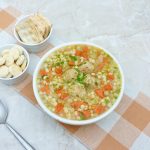 Print This
Ingredients
MEATBALLS:

8 ounce pre- ground chicken

1 egg, beaten

¼ cup plus 1 tablespoon dried plain bread crumbs

1 tablespoon grated parmesan cheese

1 teaspoon dried parsley flakes or 1 tablespoon fresh parsley, chopped

pinch kosher salt and pepper

SOUP:

2 tablespoons of olive oil

½ cup diced onion

2 large carrots, diced small

2 stalks celery, diced small

2 quarts chicken stock or low sodium canned chicken broth

1 cup pearl couscous (Israeli couscous)
Instructions
MEATBALLS:
In a large bowl, add the ground chicken, egg, bread crumbs, parmesan cheese, parsley, salt and pepper.
Using clean hands, combine the mixture and form it into 1½ inch meatballs. You should get 32 tiny meatballs.
SOUP:
Add the olive oil to either a large stock pot or a large dutch oven and heat it slightly over medium heat.
Add the chicken meatballs to the pot and cook them, stirring occasionally for 3 minutes so they a golden brown on the outside.
Add the onions, carrots and celery to the pot. Cook for 2 minutes, stirring occasionally so they begin to soften.
Add the chicken broth to the pot and bring it to a boil over medium-high heat.
Reduce the heat to medium low and let the vegetables simmer for 5 minutes.
Add the couscous to the simmering soup and let it simmer for an additional 10 minutes to cook the couscous.