Lemon Chicken Soup is a different twist on traditional chicken noodle soup. The recipe replaces the usual egg noodles with orzo, which is a rice shaped pasta. This change makes the soup lighter, while still comforting. It has a great fresh taste thanks to the addition of lemon juice, lemon zest and fresh dill. It also has lots of vegetables so it is pretty healthy as well.
Lemon Chicken Soup is a fast and easy soup to put together as you are starting with cooked chicken. The soup is ready in under 30 minutes and makes enough to bring leftovers for lunch or freeze for one of those days that you just can't face coming home and making dinner!
There are so many great chicken soup variations! Check out Lemon Chicken Rice Soup, Chicken Brown Rice Soup, and Chicken Tortilla Soup.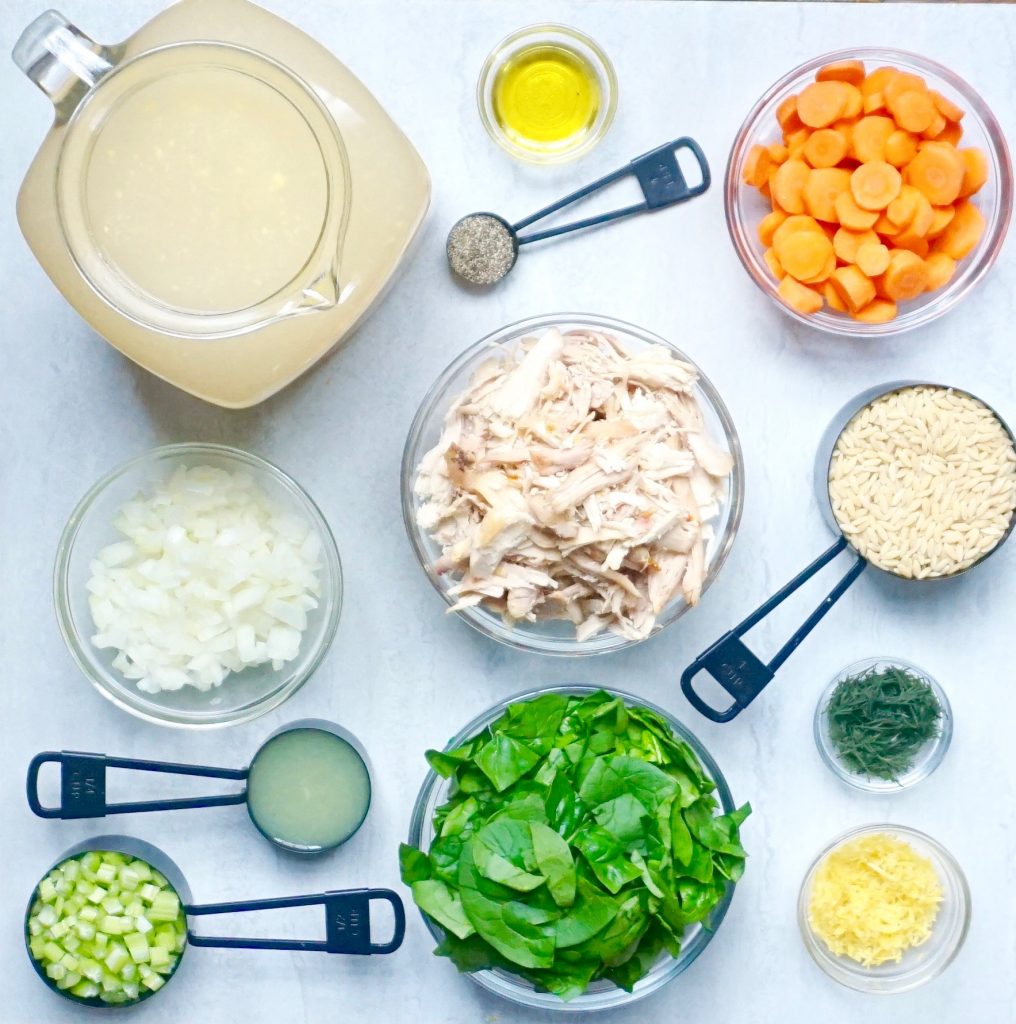 Lemon Chicken Soup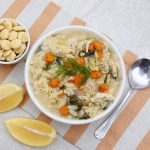 Print This
Ingredients
3 cups cooked, shredded chicken *see note

1 tablespoon olive oil

1 cup sliced carrots, 3 carrots

1/2 cup diced celery, 2 stalks

1 small onion, diced

12 cups chicken broth

1 cup orzo (rice shaped pasta)

1/4 cup fresh lemon juice

1 tablespoon lemon zest

2 tablespoons fresh dill

1- 6 ounce bag fresh baby spinach

1 teaspoon black pepper, or to taste
Instructions
In a large pot, heat the olive oil over medium low heat. Add the carrots, celery and onions and cook until the onions become translucent and the vegetables start to become tender. This should take about 5 to 7 minutes. Make sure that you do not let the onions brown.
Add the chicken stock and pepper and bring to a boil. Reduce heat to low and simmer for about 10 minutes, until the vegetables are tender.
While you are doing this, fill a second large pot with water and bring it to a boil. Add the orzo and cook for 2 minutes less than the box directions for "al dente". Drain and rinse with cold water.
When the vegetables are tender, add the chicken, orzo, lemon juice, lemon zest and dill to the stock pot. Heat through for about 5 minutes. Add the spinach and cook for about 2 minutes until wilted.
Notes
If you want to cook your own chicken, 1 pound of boneless chicken breast will yield 3 cups of cooked chicken. Brush with olive oil and season with salt and pepper. Cover with foil and bake at 350 degrees for about 30 minutes until cooked through. If you want to use a rotisserie chicken you will need a two to two and a half pound chicken to yield 3 cups.