Lemon Chicken Rice Soup is a creamy, comforting soup that is actually made without cream! This easy recipe is similar to a classic Greek Avgolemono Soup that uses eggs to thicken it and create a velvety texture. You will need to temper the eggs for this recipe so if you have never done that before, hop over and read How to Temper an Egg before you start to make the soup!
This is a hearty soup, perfect for soup season , thick with tender chicken and rice. Lots of lemon gives it a nice, bright flavor and the dill adds an unusual twist. Lemon Chicken Rice Soup is a delicious, and different kind of chicken soup that is perfect on a cold day.
If you are a fan of chicken soup, check out some of our other favorite soups.  Chickarina Soup, Chicken Noodle Soup, Lemon Chicken Soup, Chicken Brown Rice Soup, and Chicken Tortilla Soup are all easy soup recipes that are perfect for a chilly day.
if you love the combination of lemon and chicken, check out Creamy Lemon Chicken.
SOME THINGS TO KNOW:
Aborio rice is an Italian short grain white rice. It has a high starch content which makes it a bit more creamy and chewy. If you cannot locate this you can use any white long grain rice.
You could also use Orzo pasta in this recipe. Orzo is a rice shaped pasta. It will cook in half the time that the Aborio rice takes so reduce the simmering time to 10 minutes if you use it.
If you buy the Aborio rice for this recipe you can use the leftover rice to make Lemon Asparagus Orzo, Red Pepper Corn Risotto, Sun Dried Tomato Risotto, or Roasted Shrimp Risotto.
You could easily replace the boneless chicken breast with boneless chicken thighs in this recipe. A boneless chicken breast weighs 6 ounces and a boneless chicken thigh weighs 3 ounces. Instead of 2 boneless breasts you will need 4 boneless thighs. You could also use a store bought rotisserie chicken to get your shredded meat. You will need 12 ounces of cooked, shredded chicken.
This can be made ahead of time and reheated on the stove over low heat the next day. If it has thickened simply add a little water or broth.
You can keep any leftovers in the refrigerator for 2-3 days. in an airtight container.It can also be frozen for 2-3 months in an airtight freezer container.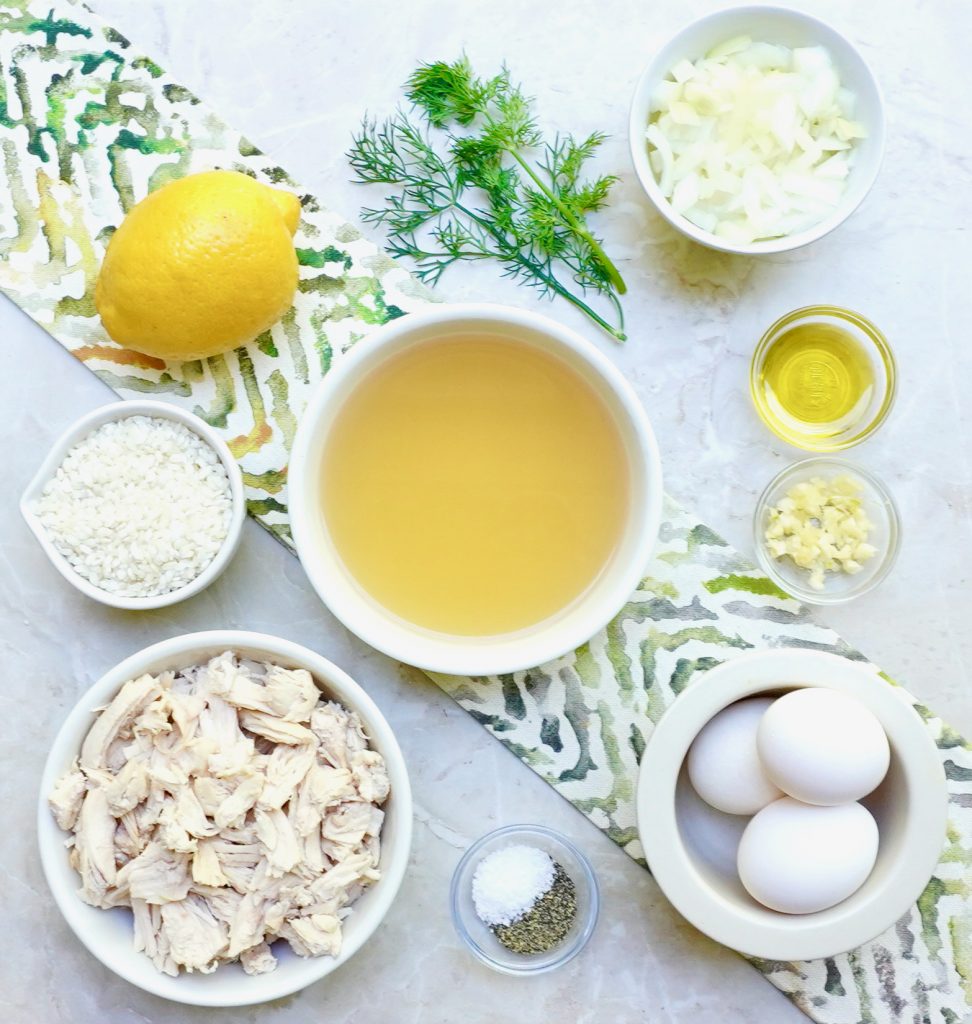 Lemon Chicken Rice Soup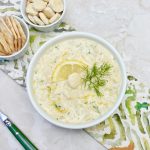 Print This
Ingredients
1 tablespoon olive oil

1 large onion, diced

2 garlic cloves, minced

8 cups chicken broth

½ cup Aborio rice

2 boneless chicken breasts

Lemon juice of 1 large lemon

Lemon zest of 1 large lemon

3 large eggs

1 tablespoon fresh dill

Kosher salt and black pepper to taste
Instructions
Place the chicken in a medium saucepan and cover with water. Bring to a boil then reduce the heat to a simmer. Cook for 10 minutes until the chicken is cooked through. Remove from the water, cool slightly and shred with a fork.
Add the olive oil to a large pot or Dutch oven. Heat it over medium heat.
Add the onions and cook for 2 minutes until they start to become translucent. Do not brown.
Add the garlic and cook for an additional 1 minute.
Add the cups of broth to the soup pot and bring it to a rolling  boil. Add the rice and reduce the heat to medium low.
Simmer the soup, covered, for 20 minutes until the rice if softened.
Whisk the eggs, lemon juice and lemon zest together in a medium bowl. Make sure that you whisk it long enough so that the egg yolks become a pale yellow.
Very slowly add 2 cups of the warm broth to the lemon/egg mixture, whisking it constantly to keep the eggs from cooking. (If you pour the hot broth all at once, the eggs will start to cook and you will not be able to mix them into the broth smoothly.)
Pour the egg mixture into the soup pot and combine well.
Add the shredded chicken and dill to the pot. Simmer 5 additional minutes to heat through and blend the flavors.