Chicken Tortilla Soup is a hearty and healthy soup. Made with boneless chicken breast, black beans, and veggies it has a flavorful tomato based broth with just a touch of heat from chipotle peppers.
This Mexican inspired soup is very flavorful and easy to make. If you want to simplify it even further you can use leftover cooked or rotisserie chicken and cut down on the cooking time.
You can garnish Chicken Tortilla Soup with tortilla chips, sour cream and cheese. Is you like soups like this check out Taco Soup which is another Mexican inspired soup using ground beef and beans. You might also like Caldo de Queso.
If you want to try some other chicken soups, check out Chickarina Soup, Lemon Chicken Soup, Chicken Noodle Soup, Lemon Chicken Rice Soup, and  Chicken Brown Rice Soup.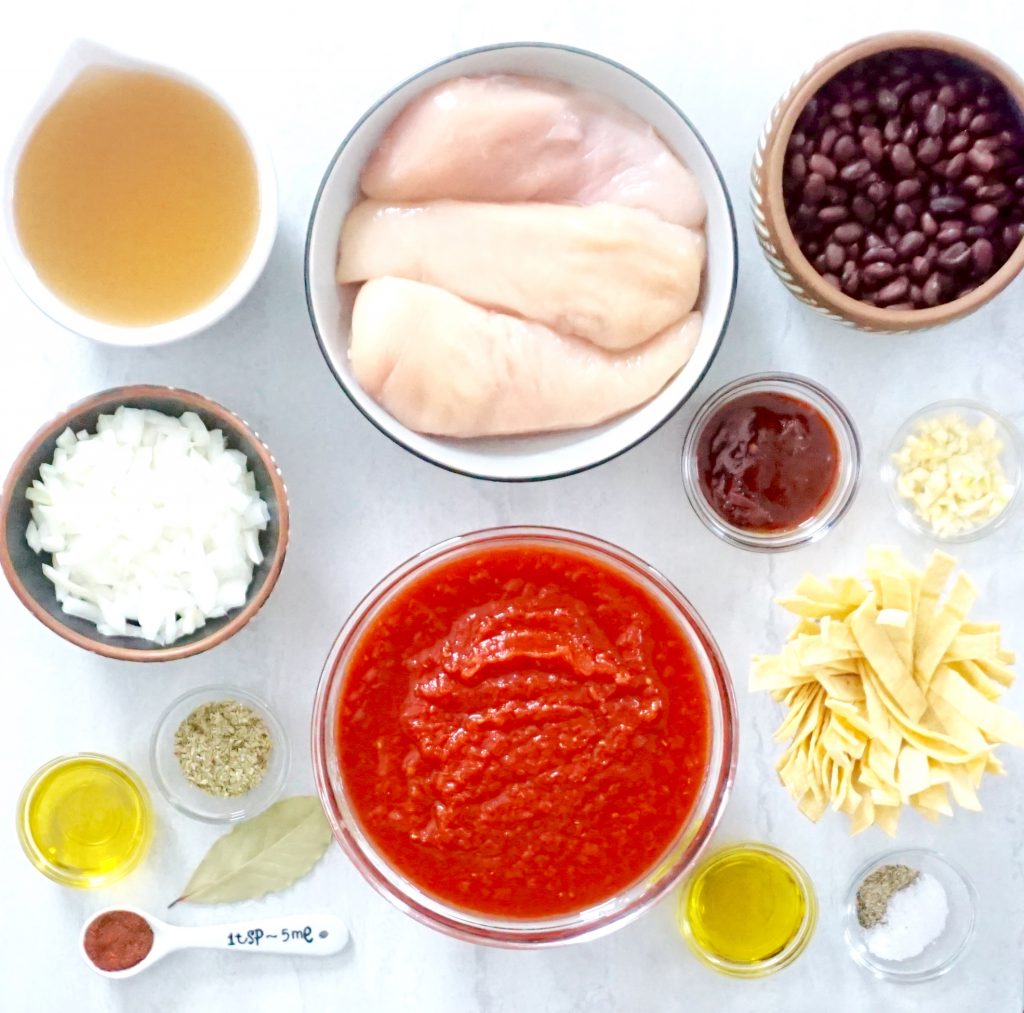 Chicken Tortilla Soup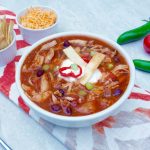 Print This
Ingredients
SOUP:

5 cups chicken stock

1 pound boneless chicken breast

1 bay leaf

1 tablespoon olive oil

1 medium onion, chopped

4 cloves garlic, chopped

2 Chipotle peppers, plus 2 tablespoons Adobo Sauce (see note)

1- 28 ounce can crushed tomatoes

1- 15 ounce can black beans, drained and rinsed

2 teaspoons dried oregano

1 teaspoon chili powder

salt and pepper to taste

TORTILLA STRIPS:

4 six inch corn tortillas

1 tablespoon olive oil

salt and pepper

Optional garnishes: Shredded cheese, green onions.
Instructions
SOUP:
Bring the chicken broth, and bay leaf to a simmer in a medium size pot. Add the chicken breast and poach for 10 to 12 minutes until cooked through. Remove the cooked chicken from the stock. Reserve the stock. Cool the chicken slightly, then shred with a fork.
While the chicken is poaching, Heat the olive oil over medium low heat in a medium size stock pot. Add the chopped onions and garlic and cook at medium low heat for 5 minutes. Stir frequently and do not let them brown.
Add the chipotle peppers, tomatoes, black beans, chili powder,and oregano. Add the reserved chicken broth and shredded chicken.
Simmer, covered, over low heat for 45 minutes.
Serve with tortilla strips and any other garnish you like.
TORTILLA STRIPS:
Preheat the oven to 400 degrees
Stack the corn tortillas. Cut the stack in half. Turn each half so the rounded end is on top. Cut into 1/2 inch strips.
Place the strips on a baking sheet and drizzle with olive oil. Sprinkle with salt and pepper. Stir to make sure each strip is coated in oil. Line the strips in a single layer on the baking sheet.
Bake for 4 minutes. Remove from the oven and turn the strips to the other side. Bake an additional 3-4 minutes. These go from golden to overdone quickly so watch them carefully on the second side.
Notes
Chipotle Peppers in Adobo sauce can be purchased in 7 ounce cans. Chipotles are smoked and dried jalapeños peppers. Adobo sauce is a combination of tomatoes, vinegar and spices. This is a sweet and tangy sauce. Extra chipotles can be frozen in small plastic bags or ice cube trays with a little sauce. These can be added to salsa, barbecue sauce, marinade and Bloody Mary's. Using 2 in this recipe will provide a subtle yet noticeable heat. If you do not like spicy foods, cut the quantity to one or omit them all together.