White Chicken Chili is perfect for a cold winter day, especially one in the month of December when our eating habits go a little bit off course! Between the holidays and parties that occur during the month of December, it is easy to lose that balance of healthy eating and end up feeling tired and bloated!
White Chicken Chili is very easy to make. Boneless white chicken, beans, veggies and spices are simply simmered together to create this hearty and healthy chili. It is great for an easy dinner, meal prep for work week lunches, or for Sunday game day. One pot makes several servings and it also freezes well.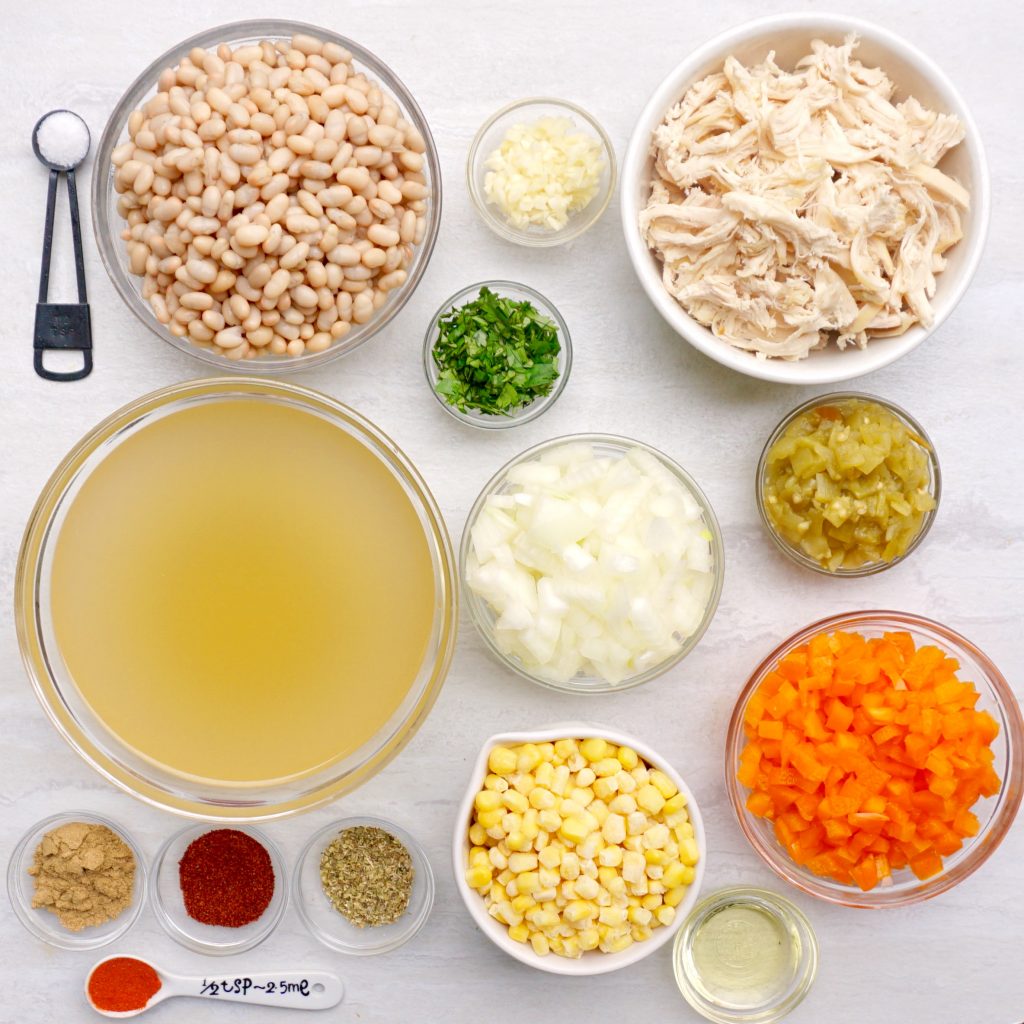 White Chicken Chili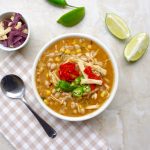 Print This
Ingredients
1 pound boneless chicken breast, cooked and shredded

1 tablespoon olive oil

1 large onion, diced

1 red or orange bell pepper, diced

3 cloves garlic, diced

1 can green chiles, chopped, 4.5 ounces

2 cans small white beans, 15.5 ounces rinsed and drained

4 cups chicken broth

1 teaspoon chili powder

2 teaspoons cumin

1 teaspoon dried oregano

½ teaspoon cayenne pepper

½ teaspoon kosher salt

1 cup frozen corn kernels

¼ cup fresh cilantro, chopped
Instructions
Divide the beans and set half of them to the side.
Add the olive oil to a large stockpot and heat over medium low heat. Add the onion and bell pepper and cook for 5 minutes until they begin to soften. Add the garlic and cook for an additional 2 minutes.
Place one can of the beans in a food processor with ½ cup of chicken broth and puree until it is smooth. Add to the pot with the vegetables and stir.
Add the chicken broth,green chiles, chili powder, cumin, oregano, cayenne pepper, and kosher salt to the pot. Raise the heat to bring to a boil. Turn the heat down to low and simmer uncovered for 30 minutes.
Add the remaining beans, shredded chicken, corn and cilantro to the pot and simmer for an additional 10 minutes.
Notes
This chili has a very slight kick of heat. If you like spicier foods, you can double the cayenne pepper or adjust it to your taste.