There are many versions of Broccoli Salad out there. It has been around for as long as I can remember and for a simple reason. It is really good. I have seen it with cheddar cheese added, or raisins and sunflower seeds, and any of these additions would be great. Bring this somewhere. Bring it to a party, or a cookout, or an office luncheon and make people happy.
Broccoli Salad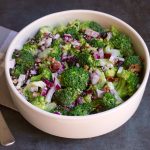 Print This
Ingredients
SALAD

1 head of broccoli cut into florets

1/2 cup chopped red onions

1/4 cup currants (raisins can be substituted)

3 slices bacon (cooked crisp and finely chopped)

DRESSING

2/3 cup mayonnaise

2 tablespoons apple cider vinegar

2 teaspoons white sugar
Instructions
Salad:
Steam or simmer broccoli until slightly tender. Plunge into cold water to stop the cooking process, then drain. Cool. Place the bacon in a medium skillet and and cook over medium low heat , turning as needed, until it is evenly browned, about 10 minutes. Remove from the pan and drain on paper towels. Crumble.  Add the onions, currants, and cooked bacon to the broccoli. Mix well.
Dressing:
Whisk the mayonnaise, cider vinegar and sugar well in a small bowl. Toss with salad ingredients. Chill for 30 minutes so the flavors combine before serving. Add salt and pepper to taste.