This Fried Chicken Waffle Sandwich has several layers of ingredients which produce lots of flavor! It has sweet, spicy, cheesy, and crunchy components on top of a breaded and fried chicken cutlet. All of this is placed between two waffles.
 It is going to require a little time and effort but it is well worth it. It is such a good sandwich.This is the showstopper you make for a special brunch, game day party or the Super Bowl. Just make sure that you buy some super long toothpicks to hold it together when you try to slice it!
Waffles make any meal seem a bit more festive. Check out Red Velvet Waffles, Lemon Ricotta Waffles, Pumpkin Waffles, Chocolate Waffle Ice Cream Sandwich and Waffle Bar for some sweet alternatives.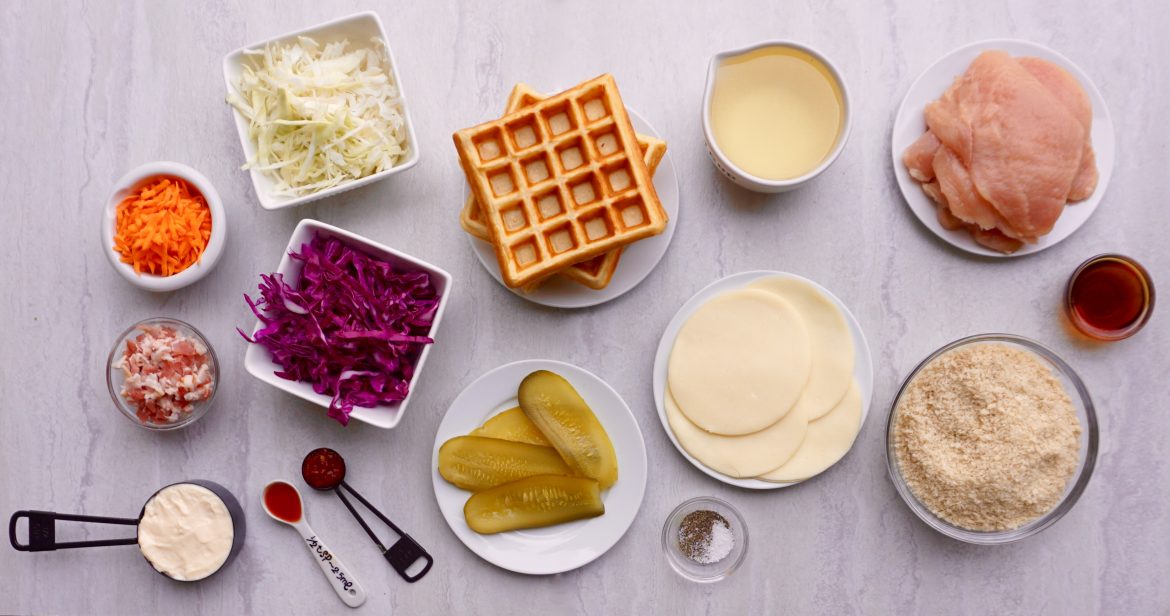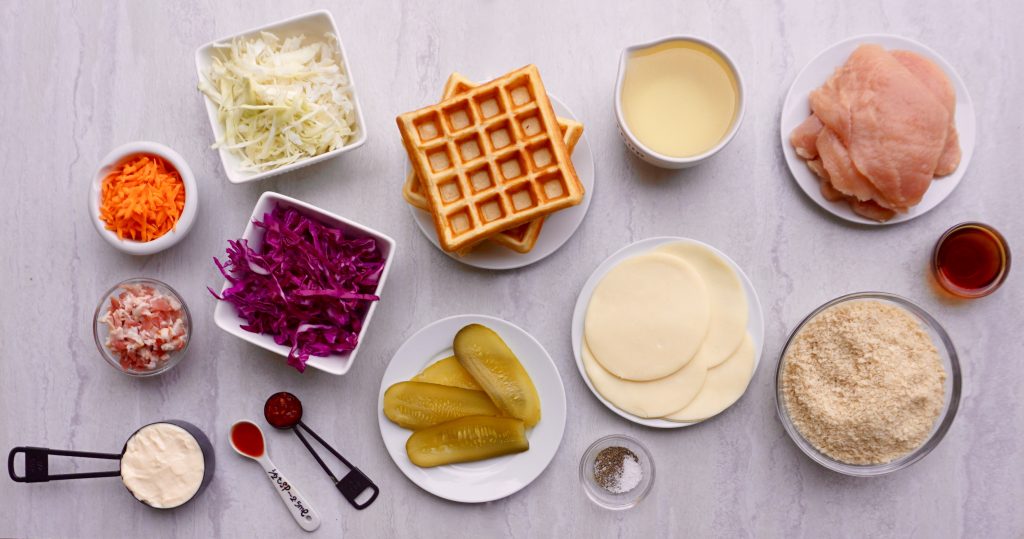 Fried Chicken Waffle Sandwich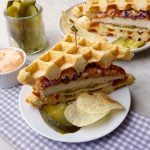 Print This
Ingredients
8 four inch waffles,made from a mix, frozen or from scratch

WAFFLES FROM SCRATCH:

1¾ cups all purpose flour

2 teaspoons baking powder

½ teaspoon salt

1 tablespoon granulated sugar

3 large eggs

1¾ cups whole milk

½ cup vegetable oil

cooking spray

BACON SLAW:

4 slices bacon, diced

1 cup red cabbage, shredded

cup green cabbage shredded, or shredded Brussel sprouts

1 carrot, shreeded

SPICY MAYO:

½ cup mayonnaise (hellman's is recommended)

1 tsp Franks' Hot Sauce

1 tsp Asian Chili Garlic Sauce

CHICKEN:

2 boneless chicken breasts

½ cup flour

1 large egg

¼ cup water

2 cups panko crumbs

1 cup canola oil

ADDITIONAL INGREDIENTS:

4 slices Provolone cheese

4 dill pickle slices

tablespoons maple syrup

salt and pepper
Instructions
WAFFLES:
If you are using a mix for your waffles, follow the instructions on the box to make 8 waffles. If you are using frozen waffles, take them out to defrost.
For waffles from scratch, add the flour, baking powder, sugar and salt to a large bowl. Combine well.
In a medium bowl, whisk the eggs. Add the milk and oil and mix together. Add all at once to the dry ingredients and combine well.
Preheat your waffle iron. Spray it very heavily on both the top and bottom with cooking spray to avoid sticking. Add your waffle batter (either from mix or scratch).Cook until your waffle makers indicator light shows that the cooking is complete or until steam no longer comes out. They should be a light golden brown and soft.
BACON SLAW:
Place the bacon in a large skillet and cook over medium low heat until it is starting to crisp and all of the fat has been released. Add the red cabbage, green cabbage or Brussel sprouts and carrot. Cook for 3-4 minutes if you want a slight crunch to the slaw or longer is you prefer it to be softer. Remove from the heat and set aside.
SPICY MAYO
In a small bowl, mix the mayonnaise with the hot sauce and chili garlic sauce. Taste. This sauce will have a mild kick to it. If you like spicier foods, add more hot sauce and chili garlic sauce, ¼ teaspoon at a time until it is as spicy as you like.
FRIED CHICKEN CUTLETS:
Slice the chicken cutlets through the center from left to right to form two cutlets of equal thickness. Pound slightly and trim so you have cutlets as close to your 4 inch waffle size as you can.  
In a pie dish, beat the egg and water together. Place the flour in a shallow bowl and season with salt and pepper. Place the Panko crumbs into a pie plate or a shallow bowl.
Dip the chicken cutlets into the flour and coat thoroughly. Next dip the cutlets into the egg mixture and make sure they are thoroughly coated. Dip the eggs into the Panko crumbs and press down to make sure the crumbs adhere evenly to the entire cutlet.
Heat the canola oil in a large skillet over medium low heat. Drop a crumb into the oil and when it starts to cook the oil is hot enough. Add the cutlets to the pan and cook for 3 –4 minutes on each side. The cutlets should be a light golden brown and cooked through.
TO ASSEMBLE:
Place 4 waffles on a cutting board. Add a slice of provolone cheese to each waffle, then add a slice of dill pickle. Next add two tablespoons of the spicy mayo to each waffle and top with a chicken cutlet.
Pour ½ tablespoon maple syrup over each chicken cutlet and then spoon ½ cup of the Bacon Slaw over each one. Top with another waffle.
If this is made when the cutlets are very hot, the cheese will melt a little. If not, place the sandwiches on a baking sheet and put into a 350 degree oven for 5 -10 minutes, checking to see when the cheese has melted.