Sicilian Chicken is one of those meals that goes together fast enough that you could make it on a busy weeknight for dinner. The chicken and sauce cook in under 20 minutes. That's about the time it will take to boil water and cook the pasta!
While you heat the water to cook the bowtie pasta, you can be browning the chicken strips and the tasty Marsala wine based sauce with red grapes. This is a meal that is easy, fast and flavorful.Sicilian Chicken with Marsala Wine and red grapes is a dish that's as delicious as it is versatile.
Chicken and pasta dishes are always a great dinner option. Check out Tomato Chicken Bowtie Pasta, and Chicken Marsala Pappardelle for a couple of other easy and flavorful meals. You might also like Chicken Piccata Pasta which is a creamy dish made with shredded chicken, lemon juice and lemon zest over Ziti pasta.
SOME THINGS TO KNOW:FAQ'S
INGREDIENT TIPS:
SPECIAL EQUIPMENT NEEDED:
Large stock pot to cook the pasta
Large frying pan or skillet
Cutting board
SUBSTITUTIONS:
You can use boneless chicken thighs instead of chicken breast for extra flavor.
​ If you don't have Marsala wine, you can substitute it with a dry white wine or dry sherry.
​ Red grapes provide a delightful sweetness, but you can also use other varieties of grapes in the recipe.
While bow-tie pasta is traditional, you can use any pasta shape you prefer. Short, bite sized pastas such as as Penne pasta, small shells, Fusilli pasta, Ziti and Rigatoni pasta all make excellent substitutes for F

arfalle

 or bow tie pasta.
You can use yellow or white onions if red onion is not available.
Fresh oregano can be used to replace the dried oregano. Substitute 2 tablespoons of the fresh herbs for the dried oregano.
If you like a bit of heat in your dishes, increase the amount of crushed red pepper flakes to taste.
HOW TO STORE LEFTOVER SICILIAN CHICKEN:
Cool the leftovers to room temperature before placing them into the refrigerator. Place them into an airtight container in the refrigerator as soon as possible. Leftover Sicilian Chicken can typically be safely stored in the fridge for up to 3-4 days. Ensure that the containers are sealed tightly to prevent any odors from seeping into the dish.
​Allow the Sicilian Chicken to cool down to room temperature before freezing. Placing hot food in the freezer can raise its temperature and potentially affect the quality of other frozen items. Use airtight containers or freezer-safe bags for storing the Sicilian Chicken. Ensure that the containers are specifically designed for the freezer to prevent freezer burn and maintain the quality of the dish. You can freeze this for up to 3 months.
Defrost the Sicilian Chicken overnight in the refrigerator.
HOW TO REHEAT SICILIAN CHICKEN:
You can reheat this on the stovetop. Heat a skillet or frying pan over medium-low heat. You can add a small amount of olive oil or butter to prevent sticking and enhance the flavors. Stir occasionally until heated through.
If you're using the microwave, make sure to transfer the desired portion of leftover Sicilian Chicken to a microwave-safe container with a lid or cover.Place the covered container in the microwave and heat it on medium power (50% power) in short intervals, typically 1-2 minutes at a time. Stir between intervals to ensure even heating until it is heated through.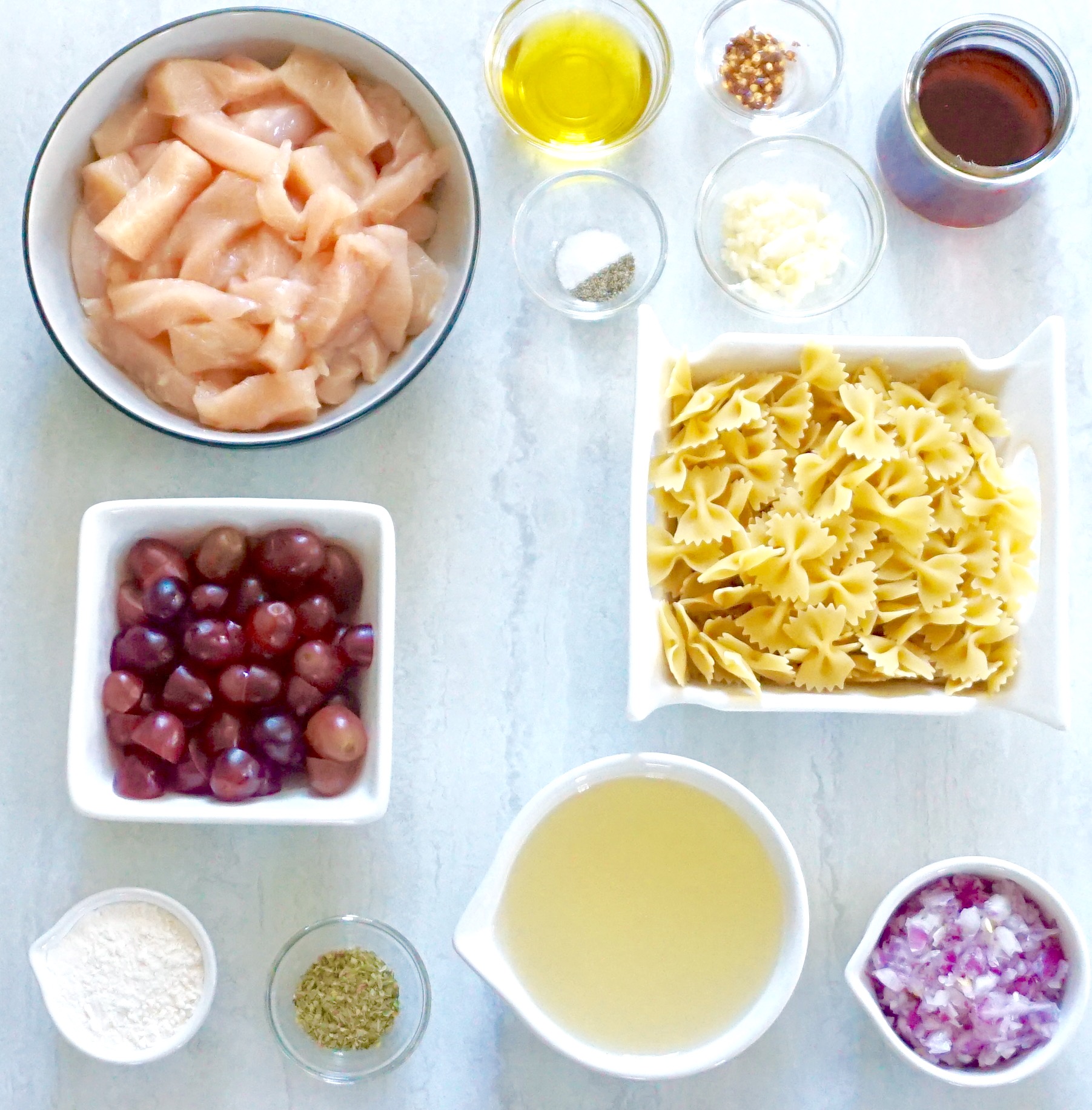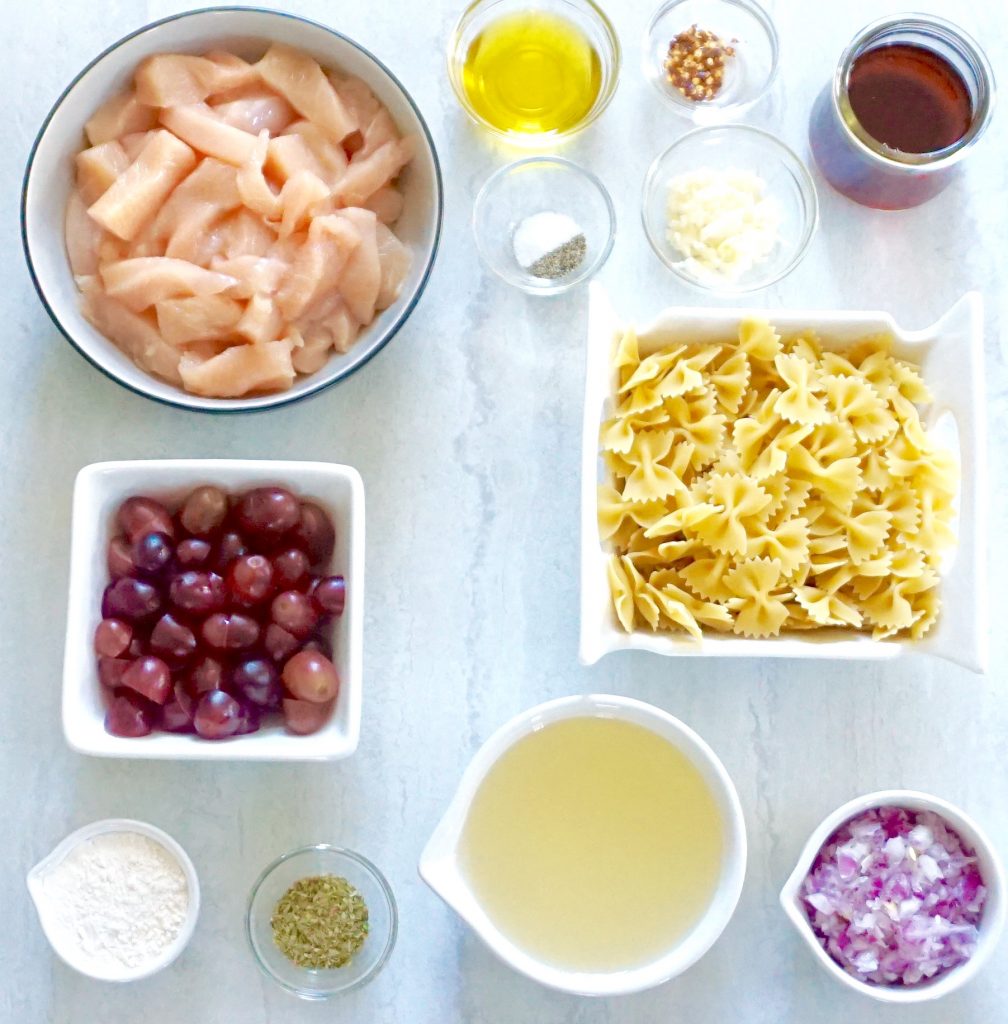 Sicilian Chicken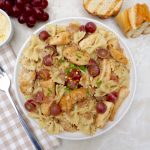 Print This
Ingredients
¼ cup all purpose flour

¼ teaspoon salt (Kosher)

¼ teaspoon black pepper

1 pound boneless chicken breasts, cut into bit sized pieces

3 tablespoons olive oil (divided)

½ cup red onion, chopped

4 garlic cloves, minced

2 teaspoons dried oregano

¼ teaspoon crushed red pepper flakes

1 ⅓ cups chicken broth

⅔ cup Marsala wine

1 cup red seedless grapes, halved

8 ounces bow tie pasta
Instructions
Combine the flour, salt and pepper in a shallow dish or a plastic bag. The bag makes it easy to simply drop the chicken pieces in and shake to coat with the flour mixture. If you are using a shallow dish, turn the chicken to coat on all sides.
Add 2 tablespoons oil to a large skillet. Saute the chicken over medium heat until it is browned on all sides. This only takes a few minutes. Remove the seared chicken to a plate.
Fill a large separate pot with water and a tablespoon of kosher salt. Place over medium-high heat to cook the pasta.
Add the other tablespoon of olive oil in the skillet over medium low heat. Add the red onion, garlic cloves, oregano, and crushed red pepper. Cook, stirring for 3 minutes moving them around on the bottom of the pan. Do not brown.
Add the broth and Marsala wine to the pan. Add the chicken back to the pan. Simmer over low heat for 10 minutes. Use an instant-read thermometer to make sure that the internal temperature of the chicken is 165 degrees.
Add the red grapes to the pan and simmer an additional 5 minutes.
Cook the pasta according to the directions on the box for your preferred doneness. Drain the pasta.
Serve the Sicilian Chicken over the pasta.