Honey Teriyaki Chicken Kabobs are an easy way to prepare chicken for summer grilling. A simple marinade gives them Asian flavors and makes them delicious.
You can place the marinated chicken on skewers alone to be grilled or add some fresh vegetables of your choice.
The kabobs can be simply served over rice or if you want to stick with the Asian theme, you could serve them with Tahini Noodles and Asian Slaw.
If you want to try some other skewer recipes for summer grilling check out Lemon  Chicken Chimichurri Kabobs and Chimichurri Shrimp Skewers.
SOME THINGS TO KNOW:
Boneless chicken thighs typically have a lot of fat that needs to be taken off so allow for this and buy enough. You could also substitute boneless chicken breast if you prefer.

You need to plan ahead to make these as they should sit in the marinade for at least four hours and overnight if time allows.

If you are using wooden skewers make sure that you soak them in water for at least 30 minutes and up to an hour. This will help to keep them from burning.
You can keep any leftover chicken covered in the refrigerator for 2-3 days.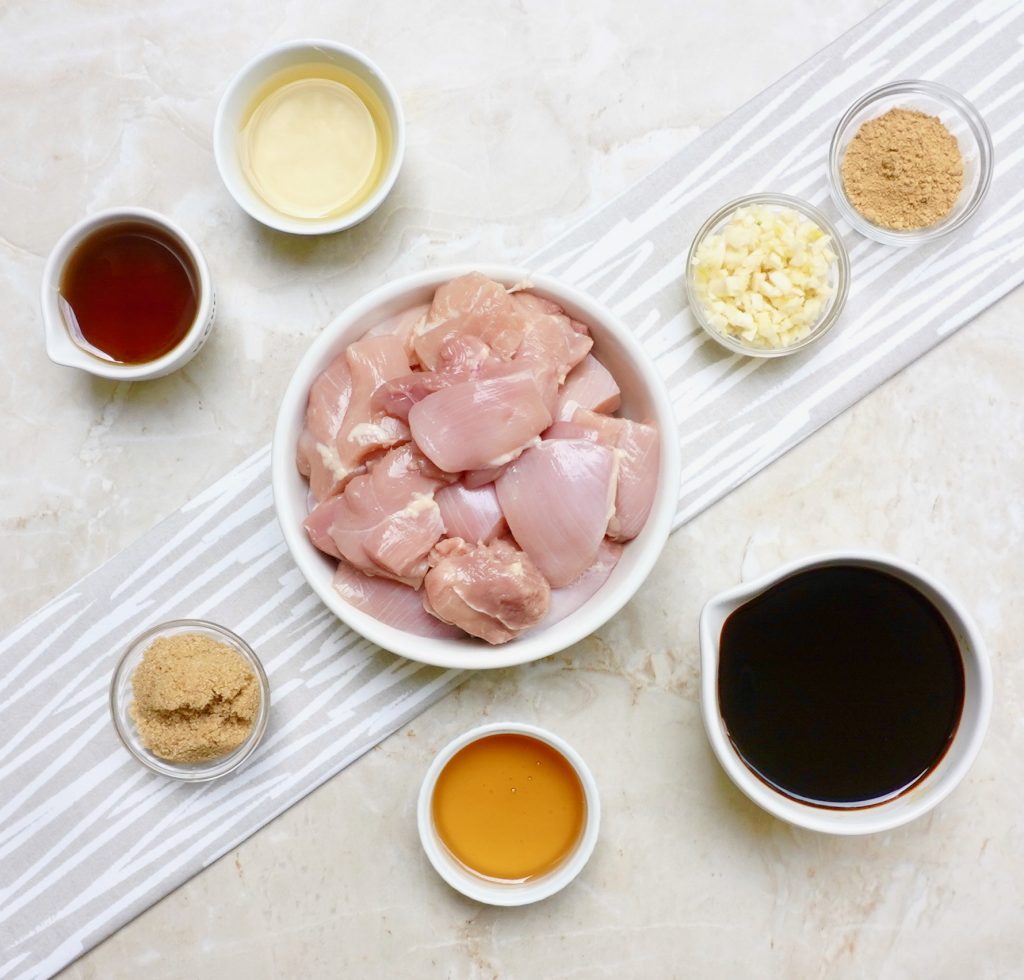 Honey Teriyaki Chicken Kabobs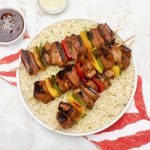 Print This
Ingredients
1 cup soy sauce
¼ cup sesame oil
¼ cup rice vinegar
¼ cup honey
2 tablespoons brown sugar
2 teaspoons ground ginger.
2 pounds boneless, skinless chicken thighs cut into 2 inch cubes
Wooden skewers
Optional:
Vegetable cubes of your choice
Instructions
Combine the soy sauce, sesame oil, rice vinegar, honey, brown sugar, and ginger in a zip top bag.
Add the chicken and marinade for a minimum for 4 hours and up to 8 hours for added flavor.
You should soak the wooden skewers in water for at least 30 minutes before adding the chicken to them and grilling. This will help them not to burn on the grill.
Place the chicken cubes onto the skewers. Leave the top inch of the skewer showing. You can alternate the chicken with vegetables if you prefer.
Heat your grill. Grease it  and add the chicken kabobs. Cook for about 15-20 minutes, turning them occasionally. They need to reach an internal temperature of 165 degrees.
If you do not have a grill, you can easily cook the kabobs  in the broiler of your oven. They should cook about 5 minutes on each side, again reaching an internal temperature of 165 degrees.