This recipe for Tahini Noodles recipe is one that I have been adapting and changing over the years. I found the original recipe in a cookbook by Susan Branch. She called them Black Dog Noodles, as they were inspired by the Black Dog Bakery in Martha's Vineyard. Over the years I have made subtle changes to the dressing and added vegetables, which created a more compete dish with a nice crunch.
Tahini Noodles can be served as a meatless meal. Tahini is a ground sesame paste and a source of protein. I personally tend to serve this dish as a side dish with some grilled chicken or meat. It can be served warm or at room temperature, it is delicious both ways!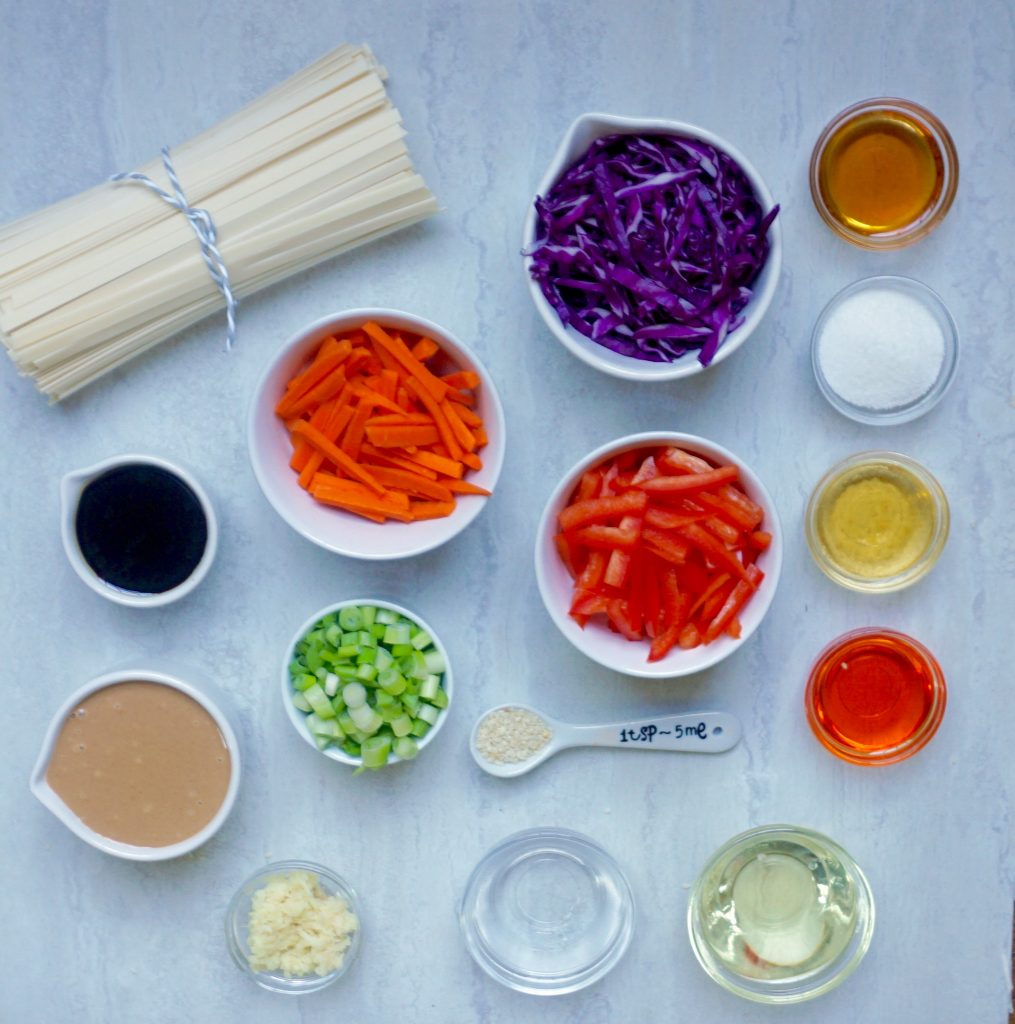 Tahini Noodles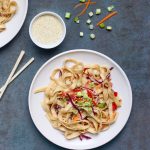 Print This
Ingredients
½ cup tahini

¼ warm water

¼ cup soy sauce

¼ cup vegetable oil

2 tablespoons granulated sugar

2 tablespoons cider vinegar

1 ½ tablespoons chili oil

1 tablespoon sesame oil

2 teaspoons fresh ginger, finely grated

1 teaspoon sesame seeds

½ cup green onions, sliced into ½ inch pieces

1 cup red cabbage, sliced thin

1 cup carrots, cut into matchstick pieces

1 yellow bell pepper, cut into matchstick pieces

16 ounces of Lo Mein noodles (fettucine or linguini can be substituted)
Instructions
Cook the Lo Mein noodles in a large pot according to the package directions for the firmness you like.
In a medium bowl, combine the tahini, warm water, soy sauce, vegetable oil, sugar, cider vinegar, chili oil, sesame oil, and ginger.
When the noodles are cooked, drain and return to the pot and pour the tahini sauce over them. Add the green onion, cabbage, carrots, and bell pepper. Combine well.
Transfer to a serving dish and garnish with the sesame seeds.