If you are a lover of classic egg salad and a pickle lover, you will like Pickle Egg Salad. The addition of finely chopped bread and butter pickles gives it a bit of crunchiness and lots of flavor.
Bread and Butter Pickles have the basic simple ingredients of dill pickles except they have sugar added to them to make them sweet while dill pickles have fresh dill and peppercorns. They are both made with vinegar, onions, mustard seed, salt and turmeric.
Pickle Egg Salad is an easy recipe. It is low carb and can be eaten at any time of the day. It makes great lunch either on it's own, as a bread sandwich, or as light lettuce wraps. Do you need a light dinner on a hot summer night? This could be your answer.
If you are looking for some other easy lunch recipes, check out Tzatziki Chicken Salad and Shrimp Corn and Avocado Salad.
Bread and butter pickles are also the base for sweet pickle relish. If you love the sweetness, check out Bean Relish for a simple appetizer.
Eggs are a versatile form of protein. If you are looking for some other easy ways to use them, check out Vegetable Frittata, Avocado Eggs and Brunch Eggs.
This egg salad would be a great way to use your leftover Natural Dye Easter Eggs.
SOME THINGS TO KNOW:
If you would prefer a dill pickle eggs salad, simple swap the bread and butter pickles for dill pickles.
If you do not have fresh chives, green onions, red onions or white onion finely chopped would all be good  substitutes.
If this is your first time making hard boiled eggs, check out How to Hard Boil Eggs So That They are Actually Easy To Peel for some good tips.Make sure that you take care to peel the eggs clean, removing any small pieces of the egg shells.
If you want to cut down on the calories of the egg salad and make it a bit healthier, you can replace half of the mayonnaise with Greek Yogurt.
Sour Cream is another good substitute for mayonnaise. It has a similar texture and flavor.
If you do not have dijon mustard you can substitute yellow mustard in the recipe.
You can chop either sliced or whole pickles for this recipe.
If you are on a keto diet, this is a good choice. The ingredients in this recipe are all allowed. This is a keto egg salad.
You can keep egg salad in an airtight container in the refrigerator for 2-3 days.
Do not try to freeze any leftover egg salad. When eggs are frozen, they become rubbery and tough. Mayonnaise will also separate if it has been frozen.
Pickle Egg Salad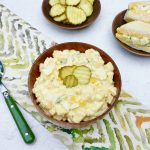 Print This
Ingredients
4 large eggs, hard boiled

¼ cup mayonnaise

¼ cup bread and butter pickles, finely chopped

1 tablespoon fresh chives, chopped

1 teaspoon dijon mustard

¼ teaspoon kosher salt

¼ teaspoon black pepper
Instructions
To make the hard boiled eggs, fill a medium or large pot with cold water. Make sure that there is enough water so the eggs are covered by two inches.
Bring the water to a boil over high heat. Let the eggs boil for 10 minutes.
Drain the eggs from the hot water and let them cool to room temperature. For fast cooling you can place them into an ice water bath. To make the ice water bath, fill a medium bowl with water and a cup of ice cubes. Leave the eggs in the ice bath for 5 minutes.
Peel eggs and chop them into small pieces.
Place the chopped eggs into a large bowl.
Add the mayonnaise, pickles, chives, dijon mustard, salt and pepper. Use a rubber spatula to combine them well.