Are you looking for a crowd-pleasing brunch dish or dessert that's equal parts delicious and indulgent? Look no further! Chocolate Cream Cheese Monkey Bread is exactly what you need. If you are a fan of cinnamon rolls you will love this sweet treat. This Monkey Bread recipe, loaded with chocolate chips and cream cheese, is the perfect treat for any gathering or special occasion. It has a buttery, cinnamon glaze with a caramel consistency. While this is good served at room temperature, served warm from the oven, it is amazing.
Follow the easy step-by-step guide to create this mouthwatering pull apart bread that'll have your friends and family asking for seconds.
If you would like to try another good brunch recipe, check out Blueberry Pancake Bundt Cake. If you love the combination of cream cheese and chocolate and you like Mexican recipes, check out Chocoflan.
SOME THINGS TO KNOW:
SPECIAL EQUIPMENT NEEDED:
10-12 cup Bundt pan, Tube pan or 10″ Angel Food Cake Pan
SUBSTITUTIONS:
If you do not have mini chocolate chips, use the regular size adding only one per biscuit piece. You can use either milk chocolate or dark chocolate chips.
If you want a lower fat version of cream cheese, substitute Neufchatel cheese.
You can use margarine instead of butter. Just make sure that the margarine you choose has a high fat content of 80% which is similar to butter.
STORAGE:
You can keep any leftover Chocolate Cream Cheese Monkey Bread in the refrigerator tightly wrapped in plastic wrap or in an airtight container for 3-5 days.
You can freeze the leftover bread in an airtight freezer container for 2-3  months. Defrost the bread in the refrigerator as it has a cream cheese filling.
REHEATING:
The best way to reheat the monkey bread is by placing it into an oven on a baking sheet.  Heat oven to 350 degrees. When it has reached that temperature add the bread,  covered with foil. Depending on the amount of bread you are reheating, it should take about 15 to 20 minutes to heat it through.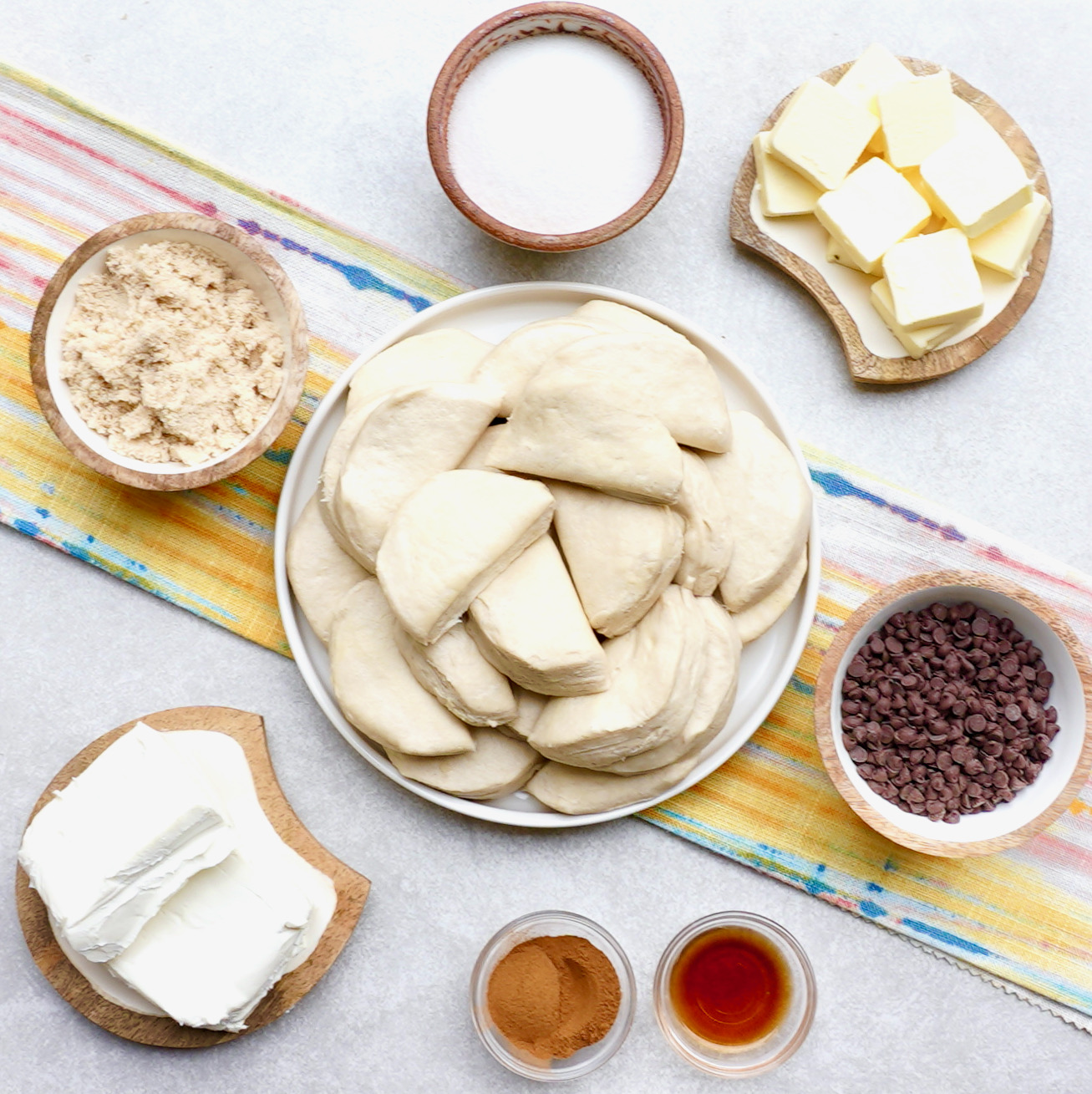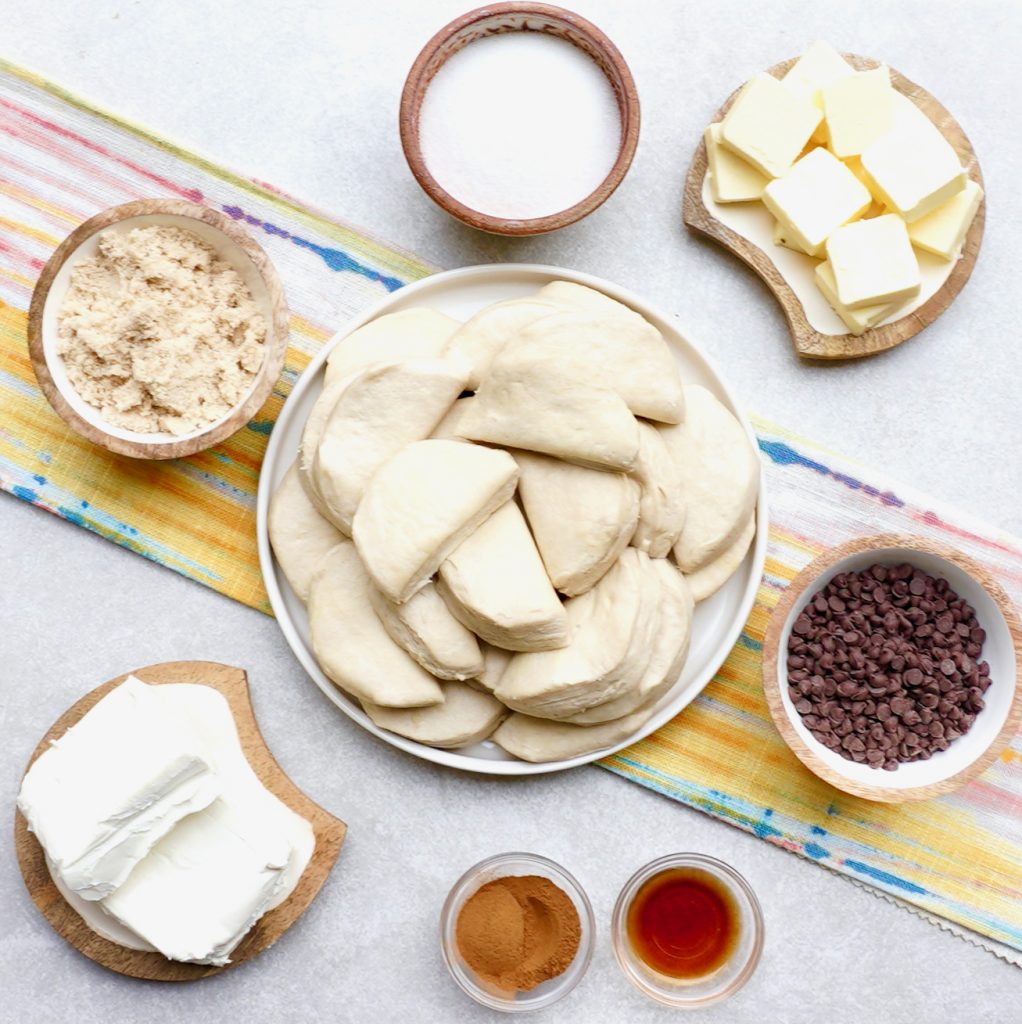 Chocolate Cream Cheese Monkey Bread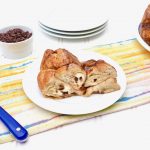 Print This
Ingredients
1¼ sticks unsalted butter (½ cup butter plus 2 tablespoons)
⅔ cup light brown sugar (divided)
⅔ cup granulated sugar (divided)
2 tablespoons cinnamon (divided)
2 teaspoons vanilla extract
2- 16 oz containers of biscuit dough (buy the grand sized biscuits)
1 cup mini chocolate chips
8 ounces cream cheese
Instructions
Preheat your oven to 350°F (175°C). Grease a bundt pan or a large tube pan with non-stick cooking spray, vegetable shortening or butter. Make sure that all surfaces are completely coated to avoid the bread sticking to the pan.
In a small saucepan, melt the butter over low heat. Stir in ⅓ cup of light brown sugar, ⅓ cup of granulated sugar, 1 tablespoon of cinnamon, and the vanilla extract. Stir until the sugar dissolves and the mixture is smooth. Set aside.
In a small bowl or in a gallon plastic bag combine the remaining ⅓ cup of brown sugar, ⅓ cup of granulated sugar, and 1 tablespoon of cinnamon. Combine sugar well and set aside.
Cut the cream cheese into small cubes, about ½-inch size. Set aside. Cut the block of cream cheese down the center. Cut each half of the cream cheese into 4 equal strips. Cut each strip into 4 equal cubes. You will end up with 32 cubes.
Open the biscuit packages and separate the biscuits. Cut each biscuit into quarters. You should have 32 pieces.
Place a cube of cream cheese into the center of each biscuit piece.
Add 4 of the mini chocolate chips.
Fold dough over the cream cheese cube and chips and roll it into a ball.
Roll the ball in the cinnamon sugar mixture, coating it evenly. If you have the sugar mixture in the plastic bag instead of the bowl, you can place 6-8 dough balls into the bag at a time and and shake them around until they are evenly covered with the sugar.
Place the coated balls into the greased bundt pan, arranging them in a single layer.
Continue with the process of adding a cube of cream cheese and mini chips to the remainder of the dough pieces, rolling it into a ball and coating it with the sugar mixture until you have used all of the ingredients.
Continue with the remainder of the stuffed dough pieces, adding them to the pan, creating a second layer.
Pour the melted butter mixture evenly over the dough layers, ensuring all pieces are coated.
Bake in the preheated oven for 35-40 minutes, or until the bread is golden brown and cooked through. Check for doneness by inserting a toothpick into the bread; if it comes out clean or with a few crumbs, it's done. If your oven tends to run hot, start checking the bread at 30-35 minutes.
Remove the monkey bread from the oven and allow it to cool in the pan for 10 minutes.
Place a large serving plate or serving platter over the bundt pan and carefully invert the monkey bread onto the plate.
Serve warm and enjoy your delicious monkey bread with chocolate chips and cream cheese!