If you are looking for something different for breakfast or your next brunch try this Blueberry Pancake Bundt Cake. It is an easy cake that has the basic ingredients found in pancakes. It is a moist breakfast cake that would be perfect if you have overnight guests. You can make this cake in one bowl, no mixer needed.
This cake is made with simple ingredients, many of them you might already have in your pantry. This moist blueberry bundt cake recipe makes a great coffee cake or snack cake. You can eat it warm from the oven or let it cool to room temperature and sprinkle it lightly with powdered sugar.
If you love blueberry pancakes with maple syrup, check out Blueberry Cinnamon Pancakes. They are fluffy pancakes made with fresh blueberries. If you love blueberry muffins for breakfast, check out Blueberry Muffins and Blueberry Lemon Muffins which are made with lemon juice and lemon zest. If you want to try another moist blueberry cake made with fresh berries, check out Blueberry Lemon Olive Oil Cake.
If you would like to try another fun recipe for your next brunch, check out Chocolate Cream Cheese Monkey Bread.
If you enjoy fresh blueberries, check out 20 Easy Recipes to Make with Fresh Summer Blueberries.
SOME THINGS TO KNOW FAQ'S:
SPECIAL EQUIPMENT:
You will need an 10-12 inch bundt pan for this recipe. You will find them easily online in many price points.
SUBSTITUTIONS:
You can substitute store bought buttermilk with a version that you can make yourself. Simple add 1 tablespoon plus 1½ teaspoons of white vinegar to 1½ cups of whole milk. Stir it well and let it sit for 15 minutes before using it.
If you do not have fresh blueberries, you can substitute frozen berries. Do not defrost them before you add them to the batter.
If you do not have canola oil, you can use vegetable oil or a light olive oil.
You could substitute whole wheat flour for some or all of the all purpose flour in the recipe. If you have never done this before you should read How to Substitute Whole Wheat Flour for White Flour in Baking.
STORAGE:
You can store any leftover Blueberry Pancake Bundt cake at room temperature wrapped in plastic wrap or in an airtight container for 2-3 days.
You can freeze the cake for 2-3 months. Make sure that it is either wrapped tightly in freezer paper or inside an airtight freezer container.
To defrost the cake, place it onto a wire rack uncovered and let it come to room temperature.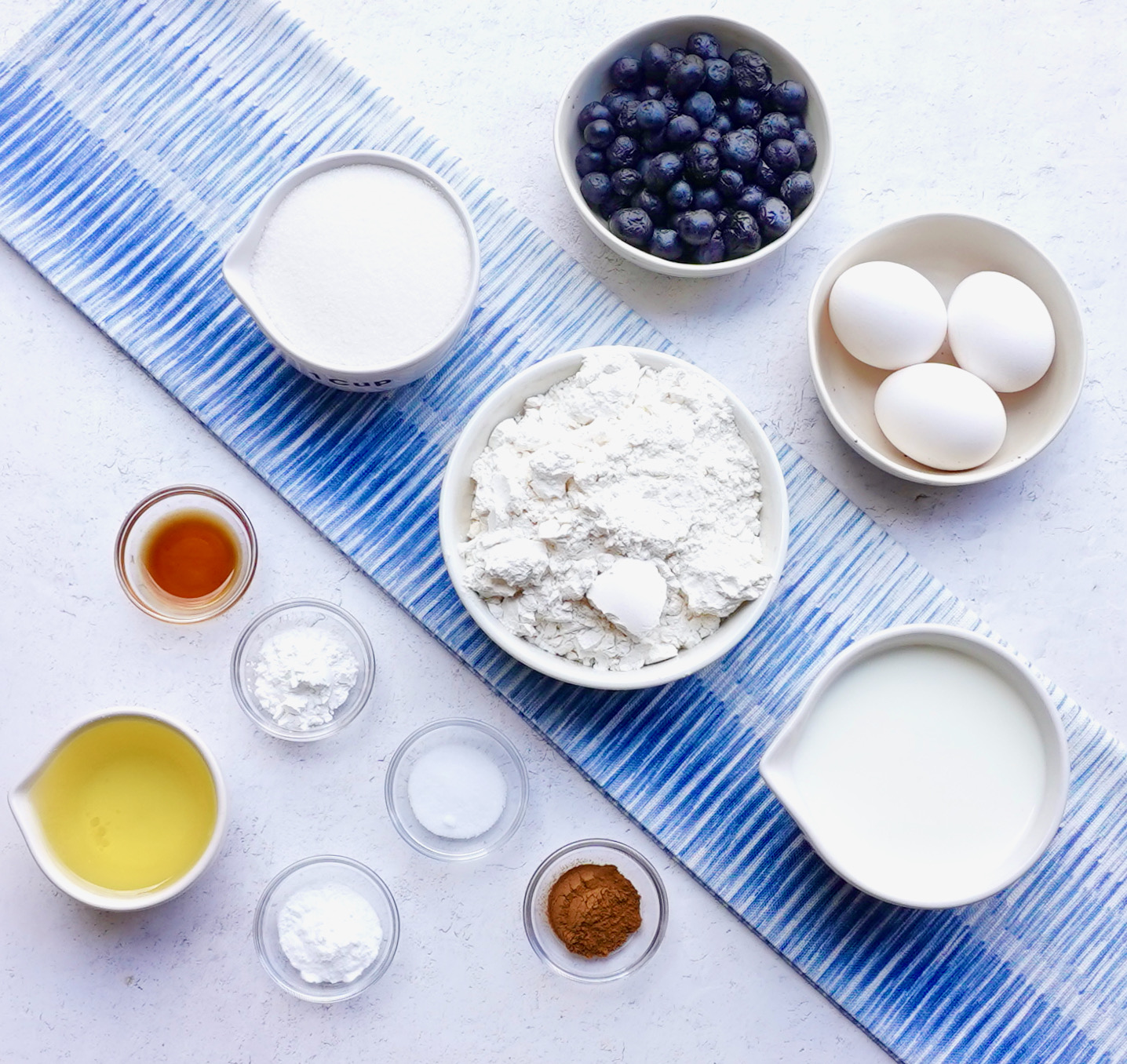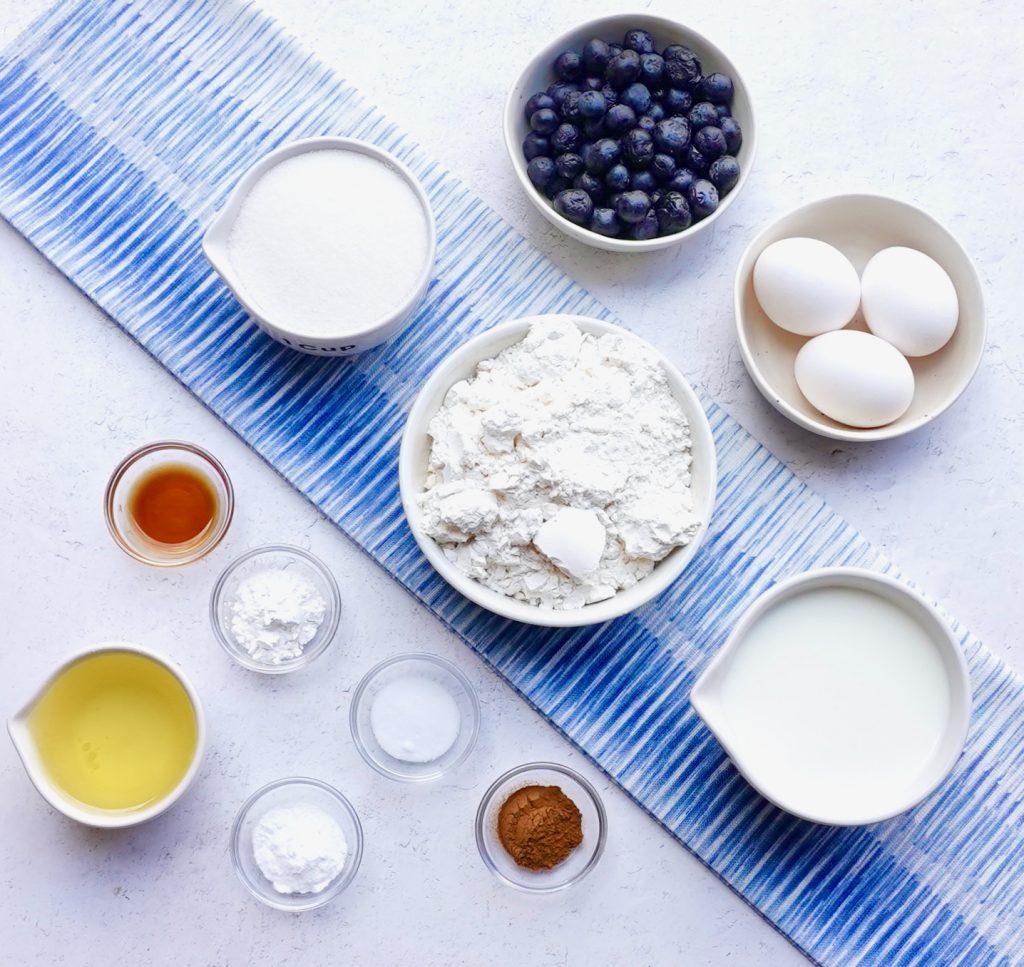 Blueberry Pancake Bundt Cake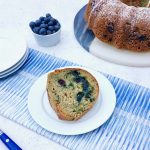 Print This
Ingredients
3 large eggs

1½ cups buttermilk ** see note in substitution section

½ cup canola oil

1 teaspoon vanilla extract

1 cup granulated sugar

3 cups all purpose flour

1½ teaspoons baking powder

1 teaspoon baking soda

1 teaspoon iodized salt

1 teaspoon cinnamon

1½ cups fresh blueberries

Optional:

¼ cup confectioners' sugar ( powdered sugar) for the top of the cake
Instructions
Preheat the oven to 350 degrees.
Grease and flour a 10-12 cup bundt pan. If you have never done this before, read How to Grease and Flour Cake Pans. This is a very important step. You want to be sure that the entire pan is covered so it will easily release from the pan.
In a large bowl, beat the eggs. This is easily done using a whisk.
Add in the buttermilk, canola oil and vanilla extract. Combine well.
Add the sugar and whisk it into the wet ingredients.
Add the flour, baking powder, baking soda, salt and cinnamon. Thoroughly combine in  the dry ingredients.
Add the blueberries to the batter. Use a rubber spatula to stir them into the batter.
Spoon the batter into your prepared pan.
Place the pan into the oven on a center rack.
Bake for 50-55 minutes. Oven temperatures vary so start checking in on the cake after 45 minutes of baking time. You want the top of the cake to be completely set and golden brown.
You can insert a cake tester or toothpick into the center of the cake. If it comes out clean, the cake is done.
Let the cake cool in the pan for 5 minutes. Invert it on to a cooling rack and let the cake cool to room temperature.
Sprinkle the top of the cake with powdered sugar.