Homemade Blueberry Muffins are always a treat for breakfast but they can be eaten at any time of the day. These slightly sweet moist muffins are filled with fresh juicy blueberries. Fresh local summer berries during blueberry season make them even better.
Serve them with a cup of coffee and some melted butter for a simple breakfast.
Blueberry Muffins are easy to put together and bake in 20 minutes. They are freezer friendly too.
If you like the addition of lemon juice and lemon zest in an easy blueberry muffins recipe, check out Blueberry Lemon Muffins.
If you would like to try some other muffin recipes, check out Whole Grain Kitchen Sink Muffins, Banana Chocolate Chip Muffins, Orange Muffins, Cranberry Orange Muffins, Pumpkin Crumble Muffins and Strawberry Banana Muffins.
Check out 20 Easy Recipes to Make with Fresh Summer Blueberries for some other seasonal blueberry recipes.
SOME THINGS TO KNOW: FAQ'S 
INGREDIENT TIPS:
Read Blueberry Basics to help you select the perfect berries.
Make sure that you check the blueberries for stems and imperfections. Rinse the berries before using and place them on a paper towel to dry.
Fresh blueberries can be easily frozen. Lay them on a baking pan in a single layer and put them into the freezer. Once they are frozen, transfer them to freezer bags or containers. You can add the berries frozen right into the muffin batter.
SPECIAL EQUIPMENT NEEDED:
Muffin tin or muffin cups
Paper muffin liners
large bowl
small bowl
SUBSTITUTIONS:
You can substitute the all purpose flour for unbleached flour or whole wheat four.
You can replace the vegetable oil with canola oil or coconut oil.
You can replace the granulated sugar with pure cane sugar, turbinado sugar or light brown sugar.
If fresh berries are not available, frozen blueberries can be used. There is no need to defrost them before adding them to the batter.
HOW TO STORE LEFTOVER BLUEBERRY MUFFINS:
You can store the muffins for a day or two in an airtight container at room temperature.
The muffins will freeze well for up to 3 months. Place them into the freezer on a baking sheet. Once they are frozen, remove them from the sheet and place them into an airtight freezer container or freezer bag.
HOW TO REHEAT BLUEBERRY MUFFINS:
You can reheat the muffins in the microwave covered on a microwave safe plate. Heat them at one minute intervals until heated through.
You can reheat the muffins in a preheated 350 degree oven. Wrap them in foil and heat them for 5-10 minutes until they are heated through.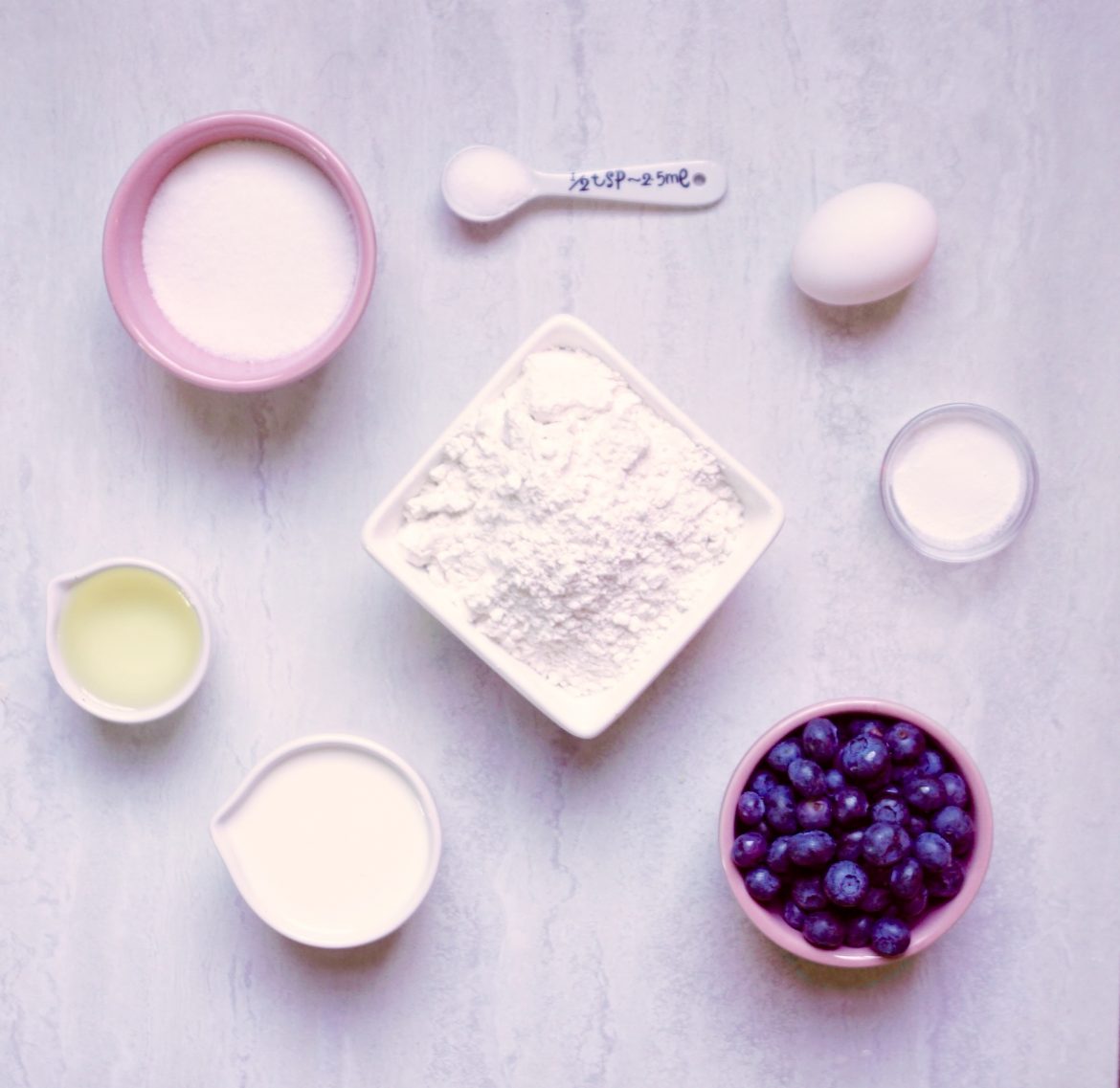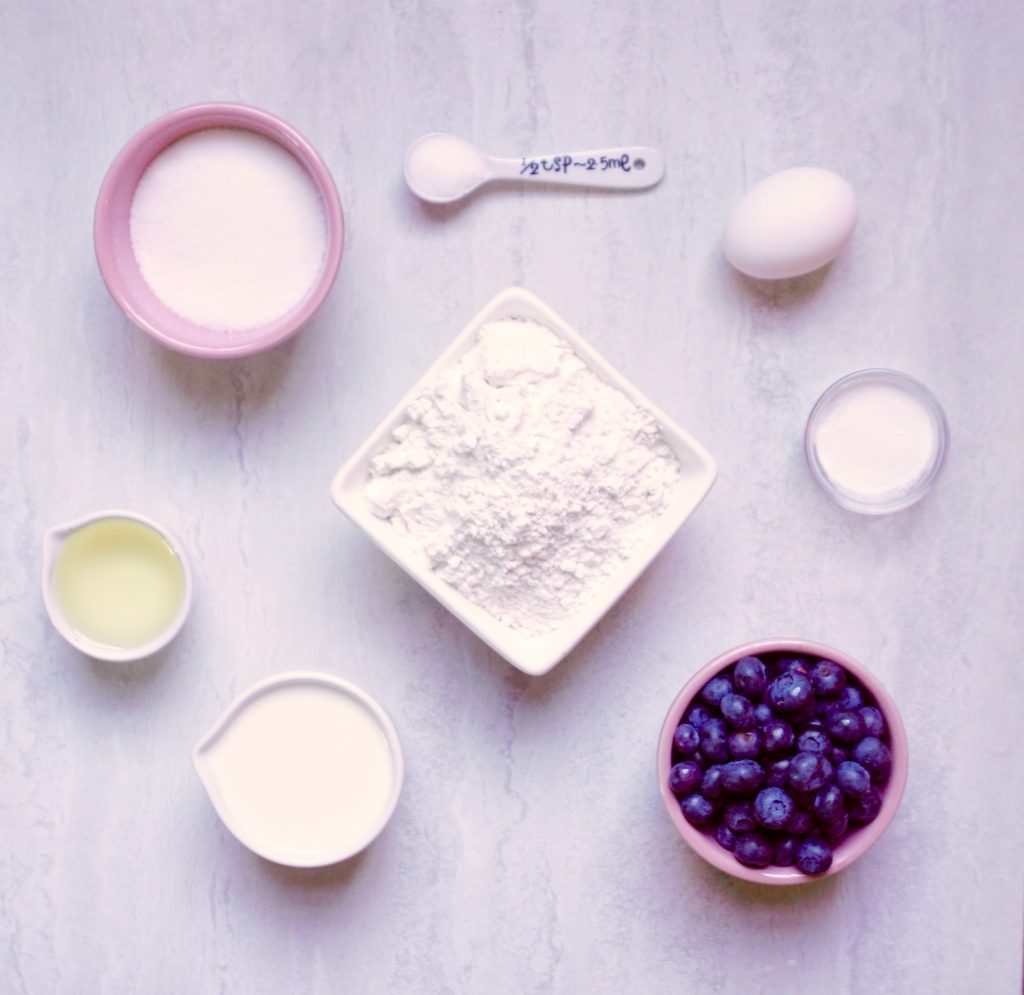 Blueberry Muffins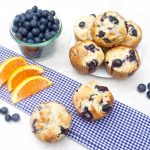 Print This
Ingredients
1½ cups all purpose flour

½ cup granulated white sugar

2 teaspoons baking powder

½ teaspoon salt

1 large egg

½ cup milk

¼ cup vegetable oil

1 cup blueberries, fresh or frozen (do not thaw)

paper cupcake liners
Instructions
Preheat your oven to 400 degrees. Make sure your rack is in the middle of the oven.
Line a muffin pan with 8 paper liners.
In a large mixing bowl, combine the flour, sugar, baking powder and salt.
In a small bowl, beat the egg. Add the milk and vegetable oil. Stir the wet ingredients well.
Add the egg mixture to the dry ingredients and using a rubber spatula combine well. You can also do this with a hand mixer on low speed.
Gently stir in the blueberries.
The batter will be a bit lumpy. Do not over mix. Just make sure that everything is combined.
Spoon the blueberry muffin batter evenly between the 8 paper liners. A measuring cup or an ice cream scoop makes it easier to do this.
If you want, sprinkle the tops of the muffins with some coarse sugar.
Bake for 20 minutes. The tops of the muffins should be completely set and golden brown.
Serve at once, with a pat of butter,  if you want your muffins warm. Remove them using a clean dish towel to lift them from the pan.
You can also cool the muffins in the pan for 5 minutes, then remove them to a wire rack to cool completely.