Orange Muffins are like a little ray of sunshine in the middle of winter! This moist muffin is made with Greek yogurt, fresh orange juice and zest. They can be eaten warm, right from the oven with or without butter. They have a tender crumb and a nice citrus flavor. If you really want to kick up the orange flavor and make them look extra pretty, let them cool and add the orange glaze. It is sweet and tangy with shreds of zest that make it colorful. These tasty muffins make a great breakfast or afternoon snack.
These muffins can be made at any time of the year but if you make them during citrus season you will find a more interesting variety of oranges available in the markets. Try to find some Cara Cara oranges which have a slightly pink darker flesh and sweet juice, or some Blood Oranges which would  make the muffin glaze really colorful.
If you see some great oranges at the market, buy a few extra and make an Orange Olive Oil Cake ,Orange Flan, Blood Orange Panna Cotta, Orange Brioche French Toast, Orange Olive Oil Donuts, Orange Ricotta Cake, Orange Beet Salad, Orange Ricotta Cookies,  and Blueberry Orange Yogurt Cake.
If you want to try another citrus muffin with a lemon glaze, check out Blueberry Lemon Muffins.
SOME THINGS TO KNOW:
SPECIAL EQUIPMENT NEEDED:
12 cup muffin pan
Paper muffin liners
THE BEST ORANGES FOR BAKNG:
The best oranges for baking are navel oranges, clementines and tangerines.
SUBSTITUTIONS:
If you do not have fresh oranges to juice you can use frozen concentrated orange juice or bottled orange juice instead.
The vegetable oil can be replaced with canola oil or a light olive oil.
The whole milk can be replaced with half and half that has some water added. This recipe calls for ½ whole milk. You could pour ½ cup of half and half, remove two tablespoons from the cup and replace them with 2 tablespoons of water.
Other milk options that you could use are evaporated milk, almond milk, oat milk and coconut milk.
You could replace the yogurt with sour cream.
You can replace some or all of the all purpose flour for whole wheat flour. This will change the texture of the muffin. Check out How to Substitute Whole Wheat Flour for All Purpose Flour before you attempt this.
Powdered Sugar is granulated sugar that has been pulverized into a light powder. It may also have a bit of cornstarch added. This recipe calls for powdered sugar in the glaze. Depending on where you live or what brand you buy, it can also be labeled as confectioners' sugar, icing sugar and 10X. They are all the same. You can use any one of them.
STORAGE: 
Orange muffins will be the best served on the day that you bake them.
You can keep them covered with plastic wrap or in an airtight container for 1 day at room temperature.
Orange Muffins can be frozen either with or without the glaze for 2-3 months. Place them onto a baking sheet and put them into the freezer. Once they are frozen, place them into an airtight freezer container and return them to the freezer.
Defrost the frozen muffins by placing them onto a wire rack. They will defrost in about an hour's time.
Oranges will stay fresh in the crisper of the refrigerator for a month or longer.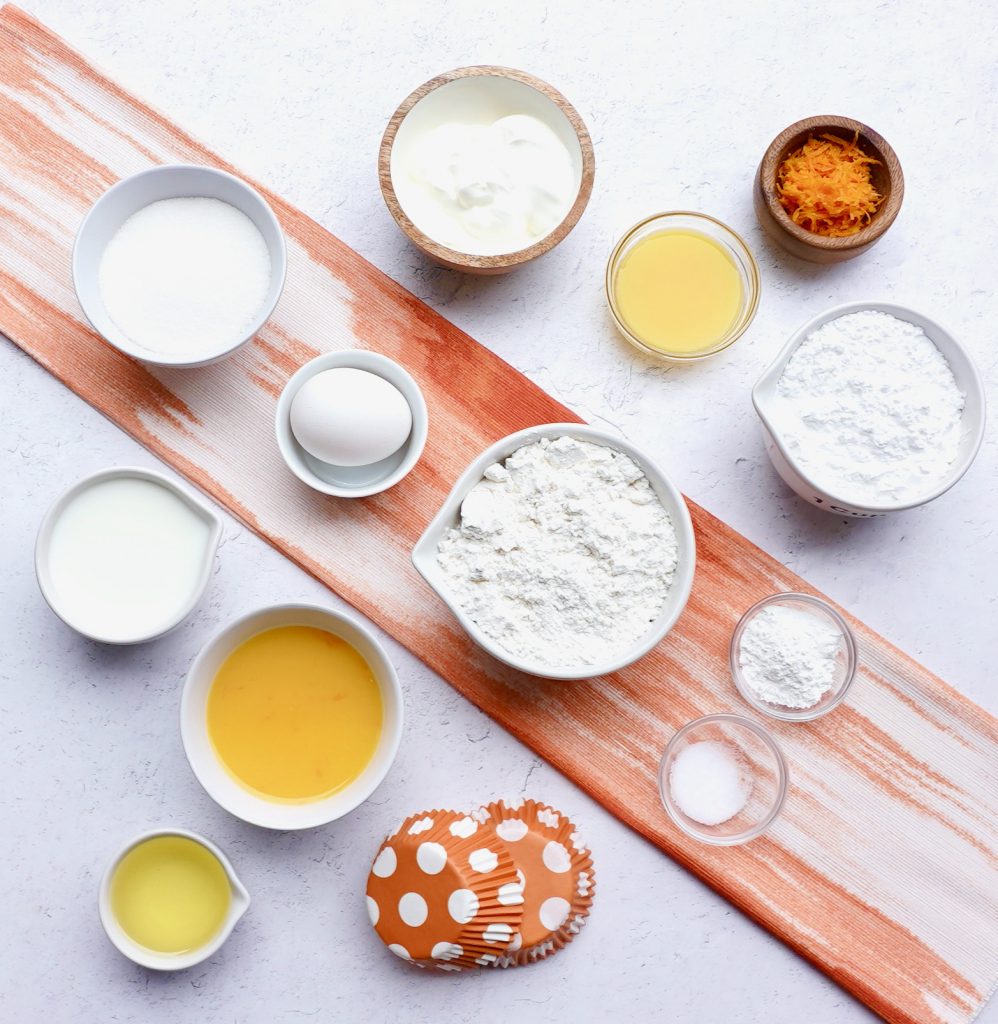 Orange Muffins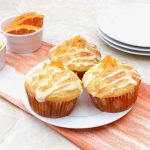 Print This
Ingredients
MUFFINS:

1 large egg

½ cup whole milk

¼ cup vegetable oil

½ cup plain Greek yogurt

1 ½ cups all purpose flour

½ cup granulated sugar

2 teaspoons baking powder

½ teaspoon salt

2 teaspoons fresh orange zest

½ cup fresh orange juice

Cupcake liners

GLAZE:

½ cup powdered sugar

1 teaspoon orange zest

1 tablespoon orange juice
Instructions
MUFFIN:
Preheat oven to 400 degrees. Place the oven rack at the top of the oven.
Line a muffin tin with 10 paper liners. Press them down into the muffin cups.
In a medium bowl beat the egg. Add the milk, vegetable oil and Greek yogurt and mix together well.
In a large bowl, combine flour, sugar, baking powder and salt. Combine the flour mixture well.
Add the wet ingredients to the dry ingredients and combine them together using a rubber spatula. 
Stir in the orange zest and orange juice.
Divide batter between the 10 cupcake liners. It will be about ⅓ cup batter per muffin.
Bake for 20 minutes. Ovens due vary so start looking in on the muffins at 15 minutes if your oven temperature tends to run hot. You want the top of the muffins to be completely set and golden brown.
You can serve the muffins warm without glaze or remove them from the muffin tin to a wire rack to cool.
Let the muffins cool completely if you are planning on glazing them.
GLAZE:
Combine the powdered sugar, orange zest and orange juice in a small bowl. If the mixture is too thick, add more orange juice, one teaspoon at a time until you have the right consistency. You want a thick consistency that is pourable.
Using a spoon, drizzle the glaze over the tops of the muffins. 
Let them muffins sit for about 30 minutes until the glaze hardens.