Mexican Street Corn (also known as "Elote") is a popular street food snack in Mexico. Grilled corn on the cob is slathered with a mix of mayonnaise, lime juice, and chili powder, then sprinkled with cotija cheese. This Mexican Street Corn Casserole captures all of those flavors in a simple shareable dish perfect for potlucks or family meals.
With a blend of corn kernels, zesty lime, creamy mayonnaise, sour cream, and spicy seasonings, this easy recipe creates a casserole full of bold flavors and texture. The dish is topped with a sprinkle of crumbled cotija cheese, offering a salty finish to complement the creamy base.
If you love the flavors of traditional Mexican street corn, check out Mexican Street Corn Pasta Salad and Mexican Street Corn Fritters. The have similar ingredients to this Mexican street corn casserole recipe.
If you are a fan of Mexican food check out Mexican Pulled Chicken, Mexican Corn Cakes, and 35 Simple Cinco de Mayo Recipes which has lot's of recipes for Taco Tuesday.
SOME THINGS TO KNOW:FAQ'S
INGREDIENT TIPS:
If you are not familiar with cooking  jalapeño pepper, the heat is contained in the seeds and ribs. If you remove them before using, you will lessen the heat.
Read 6 Ways to Make a Chili Pepper Less Spicy to learn more.
SPECIAL EQUIPMENT NEEDED:
8″ x 8″ baking dish
Large bowl
SUBSTITUTIONS:
If Cotija cheese is unavailable at your grocery store,  Queso Fresco can be substituted. Feta cheese is also a great substitute, offering a similar crumbly texture and salty flavor.
If you do not have Mexican cheese blend, Monterey Jack or Cheddar cheese can be substituted.
Greek yogurt or sour cream can replace mayonnaise for a lighter, tangier flavor. They also offer a creamy texture that blends well with the other ingredients.
For those who prefer less heat, green bell peppers are a good alternative for the jalapeño pepper.  Those who like it spicier might opt for Serrano peppers. You could also substitute ½ teaspoon black pepper or a couple of dashes of hot sauce.
Ancho chili powder or cayenne pepper can be used as substitutes for chili powder, adjusting the quantity based on the desired heat level. You could also use taco seasoning.
If fresh corn is not in season, frozen corn, thawed, or well-drained canned corn can be used.
The fresh garlic cloves can be replaced with a teaspoon of garlic powder.
HOW TO STORE MEXICAN STREET CORN CASSEROLE:
You can store the Mexican Street Corn Casserole in the refrigerator for up to 3-4 days. Before refrigerating, allow the casserole to cool to room temperature.Store the casserole in an airtight container or tightly cover the original dish with plastic wrap or aluminum foil to prevent it from drying out and absorbing other odors from the refrigerator.
You can freeze the Mexican Street Corn Casserole for 2-3 months.Before freezing, make sure that the casserole is completely cool. Wrap the casserole dish tightly with plastic wrap. Make sure to press the wrap against the surface to remove as much air as possible. After wrapping with plastic wrap, add a layer of aluminum foil for extra protection against freezer burn.
For the best results, thaw the frozen casserole in the refrigerator for 24 hours before reheating.
HOW TO REHEAT MEXICAN STREET CORN CASSEROLE:
To reheat the casserole in the oven, preheat your oven to 375°F (190°C).Remove the plastic wrap and aluminum foil from the casserole dish. Cover the dish with a new piece of aluminum foil to prevent the top from burning or drying out. Place the casserole in the oven and reheat for about 25-30 minutes, or until it is hot and bubbly throughout.
To reheat the casserole in a microwave oven, If possible, cut a portion of the casserole you intend to eat. This will ensure even reheating as opposed to reheating the whole casserole.Place the portion of casserole in a microwave-safe dish.Cover the dish with a microwave-safe lid.Set the microwave to medium power (50%) and heat the casserole for about 2-3 minutes. Check the temperature and continue heating in 1-minute increments, stirring in between until heated through.
Reserve ¼ cup of the Cojita cheese and the green onions to top the casserole after baking. Add all the remaining ingredients to a large bowl.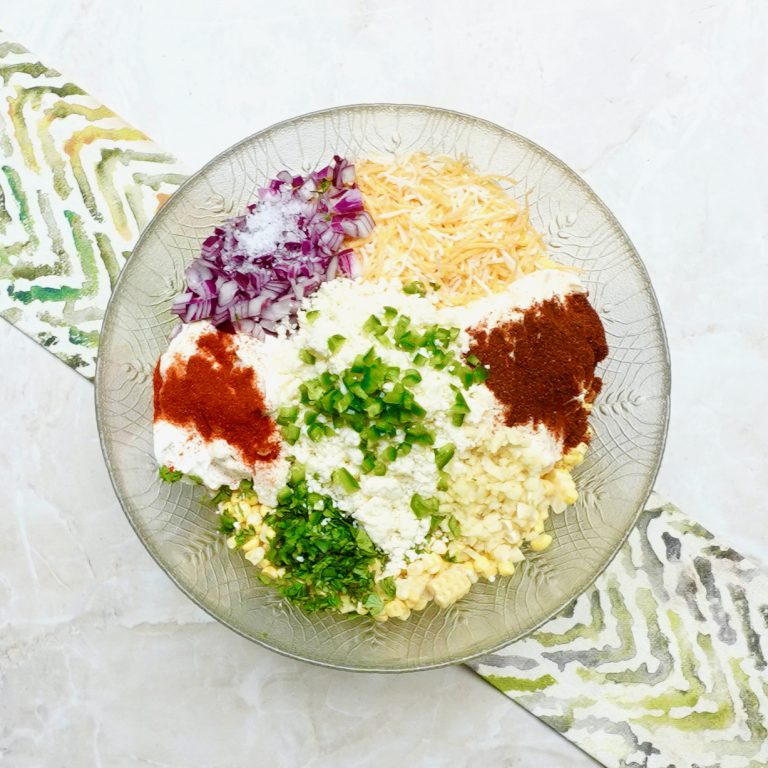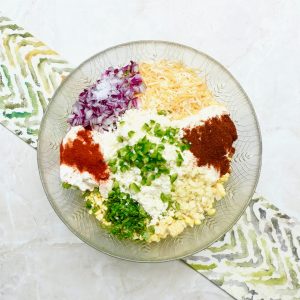 Combine the ingredients well.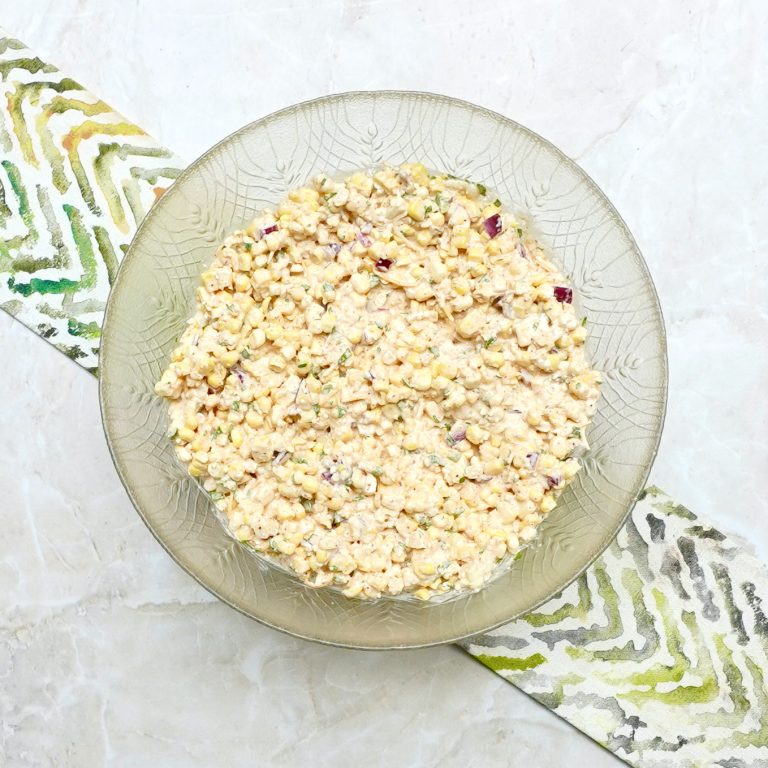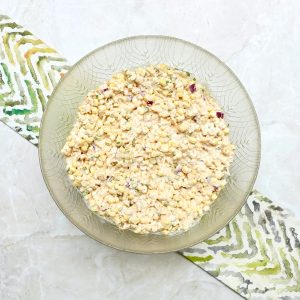 Spoon the mixture into your prepared baking dish.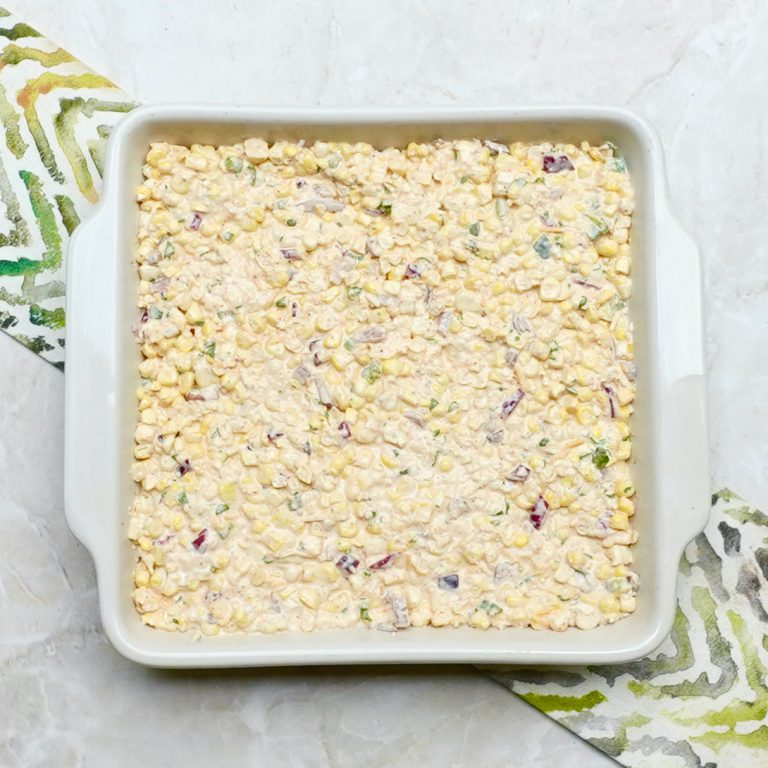 Bake for 30-35 minutes until golden brown.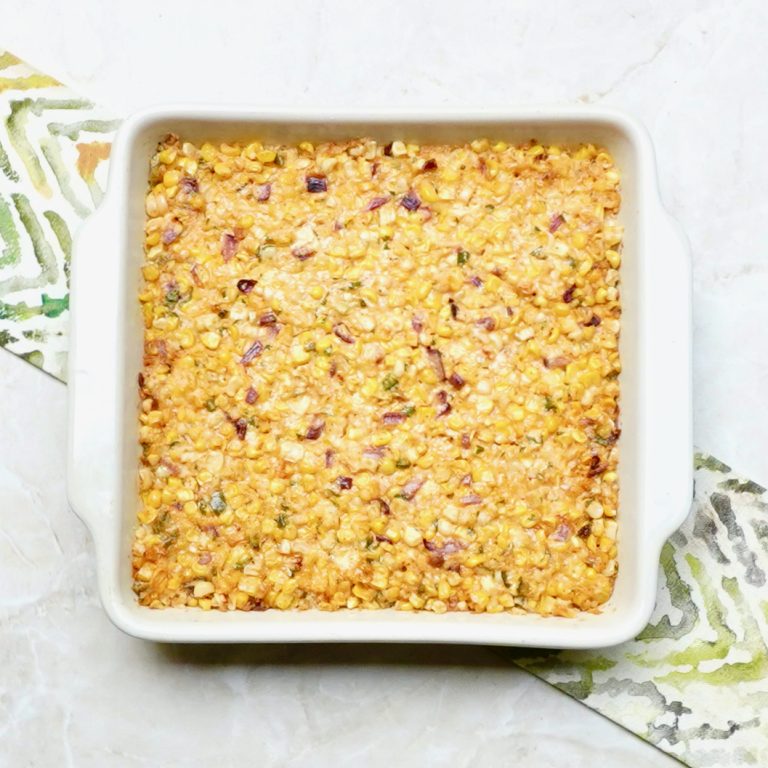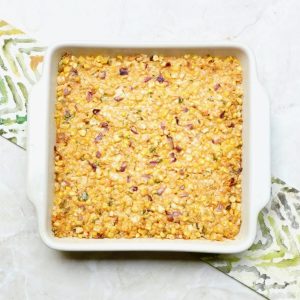 Mexican Street Corn Casserole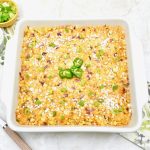 Print This
Ingredients
5 cups of corn kernels (fresh, frozen and thawed, or canned and drained) You would need 6 ear of corn

½ cup mayonnaise

Mexican Street Corn Casserole cup sour cream

¼ cup fresh cilantro, finely chopped

1 small red onion, finely chopped

1 jalapeño pepper, seeds removed and finely chopped (optional for heat)

2 cloves garlic, minced

2 tablespoons lime juice

1 cup fresh Cotija cheese, crumbled and divided

½ cup Mexican blend cheese

1 teaspoon chili powder (adjust according to preference)

¼ teaspoon smoked paprika

1 teaspoon kosher salt

2 green onions, thinly sliced

Butter, cooking spray or oil for greasing the baking dish
Instructions
Preheat your oven to 375°F (190°C). Grease a medium-sized baking dish with butter, cooking spray or oil.
Reserve ¼ cup of the Cojita cheese and the green onions to sprinkle on the casserole after baking.
In a large mixing bowl, combine the corn, mayonnaise, sour cream, cilantro, red onion, jalapeño pepper, garlic, lime juice, cotija cheese, Mexican  blend cheese, chili powder, smoked paprika and kosher salt.  Mix well until everything is evenly incorporated.
​ Pour the corn mixture into the greased casserole dish, spreading it out evenly.
​ Place the dish into the preheated oven and bake for about 30- 35 minutes, or until the top begins to turn a golden brown and the edges are bubbly.
Once baked, remove the casserole from the oven and let it cool slightly. Sprinkle the top of the casserole with extra Cotija cheese, and green onions. Serve warm with lime wedges on the side.
This casserole is a perfect side dish with grilled meats or can be a one-dish meal at any gathering on its own. Enjoy your Mexican Street Corn Casserole!