Strawberry Blue Cheese salad is a perfect mix of sweet and savory.
This is a salad that has many layers of flavor. The walnuts are both sweet and savory cooked with the combination of chili powder and sugar. The dressing is also a bit sweet with the addition of honey, and the dijon mustard and balsamic vinegar add the savory element.
The fresh strawberries make this a pretty salad to serve and again add the element of sweetness. The sharp flavor of blue cheese adds a nice contrast to the strawberries but if you are not a fan of blue cheese, a milder flavor cheese such as feta would work as well.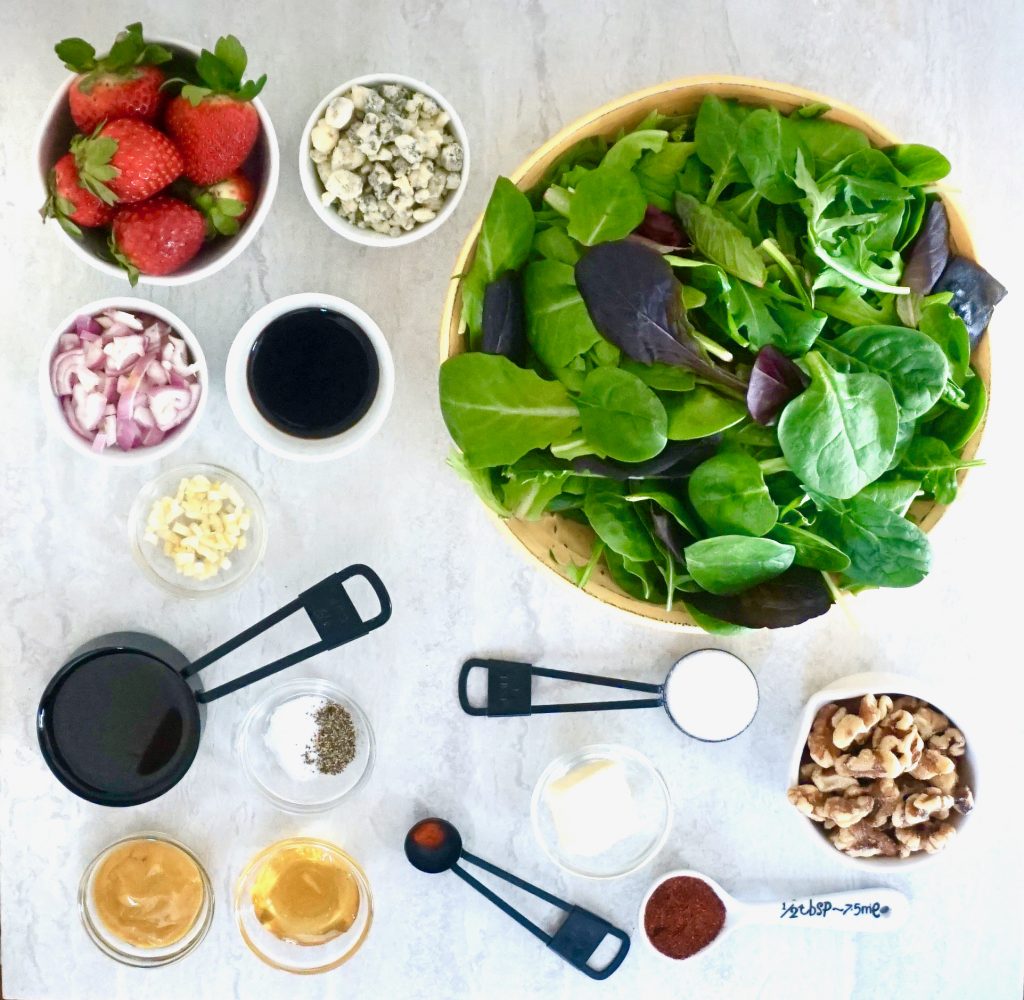 Strawberry Blue Cheese Salad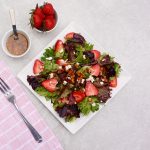 Print This
Ingredients
SALAD:

1- 5 ounce bag spring mix salad greens

2 ounces blue cheese, crumbled

1/2 pint strawberries, sliced

1/2 cup sweet and spicy walnuts

balsamic vinaigrette

SWEET AND SPICY WALNUTS:

1/2 cup walnut pieces

1 tablespoon granulated sugar

1 tablespoon butter

1 and 1/2 teaspoons chili powder

pinch cayenne pepper

BALSAMIC VINAIGRETTE:

1/2 cup balsamic vinegar

3 tablespoons dijon mustard

3 tablespoons honey

2 garlic cloves, minced

2 small shallots, minced

1/4 teaspoon salt

1/4 teaspoon black pepper

1 cup olive oil
Instructions
SWEET AND SPICY WALNUTS:
Combine the sugar, chili powder and cayenne pepper in a small bowl. Set aside.
In a skillet, heat the butter over medium heat. Add the walnuts and cook, stirring until the walnuts are lightly toasted. This should take 2-3 minutes.
Add the sugar mixture to the skillet and cook until the sugar is carmelized and the nuts are evenly coated. This should take about 2 minutes.
Remove from the pan and place on a waxed paper lined plate.
BALSAMIC VINAIGRETTE:
In a small bowl, whisk together the the balsamic vinegar, dijon mustard, honey, garlic, shallots, salt, and pepper.
Gradually whisk in the olive oil, blending well.
SALAD:
In a large bowl, combine the spring mix, sliced strawberries, and walnuts.
Pour balsamic vinaigrette as needed over the salad. The salad is best lightly coated.
Toss the salad and sprinkle with the crumbled blue cheese.
Notes
Any unused dressing can be kept covered in the refrigerator for several days.