Summer Squash Basil Pasta is an easy to make pasta recipe that is perfect for the summer months when squash and basil are at their freshest and best prices.
This simple recipe requires a fast sauté of the squash with shallots and garlic. The rigatoni pasta is cooked, drained and returned to the pot, then the squash mixture is added along with ricotta and parmesan cheese. It's simple, fast and full of fresh flavors.
Summer Squash Basil Pasta is a creamy, flavorful dish that can be served as a vegetarian dinner or a pasta side dish.
Yellow Squash and Zucchini are very versatile and work well in a variety of different recipes. Zucchini Herb Frittata and Squash Fritters are a couple others that you might want to check out. You might also like Summer Squash Zoodles. If you want try a cake made with summer squashes and fresh lemon juice, check out Lemon Zucchini Cake. For another summer pasta that s an easy meal, check out Margherita Pasta.
For more ways to cook with this seasonal squash, check out 15 Simple Summer Squash Recipes.
SOME THINGS TO KNOW"FAQ"S
INGREDIENT TIPS:
 SPECIAL EQUIPMENT NEEDED:
​Large pot to cook the pasta
Large Skillet
SUBSTITUTIONS:
​If you cannot find Rigatoni at your local grocery store, substitute another short tube pasta like Penne or Ziti.
​If you do not have olive oil, canola oil or vegetable oil can be used.
​You can use red onion or yellow onion in place of the shallot.
1 teaspoon garlic powder can be substituted for the garlic cloves.
The best substitutes for Parmesan cheese are Asiago or Romano cheese.
HOW TO STORE LEFTOVER SUMMER SQUASH BASIL PASTA:
You can store any leftover pasta in the refrigerator in an airtight container for 2-3 days
​You can freeze the pasta in an airtight freezer container for 2-3 months. The consistency of the squash may change during the process.
HOW TO REHEAT SUMMER SQUASH BASIL PASTA:
You can reheat the pasta in a microwave safe dish, covered in the microwave. Cook at 2 minute intervals until heated through.
You can reheat the pasta on the stovetop in a large sauce pan over medium low heat. Add a few tablespoons of water to the pasta to bring the sauce back and stir it often until it is heated through.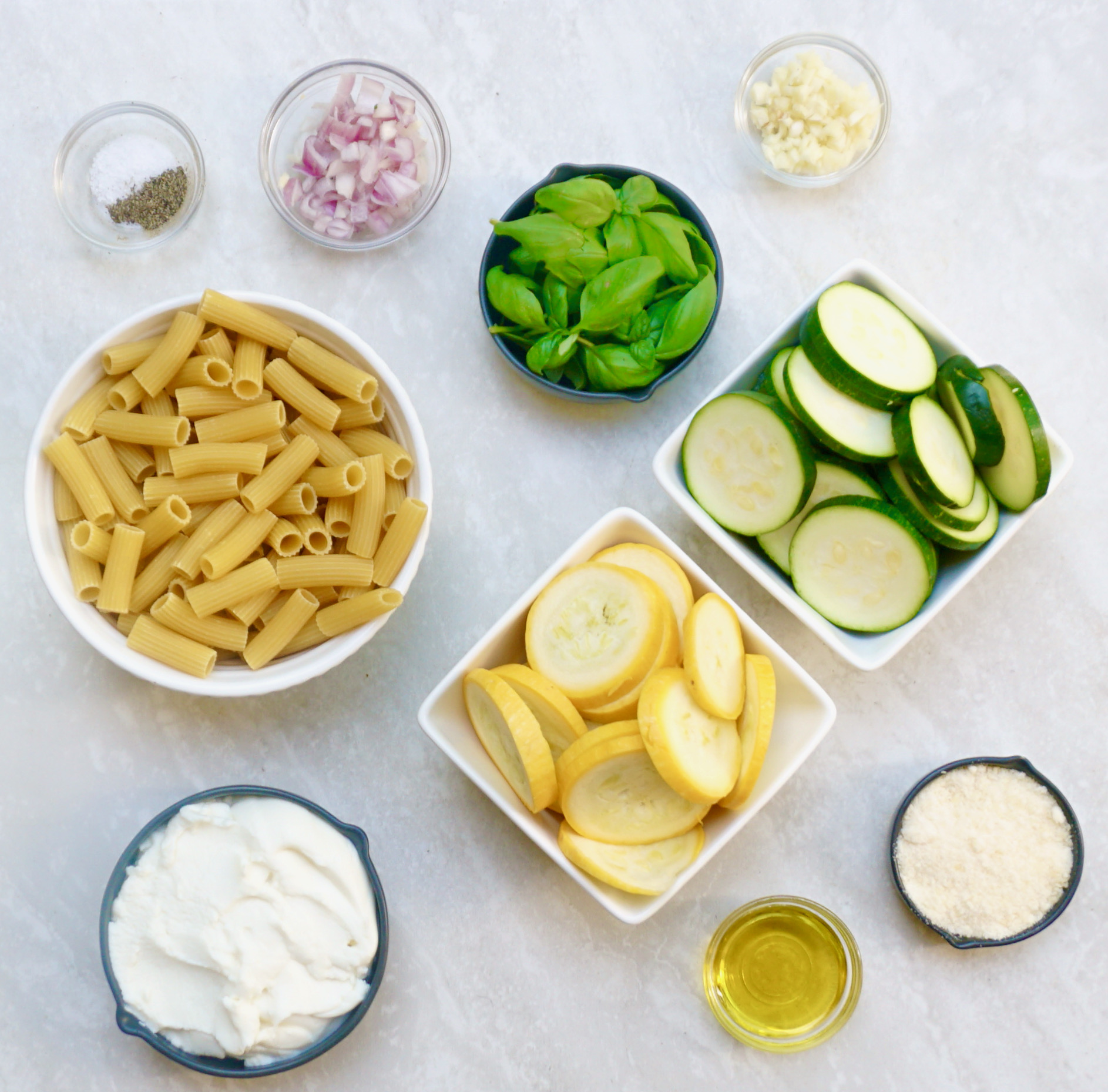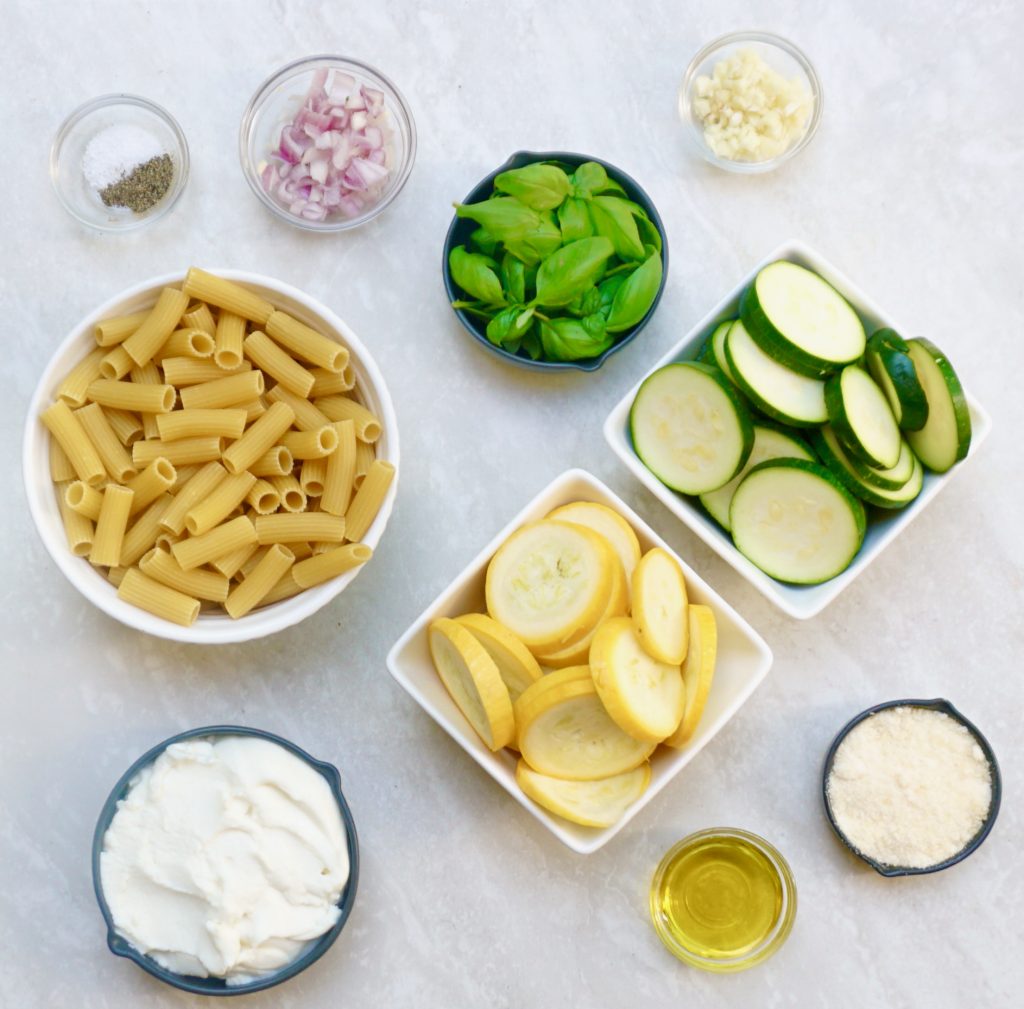 Summer Squash Basil Pasta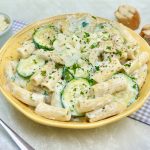 Print This
Ingredients
8 ounces rigatoni pasta

1 tablespoon olive oil

1 small shallot, diced

2 garlic cloves, minced

2 medium yellow squash, sliced ¼ inch thick

2 medium zucchini squash, sliced ¼ inch thick

1 cup ricotta cheese, whole milk or part skim

¼ cup grated parmesan cheese (2 ounces parmesan)

½ cup basil leaves, sliced

½ cup reserved pasta cooking water.
Instructions
Bring a large pot of water with a little salt added to a boil over medium-high heat.Cook pasta according to the package instructions for al dente. Drain pasta but make sure to reserve ½ cup pasta cooking liquid. Transfer pasta back to the cooking pot.
While the pasta is cooking, heat the olive oil in a large skillet over medium low heat. Add the shallots, garlic, yellow squash and zucchini. Sauté for 3 minutes, stirring often. Cover the skillet and cook for 5 minutes, stirring occasionally until the squash is tender.
Add the squash mixture to the pasta pot. Stir in the ricotta, parmesan grated cheese, fresh basil and the ½ cup of pasta water.
Combine well.
Cook over medium low heat for 2-3 minutes until the pasta is heated through. Season with kosher salt and ground black pepper to taste.
Place into a large serving bowl and add some additional cheese to the top of the pasta.