Summer Squash Basil Pasta is an easy to make pasta recipe that is perfect for the summer months when squash and basil are at their freshest and best prices.
This simple recipe requires a fast sauté of the squash with shallots and garlic. The rigatoni is cooked,drained and returned to the pot, and the squash mixture is added along with ricotta and parmesan cheese. It's simple and fast!
Summer Squash Basil Pasta is a creamy, flavorful dish that can be served as a vegetarian dinner or a pasta side dish.
Yellow Squash and Zucchini are very versatile and work well in a variety of different recipes. Zucchini Herb Frittata and Squash Fritters are a couple others that you might want to check out.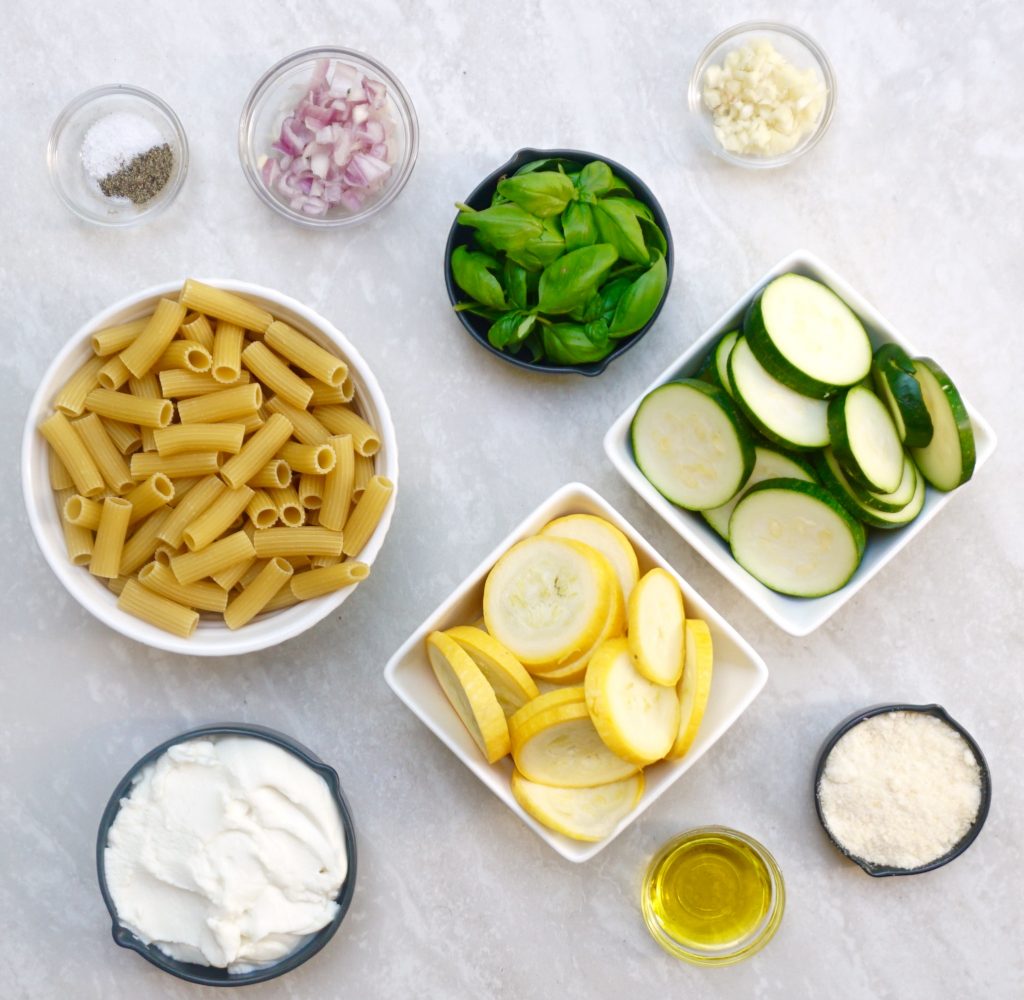 Summer Squash Basil Pasta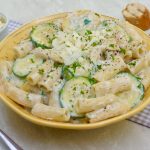 Print This
Ingredients
8 ounces rigatoni pasta

1 tablespoon olive oil

1 small shallot, diced

2 cloves garlic, minced

2 medium yellow squash, sliced ¼ inch thick

2 medium zucchini squash, sliced ¼ inch thick

1 cup ricotta cheese, whole milk or part skim

¼ cup grated parmesan cheese

½ cup fresh basil leaves, sliced

½ cup reserved pasta cooking water.
Instructions
Cook the rigatoni in a large pot of boiling water, according to the package directions for the firmness you prefer. Drain the pasta but make sure to reserve ½ cup of the cooking water. Return the pasta to the cooking pot.
Heat the olive oil in a large skillet over medium low heat. Add the shallots, garlic, yellow squash and zucchini. Sauté for 3  minutes, stirring often.  Cover the skillet and cook for 5 minutes, stirring occasionally until the squash is tender.
Add the squash mixture to the pasta pot. Stir in the ricotta, parmesan cheese, basil and  and reserved cooking water. Combine well.
Cook over medium low heat for 2-3 minutes until it is heated through. Season with salt and pepper to taste.