Sweet apple cider is one of the best things about fall. It is wonderful cold and just as delicious mulled. It is used for baking and it can be used in savory recipes as well this time of year. Apple Cider Chicken Thighs are boneless chicken thighs that are seared and then cooked in an apple cider based sauce.
The sauce is both a savory and sweet sauce and you will know that the cider is there. It is combined with shallots, garlic, dijon mustard and rosemary to create an unusual and flavorful meal with an apple cider glaze.This dish is autumn on a plate, and it's surprisingly easy to make. It just may turn out to be one of your favorite fall dinners.
Whether you're preparing a family dinner or a special gathering with friends, these Apple Cider Chicken Thighs are sure to please! Add some add some Herb Roasted Turmeric Potato Wedges and some Red Pepper Green Beans to make it a complete meal.
This recipe is easy to make and cooks in about 20 minutes which makes it a good choice for a weeknight dinner. If you like to cook with boneless juicy chicken thighs and want to try some other cozy dinners you should check out French Onion Chicken Thighs made with caramelized onions, and Turmeric Chicken. Both recipes have a delicious gravy.
If you have some leftover cider, try out Curried Apple Rice, Cinnamon Cider Apple Sauce and Apple Cider Mule.
SOME THINGS TO KNOW:FAQ'S
INGREDIENT TIPS:
SPECIAL EQUIPMENT NEEDED:
Large skillet or large cast iron skillet
Pie plate
Instant-read thermometer
SUBSTITUTIONS:
Substitute gluten-free all-purpose flour for regular flour to make this dish gluten-free.
Replace the butter with a dairy-free butter substitute or more olive oil to make the recipe dairy-free.
Reduce the amount of salt or opt for a low-sodium chicken stock if you're watching your sodium intake. You can also substitute chicken broth.
Red or yellow onion can be substituted for the shallots.You could also substitute a teaspoon of onion powder.
You can replace the boneless chicken thighs with bone and skin-on chicken thighs. If you prefer white over dark meat you can use boneless chicken breast.
If fresh garlic is not available substitute ½ teaspoon of garlic powder.
If fresh rosemary is not available, substitute ½ teaspoon of dried rosemary. You can also substitute other fresh herbs that you have on hand.
HOW TO STORE LEFTOVER APPLE CIDER CHICKEN THIGHS:
You can store the leftover chicken in the refrigerator for up to 3-4 days. Allow the leftover chicken thighs and sauce to cool to room temperature then transfer them to an airtight container or a resealable plastic bag.
If you want to freeze your Apple Cider Chicken Thighs for longer-term storage, wrap the chicken thighs individually in plastic wrap or aluminum foil to prevent freezer burn.Place the wrapped chicken thighs in a heavy-duty freezer bag, removing as much air as possible before sealing. You can keep them in the freezer for 2-3 months.
If you've frozen the chicken thighs, it's best to thaw them in the refrigerator overnight.
HOW TO REHEAT APPLE CIDER CHICKEN THIGHS:
To reheat the chicken in the oven, preheat your oven to 350°F (175°C).Place the chicken thighs in an ovenproof dish, baking sheet or sheet pan and cover it with aluminum foil to prevent drying. Heat in the oven for about 20-25 minutes or until they are heated through.
You can also you can reheat them in a microwave-safe dish in the microwave, using 1-2 minute intervals until they reach the desired temperature, stirring or flipping the chicken occasionally.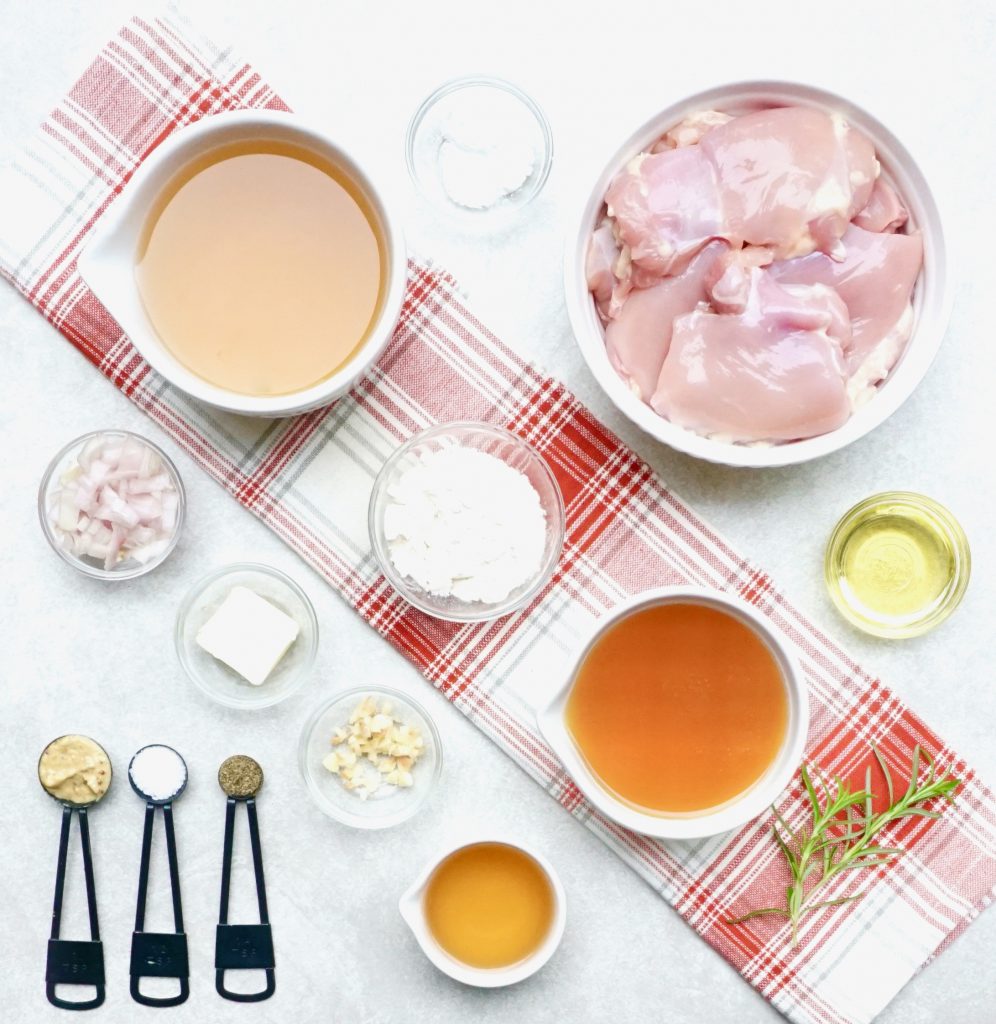 Apple Cider Chicken Thighs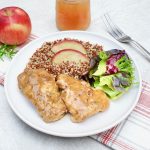 Print This
Ingredients
1 ½ pound boneless chicken thighs, trimmed of fat

3 tablespoons all purpose flour

½ teaspoon kosher salt

¼ teaspoon black pepper

2 tablespoons olive oil

1 tablespoon butter

2 tablespoon shallot, minced

1 garlic clove, minced

¼ cup cider vinegar

1 cup apple cider

2 cups chicken stock

1 teaspoon Dijon mustard

2 sprigs fresh rosemary

2 teaspoons cornstarch

4 teaspoons cold water
Instructions
In a shallow pie plate combine the flour, salt and pepper. Dip each piece of chicken into the flour mixture coating both sides.
In a large skillet, heat the olive oil over medium heat.
Add the chicken thighs to the skillet with the smooth side down. Cook without touching them for 5 minutes.
Turn the chicken thighs over and cook for an additional 3 minutes.
Remove the chicken from the skillet to a plate.
Turn the heat down to medium low and add the butter to the skillet. Stir to scrape up the brown bits from the bottom of the pan.
Add the shallots and the garlic to the skillet and cook for one minute, stirring occasionally.
Add the cider vinegar to the pan and cook until it has reduced by half. This should take about one minute.
Add the apple cider vinegar and apple cider to the skillet and raise the heat to the high setting to bring it to a boil. Reduce the heat back to medium low and let it simmer until it is reduced by half. This will take two to three minutes.
Add the chicken stock, Dijon mustard, and rosemary sprigs to the skillet. Again raise the heat to the  high setting  to bring it to a boil them reduce the heat back to medium low. Let it simmer for 3-4 minutes.
Dissolve the cornstarch in the water  in a small bowl and add it to the skillet. Whisk until the mixture starts to thicken.
Add the chicken thighs back to the pan and allow a simmering time of 5 minutes in the pan sauce to heat them through. The internal temperature of the chicken should be 165 degrees. Use a thermometer to check the temperature.
To serve, place the chicken onto a serving platter and spoon the sauce over the chicken.