Apple Cider is one of the best things about fall. It is wonderful cold and just as delicious mulled. It is used for baking and it can be used in savory recipes as well. Apple Cider Chicken Thighs are boneless chicken thighs that are seared and then cooked in an apple cider based sauce.
The sauce is savory but you will know that the cider is there. It is combined with shallots, garlic, dijon mustard and rosemary to create an unusual and flavorful meal.
This recipe is easy to make and cooks in about 20 minutes. If you like to cook with boneless chicken thighs you should check out French Onion Chicken Thighs, and Turmeric Chicken.
If you have leftover cider, try out Curried Apple Rice.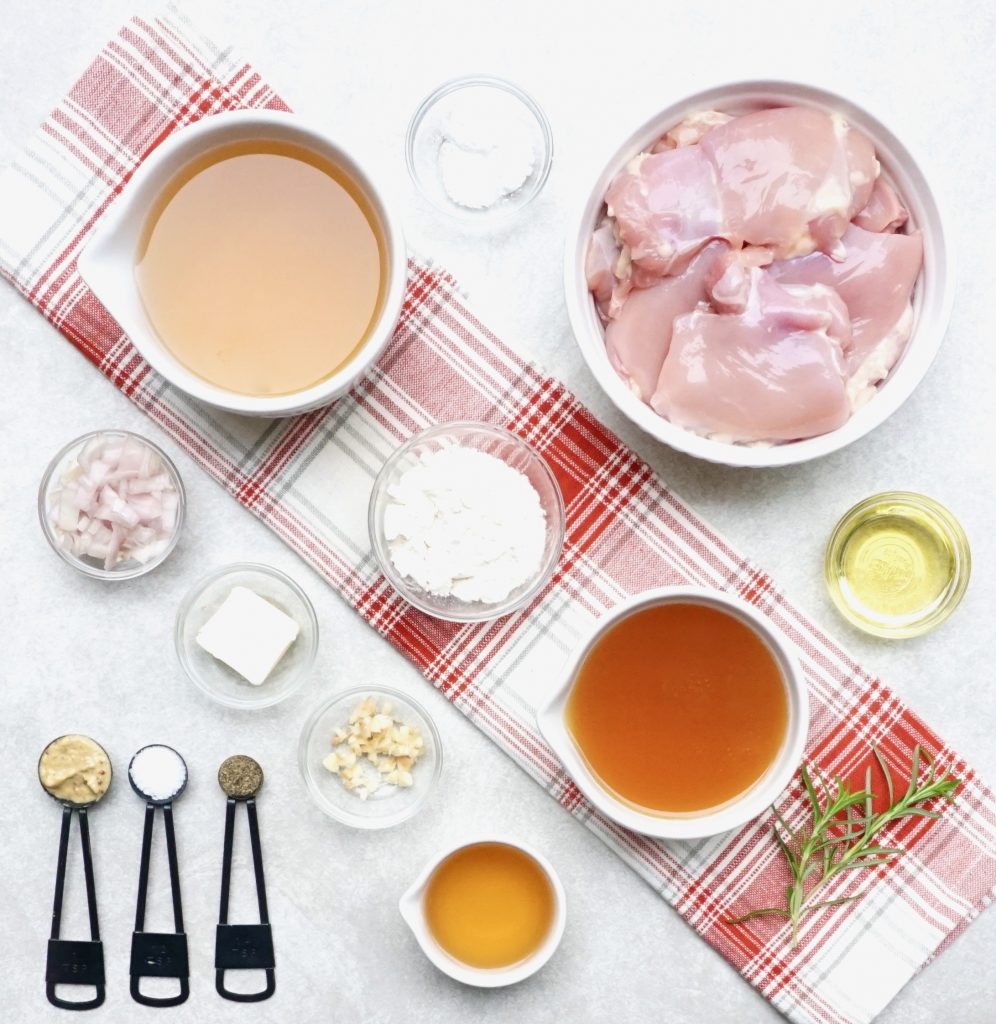 Apple Cider Chicken Thighs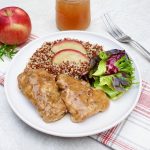 Print This
Ingredients
1 ½ pound boneless chicken thighs, trimmed of fat

3 tablespoons all purpose flour

½ teaspoon kosher salt

¼ teaspoon black pepper

2 tablespoons olive oil

1 tablespoon butter

2 tablespoon shallot, minced

1 garlic clove, minced

¼ cup cider vinegar

1 cup apple cider

2 cups chicken stock

1 teaspoon Dijon mustard

2 sprigs fresh rosemary

2 teaspoons cornstarch

4 teaspoons cold water
Instructions
In a shallow pie plate combine the flour, salt and pepper. Dip each piece of chicken into the flour mixture coating both sides.
In a large skillet, heat the olive oil over medium heat.
 Add the chicken thighs to the skillet with the smooth side down. Cook without touching them for 5 minutes.
Turn the chicken thighs over and cook for an additional 3 minutes.
Remove the chicken from the skillet to a plate. 
Turn the heat down to medium low and add the butter to the skillet.
Add the shallots and the garlic to the skillet and cook for one minute, stirring occasionally.
Add the cider vinegar to the pan and cook until it has reduced by half. This should take about one minute.
Add the apple cider to the skillet and raise the heat to the  high setting to bring it to a boil. Reduce the heat back to medium low and let it simmer until it is reduced by half. This will take two to three minutes.
Add the chicken stock, Dijon mustard, and rosemary sprigs to the skillet. Again raise the heat to the  high setting  to bring it to a boil them reduce the heat back to medium low. Let it simmer for 3-4 minutes.
Dissolve the cornstarch in the water and add it to the skillet. Whisk until the mixture starts to thicken.
Add the chicken thighs back to the pan and let them simmer them for 5 minutes to heat them through.