Strawberry Bread Pudding is a delicious custardy pudding made with fresh strawberries. Bread puddings are so easy to make and they are a great way to use up extra stale bread. You can pretty much use whatever you happen to have on hand. The other main ingredients of milk, heavy cream, eggs, sugar and vanilla extract, you probably already have in your kitchen as well. Just add the most scrumptious strawberries you can find and you are good to go!
Strawberry Bread Pudding is a delicious dessert, but you could actually eat if for breakfast as well! The fresh strawberries and creamy texture are a perfect way to start the day. You can serve this warm with a scoop of vanilla ice cream, at room temperature or chilled.
If you would like to try a topping for this check out Chocolate Condensed Milk Bread Pudding Sauce. It is the most delicious chocolate sauce creamy glaze. If you want a flavorful strawberry sauce to top your bread pudding with, check out Roasted Strawberries.
If you want to try some other strawberry recipes check out, Strawberry Shortcake Bites, Strawberry Whole Grain Pancakes, Strawberry Rhubarb Cake, Strawberry Blondies, Strawberry Rhubarb Bars and Strawberry Ricotta Cake.
You might also like, 20 Simple Summer Strawberry Recipes.
SOME THINGS TO KNOW: FAQ'S
SPECIAL EQUIPMENT NEEDED:
Eight 6 ounce ramekins, 6 ounce custard cups or an 8″ x 8″ baking pan.
Cooking spray
Large bowl
Baking sheet
SUBSTITUTIONS:
If you do not have a baguette (French bread) , you can use what ever you have on hand. I would recommend using a form of white bread or a mixture of white breads and rolls. You can learn more by reading The Best Breads for French Toast and Bread Pudding.
You could use a light brown sugar in this recipe instead of the granulated sugar.
If you do not have whole milk, some good dairy based substitutes are 2% milk, half and half or heavy cream. There are also plant based milks like oat milk, almond milk and soy milk which would work in the recipe.
You could also replace the heavy cream with the same substitutes as for the whole milk.
If you are watching your egg consumption, replace each egg with 1/4 cup egg substitute. You will need 1 cup for this recipe.
If you do not have vanilla extract, the best substitutes are vanilla bean paste, which you can use in a one to one swap or vanilla bean. The seeds from one vanilla bean equal a tablespoon of vanilla extract. You will only need two thirds of the seeds from a bean to equal the two teaspoons required in this recipe.
You can be flexible with the berries. Raspberries, blueberries and blackberries would also be delicious in this recipe.
STORING THE LEFTOVER STRAWBERRY BREAD PUDDING:
You can store any leftovers in the refrigerator for 3-5 days. Make sure that each ramekin is tightly covered with plastic wrap.
This bread pudding will freeze well. You should be able to easily remove the bread puddings from the ramekins if you sprayed them with cooking spray. Place them onto a baking sheet lined with wax paper or parchment paper and place them into the freezer. Once they are frozen, remove them from the baking sheet and place them into an airtight freezer container or bag and return them to the freezer.
ADDITIONAL BREAD PUDDING RECIPES: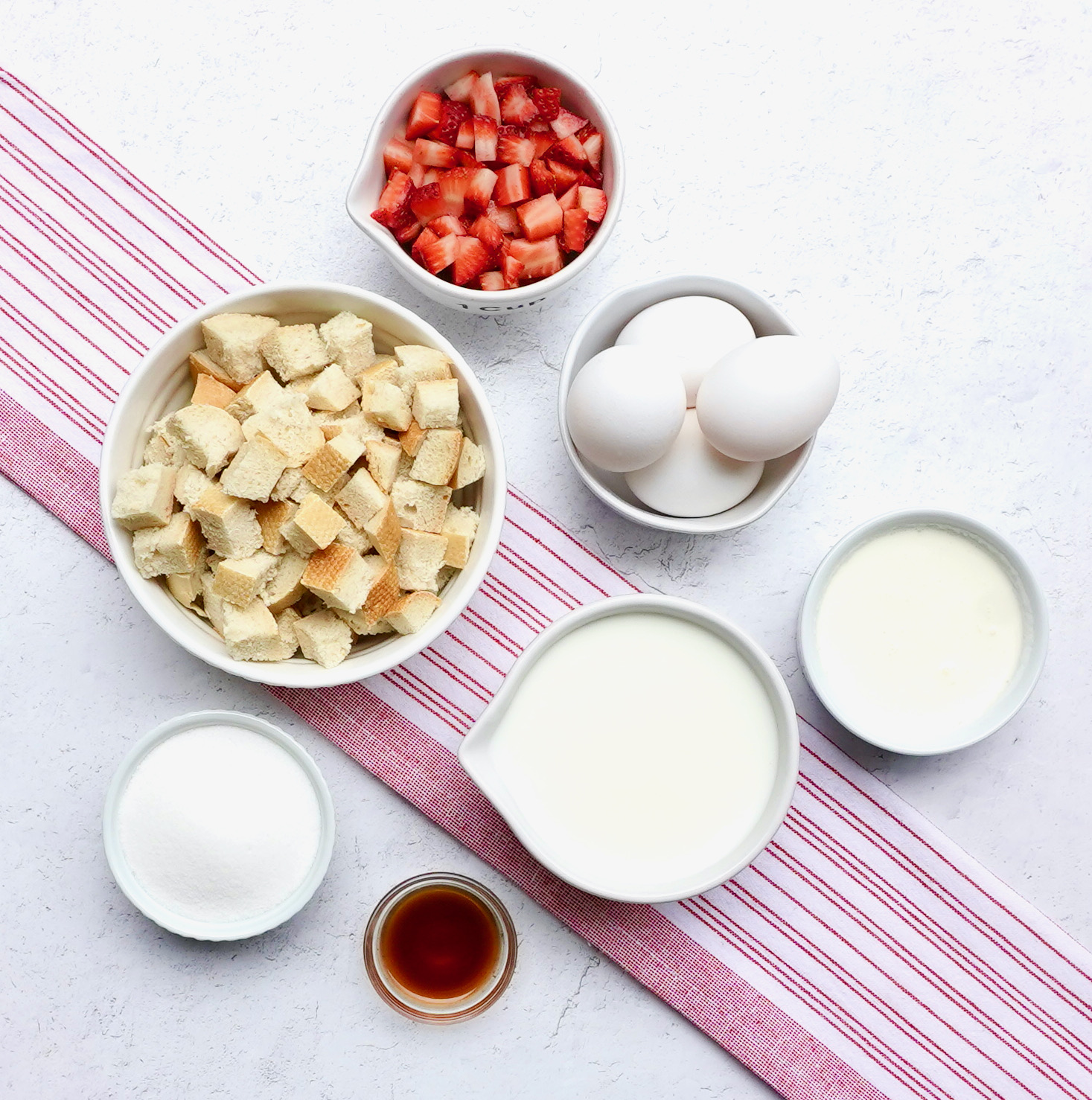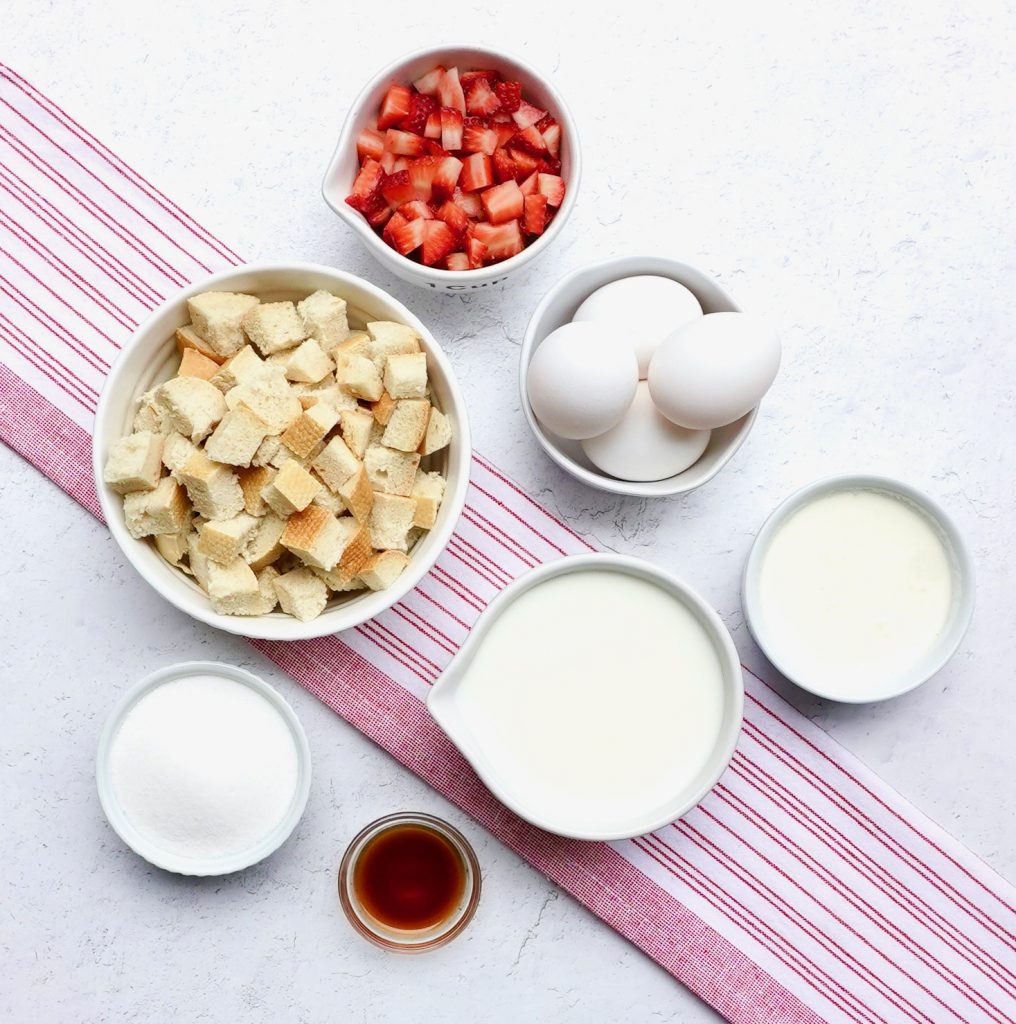 Strawberry Bread Pudding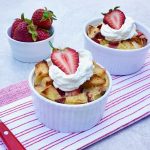 Print This
Ingredients
4 large eggs

1 cup heavy cream

2 cups whole milk

¾ cup sugar (granulated)

2 teaspoons vanilla extract

4 cups bread cubes, baguette or other, cut in to ¾ inch cubes

1 cup fresh strawberries, diced
Instructions
Beat the eggs in a large mixing  bowl.
Add the heavy cream, milk, sugar and vanilla extract. Mix eggs well with the new additions.
Add the bread cubes and diced strawberries to the egg and milk mixture in the bowl and stir to combine them well. Let this bread mixture sit for 10 minutes while you are pre heating your oven.
Preheat your oven to 350 degrees. Place you oven rack into the middle of the oven.
Spray either 8 ramekins , 8 custard cups or one 8 x 8 inch baking dish with non- stick cooking spray. If you are using the ramekins, place them onto a baking sheet. If you do not have a baking sheet, you could also place them into a large roasting pan.
Divide the bread custard mixture evenly or pour mixture between the ramekins.
Bake for 30 minutes, until the custard is set and the tops are a light golden brown.
If you are using an 8″ x 8″ pan instead of the ramekins , the baking time will be 40-45 minutes.
Remove the bread puddings from the oven and place them onto a wire cooling rack. You can let them cool slightly and serve them warm or let them cool to room temperature before serving. If you do not serve them at once, they will need to placed into the refrigerator.
Garnish with a bit of whipped cream and sliced strawberries. Enjoy!