Strawberry Blondies are easy to make bars made with fresh strawberries and white chocolate chips. They are rich and moist with a wonderful strawberry flavor.
Bars are an easy way to enjoy the flavors of cookies with a fraction of the work. You can avoid all the scooping and multiple cookie sheets and still have a similar result.
Bake time for this recipe has been set using a 9″ x 9″ pan. The blondies will be an inch thick and they will need to bake between 30- 35 minutes.
Servings will depend on how large you slice them. If you have extra and want to freeze some make sure that they have cooled entirely. Wrap them each individually in plastic and place them onto a sheet pan in the freezer. Once they are frozen, place them into a resealable freezer bag and return them to the freezer. They can be frozen up to 3 months.
If you are a fan of blondies, check out Kitchen Sink Blondies. If you want some other ways to bake with fresh strawberries check out Strawberry Banana Muffins, Strawberry Rhubarb Bars, Strawberry Ricotta Cake, and Strawberry Olive Oil Cake. You might also like 20 Simple Summer Strawberry Recipes.
SOME THINGS TO KNOW: FAQ'S
INGREDIENT TIP: 
SPECIAL EQUIPMENT NEEDED:
9″ x 9″ baking pan
Large mixing bowl with hand held electric mixer or stand mixer with a paddle attachment.
SUBSTITUTIONS:
Milk chocolate chips or semi sweet chocolate chips can be substituted for the white chocolate chips.
You can use margarine instead of butter.
You can replace the all purpose flour with whole wheat flour. The measurement is the same.
This recipe calls for both brown sugar and granulated sugar. If you do not have both, simply use ¾ cup of which ever sugar you have on hand.
You can use frozen strawberries if you do not have fresh berries. Make sure to defrost them and remove any moisture from them before using. You can do this by placing them on a paper towel to absorb the moisture.
HOW TO STORE STRAWBERRY BLONDIES:
You can keep the blondies tightly covered with plastic wrap or in an airtight container at room temperature for 2-3 days.
Strawberry Blondies will freeze well for 3 months.
Defrost the blondies on a wire rack. Once they are at room temperature, make make sure to cover them until serving.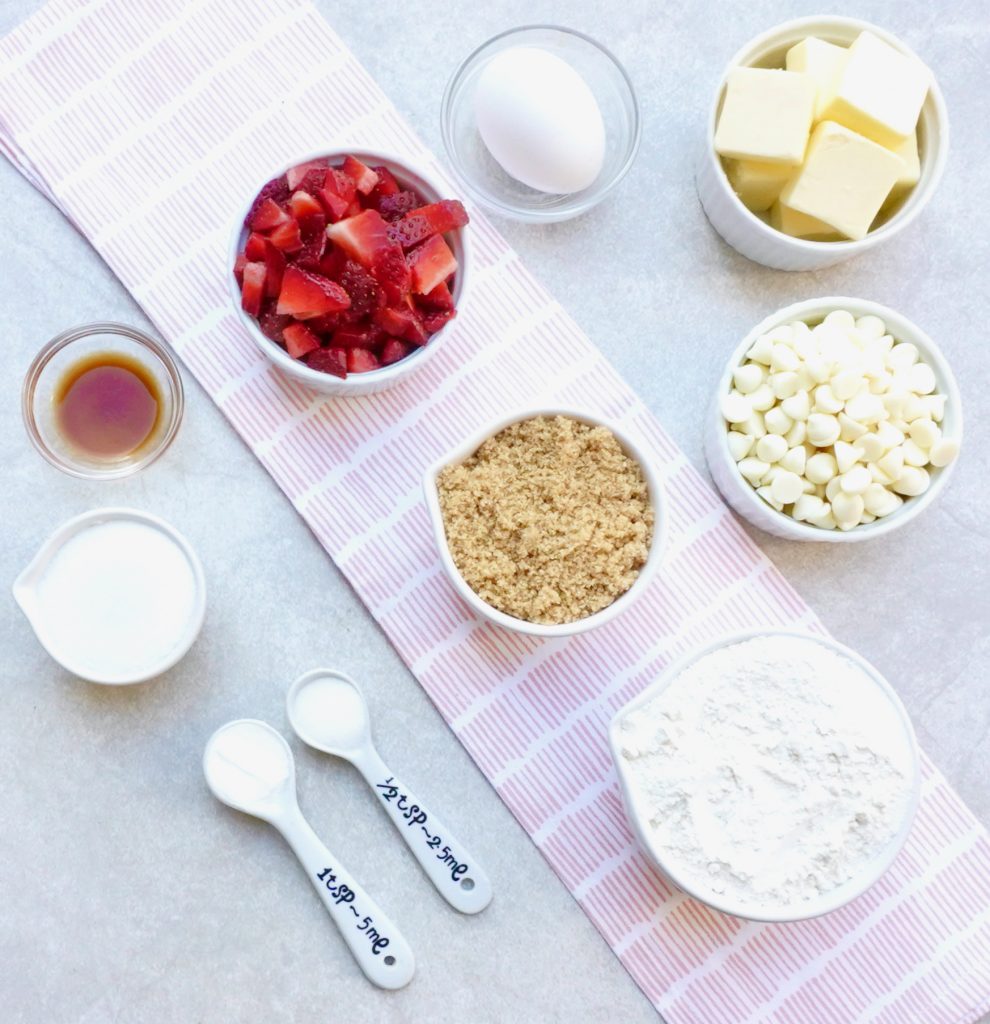 Strawberry Blondies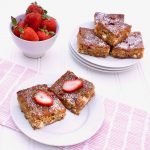 Print This
Ingredients
1 stick butter (8 tablespoons) at room temperature

½ cup brown sugar

¼ cup granulated sugar

1 large egg

1 teaspoon vanilla extract

1 cup all purpose flour

1 teaspoon baking soda

½ teaspoon iodized salt

1 cup white chocolate chips

1 cup fresh strawberries, stems removed and diced into ½ pieces
Instructions
Place your oven rack into the center of the oven. Preheat the oven to 350 degrees.
Grease a 9″ x 9″ baking pan. An easy way to do this is by rubbing vegetable shortening all over the inside of the pan with a paper towel. Make sure to completely cover the entire surface to prevent the bars from sticking.
In a large bowl, using an electric mixer, beat the butter until it becomes fluffy. This can also be done in a stand mixer with the paddle attachment.
Add the brown sugar and granulated sugar and beat until they are fully incorporated.
Add the egg and vanilla extract. Combine well.
Add the flour, baking soda and salt. Combine well.
Stirring by hand, add the white chocolate chips and strawberries. Stir until they are evenly mixed in.
Spoon the dough into the greased baking pan. Smooth it out evenly.
Place the pan into oven and bake for 30 – 35 minutes. Oven temperatures can vary. Start checking them at 25 minutes. You are looking for the top to be completely set and golden brown. When they have reached this point remove them. Over baking will cause the edges to be hard.
Let the bars cool completely and cut them into bars the size you desire.