Mushroom Feta Rotini is a creamy, vegetarian pasta recipe that is so easy to make! With a few simple ingredients, you can make a hearty hot pasta meal.
Feta cheese and reserved pasta cooking water form the base for this delicious pasta sauce. A mixture of mushrooms, shallots and garlic give it lots of flavor.
Mushroom Feta Rotini is one of those great 20 minute recipes that make an easy weeknight meal. This creamy pasta dish would be perfect for Meatless Monday.
If you would like to try another simple recipe where a block of feta cheese is baked with cherry tomatoes to form an amazing sauce check out, Baked Feta Ziti. It was very popular during the baked feta pasta trend.
Mushrooms are always a great addition in a pasta dish. If you would like to see some other mushroom pasta recipes, check out Creamy Mushroom Spinach Bowties which is made with fresh spinach leaves. You might also like, Creamy Mushroom Pappardelle, Cheesy Mushroom Baked Rigatoni, Mushroom Gemelli and Mushroom Bolognese.
SOME THINGS TO KNOW:
Reserved pasta cooking water is a key ingredient in this recipe as it is the base for the sauce. Make sure you reserve a cup of it.
Whole wheat pasta is made with whole grain flour. This flour has not been stripped of it grains so the pasta will provide more vitamins, minerals and fiber. If you do not care for the taste, simple substitute white pasta.
Rotini is a corkscrew shape pasta that is good at holding sauce. If you cannot locate the pasta shape Rotini, some some different types to try would be Fusilli, Rotelle, or Gemelli pasta.
Feta cheese is a Greek, brined cheese made with sheep's milk or a combination of sheep's milk and goat milk.It is readily available either in a block or crumbled.
This recipe calls for Baby Bella Mushrooms. They are a smaller version of a Portobello mushroom and they are also know as Crimini mushrooms. You can use any of the 3 in this recipe, just make sure that if you use Portobello mushrooms, that you create small slices. If you cannot locate these, white mushrooms will work as well.
This recipe calls for the fresh basil to be cut chiffonade to get the most flavor. If you have never done this before, check out How to Cut Chiffonade.
This pasta recipe will be the best when it is served right away. If you do need to make it ahead of time and reheat it, do this in a pan on the stove with some hot milk or cream. Pour ¼ cup whole milk or heavy cream into the bottom of a large pot and heat it over medium low heat until hot. Add the pasta and heat it,  stirring occasionally until it is just heated through. Be careful not to leave it too long or the pasta will become overcooked and mushy.
You can freeze any leftovers in an airtight freezer container for 2-3 months. When you are ready to serve it, defrost it overnight in the refrigerator and follow the instructions above for reheating.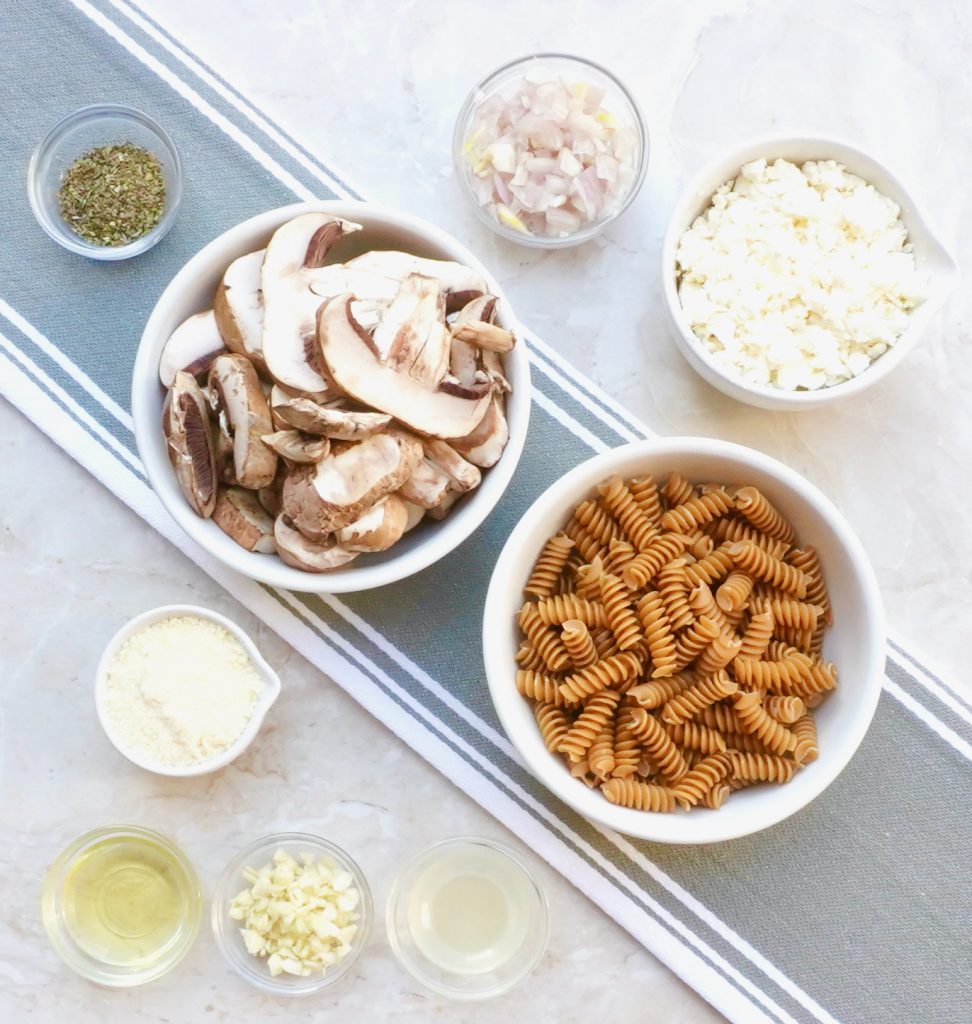 Feta Mushroom Rotini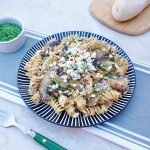 Print This
Ingredients
8 ounces whole wheat Rotini pasta (or pasta of choice)

1 tablespoon extra virgin olive oil

8 ounces Baby Bella mushrooms, cleaned and sliced

1 large shallot, chopped

2 cloves garlic, chopped

1 cup feta cheese, crumbled

1 cup reserved pasta cooking water

¼ parmesan cheese, grated

¼ fresh basil, cut chiffonade
Instructions
PASTA:
Bring a large pot of salted water to a boil over high heat.
Add the rotini to the pot and cook it according to the package directions for al dente. When cooked this way, the pasta will have a slight resistance to the bite. If you prefer your pasta softer, add additional cooking time per the package instructions.
Before you drain the pasta, make sure that you reserve 1 cup of the pasta water. This will be used to make the sauce.
Drain the pasta and return the cooked pasta to the pot.
SAUCE:
When you start to heat the pasta water, also begin to make the sauce. You will finished by the time the pasta cooks.
In a large skillet, heat the olive oil over medium low heat.
Add the sliced mushrooms and cook, stirring occasionally for 3 minutes.
Add the shallots and garlic and cook, stirring occasionally for an additional 3 minutes. Remove from the heat and set aside.
TO COMPLETE:
Add the mushroom mixture to the pan with the hot pasta and stir to combine.
Add the feta cheese, reserved pasta cooking water, parmesan cheese and basil.
Stir the mixture until it is heated through and the water and cheeses have formed into a creamy sauce.
Taste the pasta. You will not need additional salt as the cheeses are salty but you may want to add a bit of black pepper or red pepper flakes to taste.