Applesauce Coffee Cake is a moist, delicious cake that would be perfect with a hot cup of coffee anytime of the day. It is a great recipe to make when you have houseguests as it is large enough to serve several people and can be baked a day ahead of time. You can bake it any time of year but it's best during apple season.
Who doesn't love the fresh apples of fall? The smell of something baking with apples and cinnamon fills the kitchen with the most amazing scent. This easy coffee cake will do just that! Cinnamon is one of the best warm spices of the fall.
This Applesauce Coffee Cake recipe has a crumb topping. It is a cinnamon sugar combination that adds an extra layer of flavor and buttery goodness. If you are a fan of crumb cake, you are going to like this.
If you love apple cake and would like to check out some other cakes to bake this apple season to pair with your morning coffee, check out Apple Cinnamon Olive Oil Cake, Apple Cinnamon Yogurt Cake, and Apple Coffee Cake which is another easy apple coffee cake recipe.
If you are looking for a fun fall project to make homemade applesauce that would be a great addition to this cake, check out Cinnamon Cider Apple Sauce.
SOME THINGS TO KNOW:FAQ'S
INGREDIENT& RECIPE TIPS:
You should bring your eggs to room temperature when baking. This allows the egg yolk to break down easily so it will mix together well with the egg whites and other ingredients.
You might ask what are the best apples for baking a cake. This recipe used Gala apples. They are crisp and lightly sweet. Some other good options are Empire, Honey Crisp and McIntosh apples. Read The Best Apples for Baking for some other suggestions.
The most important step when baking is to make sure that you properly grease and flour the baking pan. You don't want to go through all the effort only to have your good cake stick in the pan. I always use vegetable shortening to grease the pan and get good results. If you have never done this before, check out How to Grease and Flour Baking Pans.
SUBSTITUTIONS:

If you prefer whole wheat flour, you can easily substitute it in this recipe.Use the same quantity.
If you want to replace sour cream, you can use Greek Yogurt, plain yogurt or buttermilk.
You can substitute canola oil with various alternatives like vegetable oil, melted coconut oil or melted butter.
You can use alternatives like brown sugar or coconut sugar to replace the granulated sugar.
If you don't have cinnamon, you can use other spices like nutmeg or allspice for a different flavor.
Rolled oats can be replaced with chopped nuts (like almonds or pecans) or crushed cereal flakes for a different texture.
If you do not have unsalted butter you can use margarine or a dairy-free butter substitute for a non-dairy version.

HOW TO STORE LEFTOVER APPLESAUCE COFFEE CAKE:

This moist cake can be made a day ahead of time. Make sure that is well covered with plastic wrap or place it into an airtight container. You can also keep any leftovers for a day or two, tightly wrapped at
This cake will freeze well. Make sure that it is tightly wrapped with a freezer wrap or placed into a freezer container. You can freeze this for 2-3 months.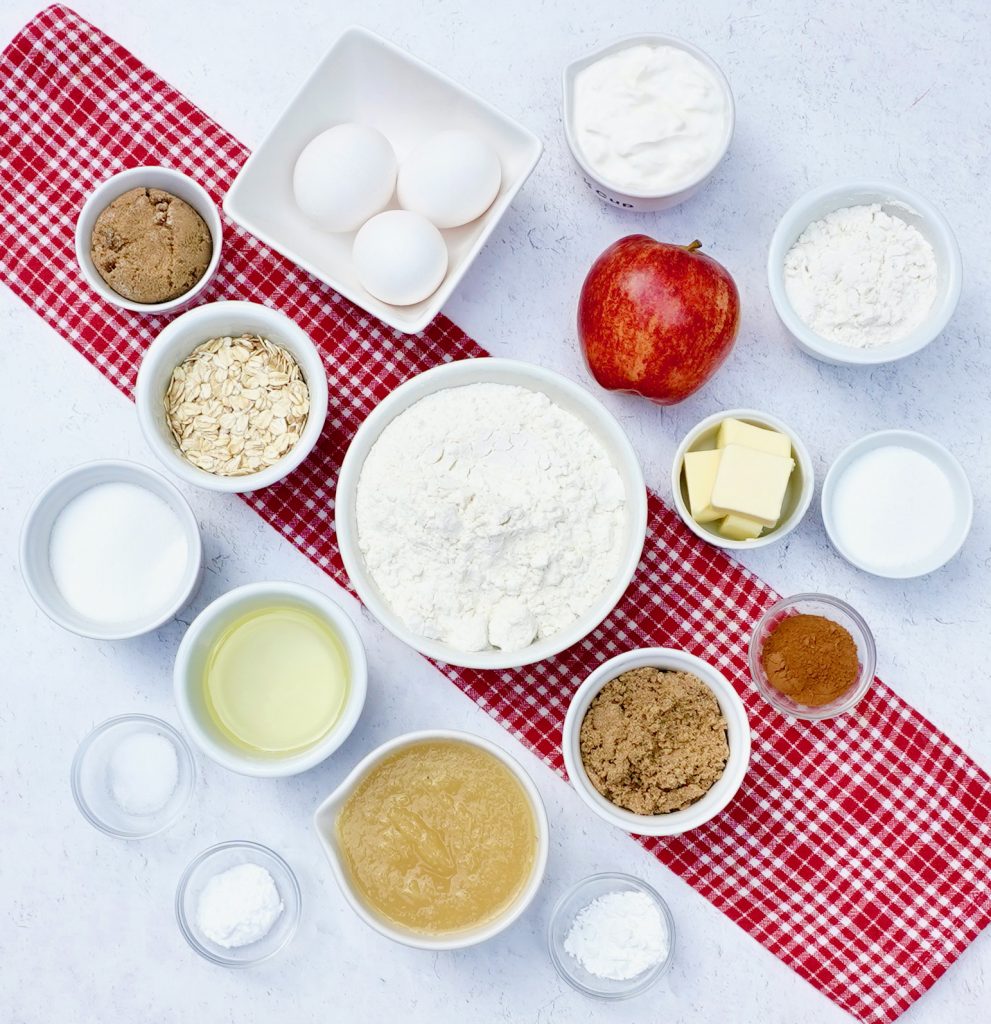 Applesauce Coffee Cake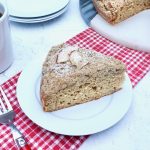 Print This
Ingredients
CAKE:

3 large eggs

½ cup sour cream

½ cup canola oil

1 cup applesauce (either smooth or chunky applesauce)

½ cup granulated sugar

½ brown sugar

2 cups all purpose flour

1 teaspoon baking powder

1 teaspoon baking soda

½ teaspoon iodized salt

1 teaspoon cinnamon

1 apple, peeled and grated

.

CRUMBLE TOPPING:

½ all purpose flour

¼ cup brown sugar

¼ granulated sugar

½ cup rolled oats

1 teaspoon cinnamon

4 tablespoons unsalted butter, very cold and cut into small cubes.
Instructions
CAKE:
Preheat the oven to 350 degrees.
Grease and flour a 10" round cake pan.
You can either whisk this batter together in a large mixing bowl with a hand whisk or mixer,  or combine it in the bowl of an electric mixer with a paddle attachment. It works well either way.
Beat the eggs in a large bowl.
Add the sour cream, canola oil and applesauce. Combine well.
Next, start to add the dry ingredients to the wet ingredients. Start with the granulated sugar and the brown sugar, mixing well after each addition.
Add the flour, baking powder, baking soda, salt and 1 teaspoon of the  cinnamon. Mix the batter together well, making sure that everything is totally combined.
Stir in the grated apples.
Pour batter into the prepared cake pan.
.
CRUMBLE TOPPING:
There are 2 ways that you can combine the crumble topping depending on the type of equipment that you have.
Topping option #1
Place the flour, brown sugar, sugar, oats and cinnamon into the bowl of a food processor. Pulse a few times to combine. Add the butter cubes and pulse until the butter is totally mixed in and the mixture is crumbly.
Stop pulsing when it just starts to come together. Too much pulsing will cause the mixture to form into clumps.
Topping option #2
Place the flour, brown sugar, sugar, oats and cinnamon into a small bowl. Add the butter cubes and cut it into the mixture with either a pastry cutter, two knives, or your hands.  Continue until the butter is totally mixed in and the mixture is crumbly.
Spread the crumble topping evenly over the top of the cake in the baking pan.
Bake for  35 – 40 minutes until the top is completely set and lightly browned. Insert a cake tester or toothpick into the center of the cake. If it comes out clean, the cake is done. If it comes out gummy, bake the cake for several more minutes.
Remove the cake from the oven and let it sit in the pan for 10 minutes. This is important because as the cake cools, the crumble topping with become firm and will not fall off when you turn the cake over.
Carefully run a sharp knife all around  the edge of the cake to make sure that the crumble topping has not stuck to the sides of the pan.  This will ensure that the cake will release easily from the pan.
To remove the cake from the pan, place a sheet of wax paper over a wire rack. Place the lined rack over the top of the cake. Turn the cake upside down onto the wax paper. Pull the pan off of the cake. Place a second baking rack on top of the overturned cake. Lift both racks and turn them over. Remove the top rack and take off the wax paper.
Let the cake cool completely on the rack before serving.