Apple Coffee Cake is a recipe that you need for the fall apple season. It has the apple cinnamon theme and is a tender cake that is moist and delicious. It would be great to serve in the morning for breakfast or as a simple dessert any time of day. Made with bits of fresh apple, sweet raisins, and a touch of cinnamon, this cake is perfect for pairing with a hot cup of coffee or tea. I
The best thing about this moist cake is how easy it is to make! You can put it together in one bowl, without using an electric mixer in just a few minutes. Apple Coffee Cake is not only delicious but also versatile. Whether you stick to the original recipe or try some of the ingredient substitutions, this cake is sure to become a fall favorite.
Apple Coffee Cake would be a great recipe to serve guests on Thanksgiving morning. You can make it a day ahead of time for a special breakfast and it will still be moist the next day. You may also want to try Overnight Apple Cinnamon French Toast or Applesauce Coffee Cake if you like coffee cake recipes with a crumb topping. Check out Apple Pie for a nice fall dessert  recipe or Apple Crumble Pie which has a cinnamon apple filling and a streusel topping. It is delicious served warm with vanilla ice cream.
SOME THINGS TO KNOW:FAQ'S
INGREDIENT /RECIPE TIPS:
Granny Smith apples and Honeycrisp apples are sweet-tart apples that are good for baking. Read the 6 Best Apples for Baking for some other options.
The most important step of the recipe is to grease and flour the pan to ensure that your cake does not stick in the pan. If you have never done this before, read How to Grease and Flour Baking Pans.
SPECIAL EQUIPMENT NEEDED:
10″x 2″ round cake pan, 9″ x 2″ square pan or 10″x 3 inch bundt pan. They will all hold 10-11 cups of batter. You could also use a 10″ springform pan.
​Large Bowl
Whisk or hand mixer
SUBSTITUTIONS:
 For a vegan option, you can substitute each egg with a "flax egg" (1 tablespoon ground flaxseed mixed with 3 tablespoons water).
​ You can substitute canola oil with coconut oil or melted butter.
For a healthier alternative, replace granulated sugar with coconut sugar. You can also use light brown sugar.
Whole wheat flour can be substituted for the all-purpose flour with an equal amount.
​If you're not a fan of raisins, you can swap them out for dried cranberries, chopped nuts, or even chocolate chips.
If you don't have apples try using pears for a different twist.
You can substitute 3 teaspoons of baking powder for the baking soda.
HOW TO STORE APPLE COFFEE CAKE:
When stored at room temperature, the Apple Coffee Cake will stay fresh for up to 2-3 days. Make sure that the cake has cooled completely and place the cake on a plate or cake stand and cover it with a cake dome or  wrap the cake in plastic wrap or aluminum foil.
Stored in the refrigerator, the cake will stay fresh for up to a week.As with room temperature storage, ensure the cake is completely cool. Wrap the cake with plastic wrap.
 To freeze the cake, wrap individual slices or the whole cake in plastic wrap. Double wrap to ensure no moisture gets into it. Place the wrapped cake or slices in a freezer-safe zip-top bag or an airtight container.
HOW TO THAW FROZEN APPLE COFFEE CAKE:
 If you can wait, the best method is to allow the cake to thaw on a wire rack at room temperature for several hours or overnight.
If you're in a hurry, you can also defrost individual slices in the microwave for about 20-30 seconds. However, this method may change the texture slightly.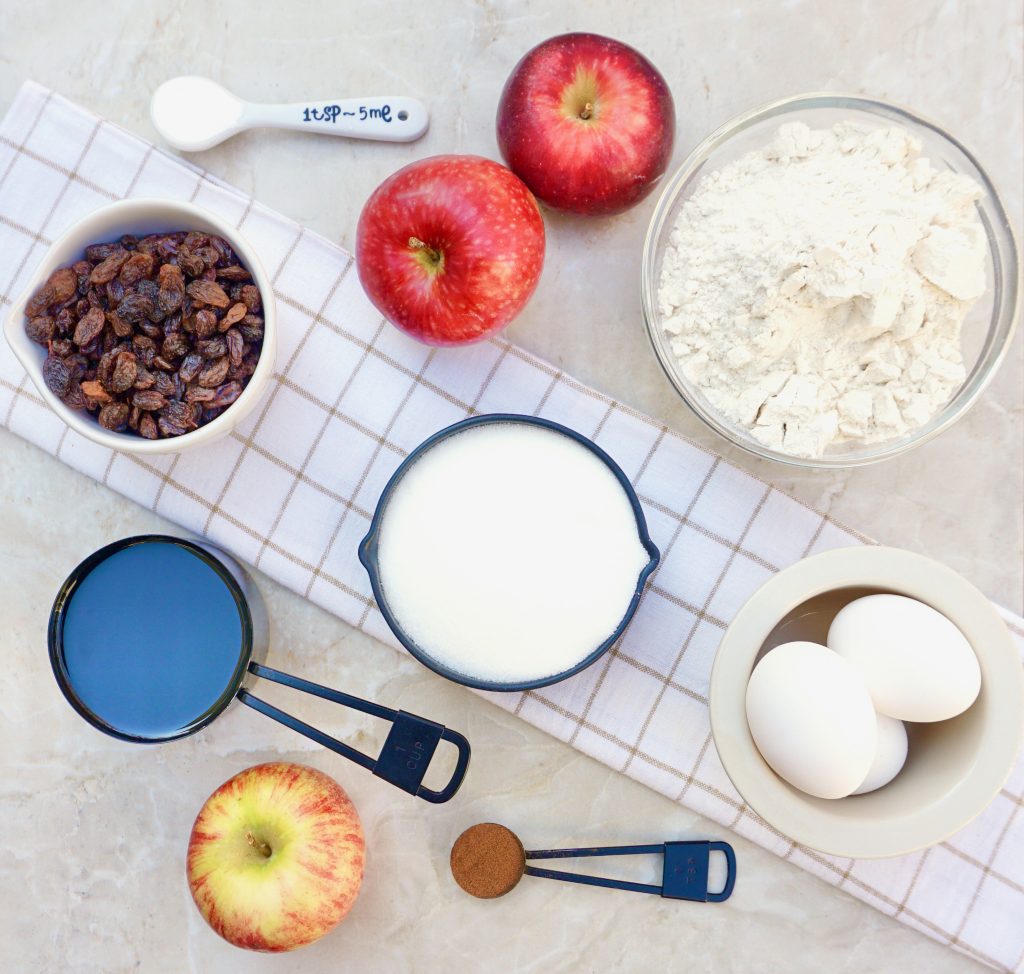 Apple Coffee Cake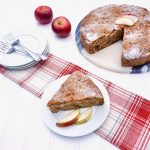 Print This
Ingredients
3 large eggs

1 cup canola oil

1 cup granulated sugar

2 cups all purpose flour

1 teaspoon baking soda

1 teaspoon ground cinnamon

1 cup raisins

3 small apples, peeled and chopped into small dice
Instructions
Pre heat oven to 350 degrees.
Grease and flour a 10" round cake pan
Beat the eggs in a large bowl.
Whisk in the canola oil, sugar. Combine the wet ingredients well.
Add the flour, baking soda and cinnamon. Make sure you mix in the dry ingredients thoroughly.
Stir in the raisins and apples.
Pour batter into the prepared cake pan.
Smooth the coffee cake batter in an even layer in the pan.
Bake for 35-40 minutes until the top is completely set and golden brown.