Are you craving a comforting, flavorful, and cheesy Italian dish? It is that time of year for comfort food! This Baked Ricotta Gnocchi recipe brings together the pillowy goodness of gnocchi with the rich, creamy texture of ricotta cheese, under melted mozzarella and tangy marinara sauce.
Baked Ricotta Gnocchi is a simple, comforting meal that is easy to make with just 6 ingredients. It is a cheesy baked vegetarian pasta dish that is delicious and economical. It makes a great meal, first course or side dish. Use your favorite sauce with the pillowy ricotta gnocchi and enjoy this cheesy goodness.
 If you enjoyed this baked gnocchi recipe and would like to try another gnocchi dish, check out One Pot Asparagus Gnocchi, Tuscan Gnocchi, and Gnocchi with Butternut Squash Bechamel Sauce for some other easy vegetarian meals. You might also like Vegetable Gnocchi. They are our best recipes for vegetarian gnocchi dishes.
SOME THINGS TO KNOW:FAQ'S
INGREDIENT TIPS:
Did you know that you can make your own Ricotta Cheese at home? It's so easy to do, you may never buy it again! All you need is some milk or cream, salt and vinegar to create this whole milk ricotta cheese.
Gnocchi are a variety of pasta in the shape of small dumplings in bite-sized pieces. There are different types of gnocchi made from potato, ricotta and semolina. Store-bought gnocchi can be purchased frozen or fresh gnocchi packaged in the pasta section of your grocery stores. They can be used in soups and dishes like any other pasta. Check out Easy Homemade Potato Gnocchi of you would like to try to make your own gnocchi dough.
SPECIAL EQUIPMENT NEEDED:
Large pot
Large mixing bowl
8″ x 8″ Baking pan or baking tray
SUBSTITUTIONS:
Can't find gnocchi? No problem! Substitute with another type of pasta like penne , ziti or fusilli for a different yet delightful texture.
Cottage cheese  is an excellent alternative to ricotta, maintaining a creamy consistency and mild flavor. You could also make your own ricotta.
If Parmesan cheese is not available, Pecorino Romano or Asiago cheese have a similar sharp, salty taste.
A simple swap for marinara sauce is a blend of crushed tomatoes, tomato paste, garlic, olive oil, and herbs simmered to perfection.
If you do not have mozzarella cheese, provolone or fontina cheese makes a great substitute, offering a mild and creamy flavor.
HOW TO STORE BAKED RICOTTA GNOCCHI:
The baked ricotta gnocchi can be stored in the refrigerator for up to 3-4 days. Allow it to cool to room temperature. Transfer the dish into an airtight container or cover it tightly with plastic wrap or aluminum foil.
The gnocchi can also be frozen. Let the dish cool completely. Cut the baked dish into individual portions for easier thawing and reheating.Wrap each portion tightly in plastic wrap, then in aluminum foil.
HOW TO REHEAT BAKED RICOTTA GNOCCHI:
To reheat the gnocchi in the oven, preheat the oven to 350°F (180°C). Remove the wrapping from the gnocchi and place the dish in an oven-safe container. Cover with foil and bake for 15-20 minutes, or until heated through.
The gnocchi can also be reheated in a microwave oven. Transfer a portion to a microwave-safe dish and cover loosely. Heat on medium power, stirring occasionally, until warmed through, about 2-3 minutes, depending on the portion size.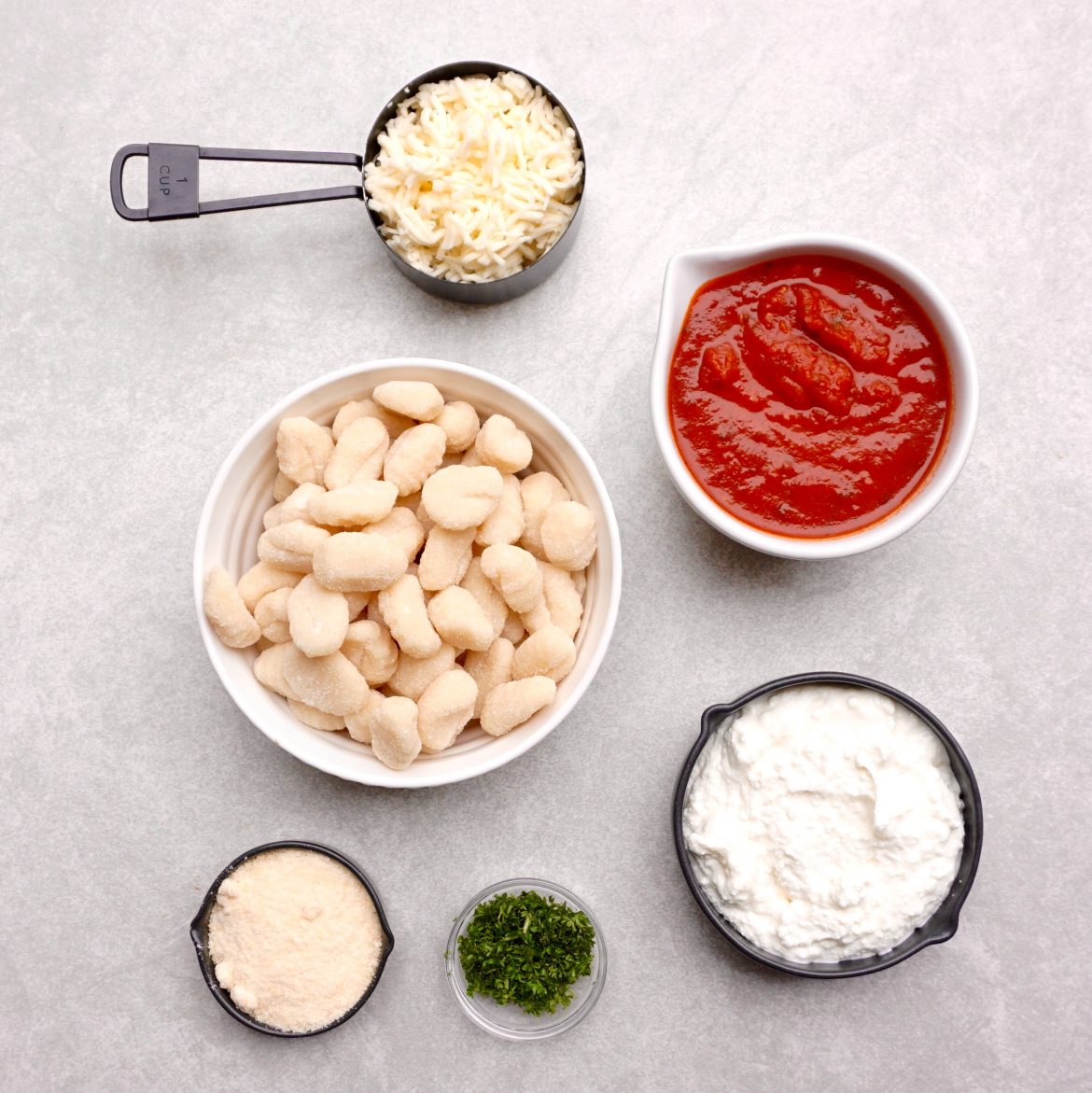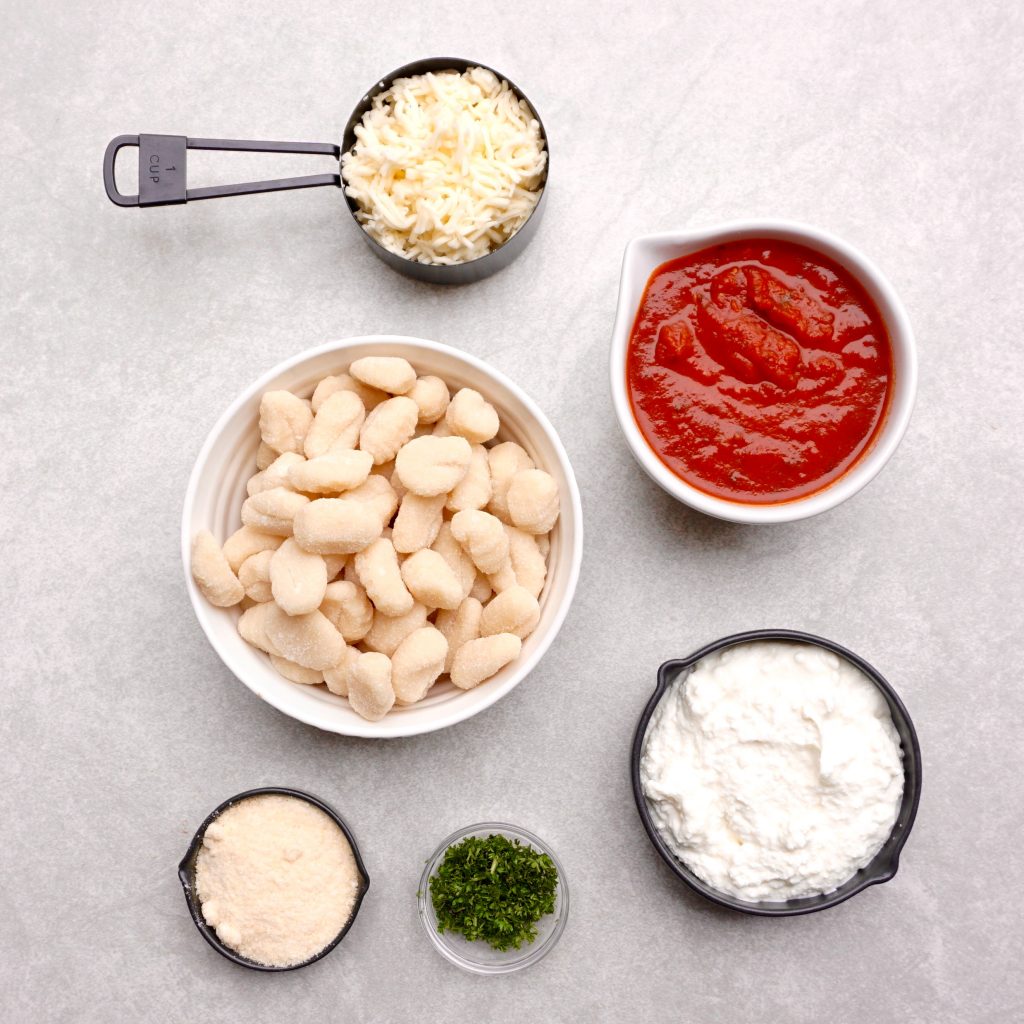 Baked Ricotta Gnocchi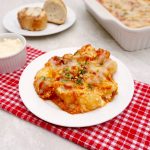 Print This
Ingredients
1 pound gnocchi, packaged or frozen

1 cup ricotta cheese

¼ cup parmesan cheese

1 tablespoon fresh parsley chopped, or 1 teaspoon dried parsley

1½ cups marinara sauce

1 cup grated mozzarella cheese
Instructions
Preheat your oven to 350 degrees.
Heat a large pot of salted water over  medium-high heat to boiling.Place the gnocchi into the boiling water.
If you are using packaged gnocchi, cook them for 2-3 minutes, stirring them occasionally with a wooden spoon, until they float to the top of the large pot of water. If you are using frozen gnocchi, follow the directions on the package for cooking time. You want to remove them from the top of the water while they are still slightly firm with a slotted spoon as they will continue to cook during the baking process.
Drain the excess water and rinse the gnocchi in cold water.
In a large bowl, combine the ricotta cheese, parmesan cheese and parsley.
Add the cooked gnocchi and combine well.
Spoon ½ cup of the marinara sauce into the bottom of an 8″x 8″ baking pan. Spoon in the gnocchi cheese mixture and press it into the pan evenly.
Spoon the additional cup of marinara sauce evenly over the top of the gnocchi.
Sprinkle the mozzarella cheese evenly over the top of the marinara sauce.
Bake uncovered for 20 -25 minutes until golden brown and bubbly.
Serve warm with some extra parmesan cheese and red pepper flakes on the side.
Notes
You can assemble this a day or two ahead of time. Cover and refrigerate. Remove the cover before baking.