Baked Feta Ziti is an easy to make pasta dish that has a lot of flavor. Grape tomatoes are roasted in a baking pan with a block of feta cheese, some garlic and a few spices to create a flavorful sauce for the ziti. Add it to the cooked pasta with some reserved cooking water and you have a delicious vegetarian meal.
This is easy enough for a weeknight dinner but you will need to allow 35- 40 minutes to roast the feta and the tomatoes. You could cook your pasta while the feta and tomatoes are roasting and have it ready when they come out of the oven. This meal requires very little active time on your part.
Roasting tomatoes intensifies the flavor. Check out Roasted Tomato Herb Chicken, Roasted Tomato Soup, and  Roasted Cherry Tomato Penne for some other ways to use them.
Feta cheese is tangy, slightly salty and rich. It adds great flavor to salads, main dishes and vegetables. If you want to try it some other ways check out Tomato Feta Chicken, Orzo with Mint and Feta, Chicken Spinach Feta Burger, Roasted Greek Potatoes, and Greek Salad Chicken.
If you love the combination of tomatoes and feta, check out Tomato Feta Bites.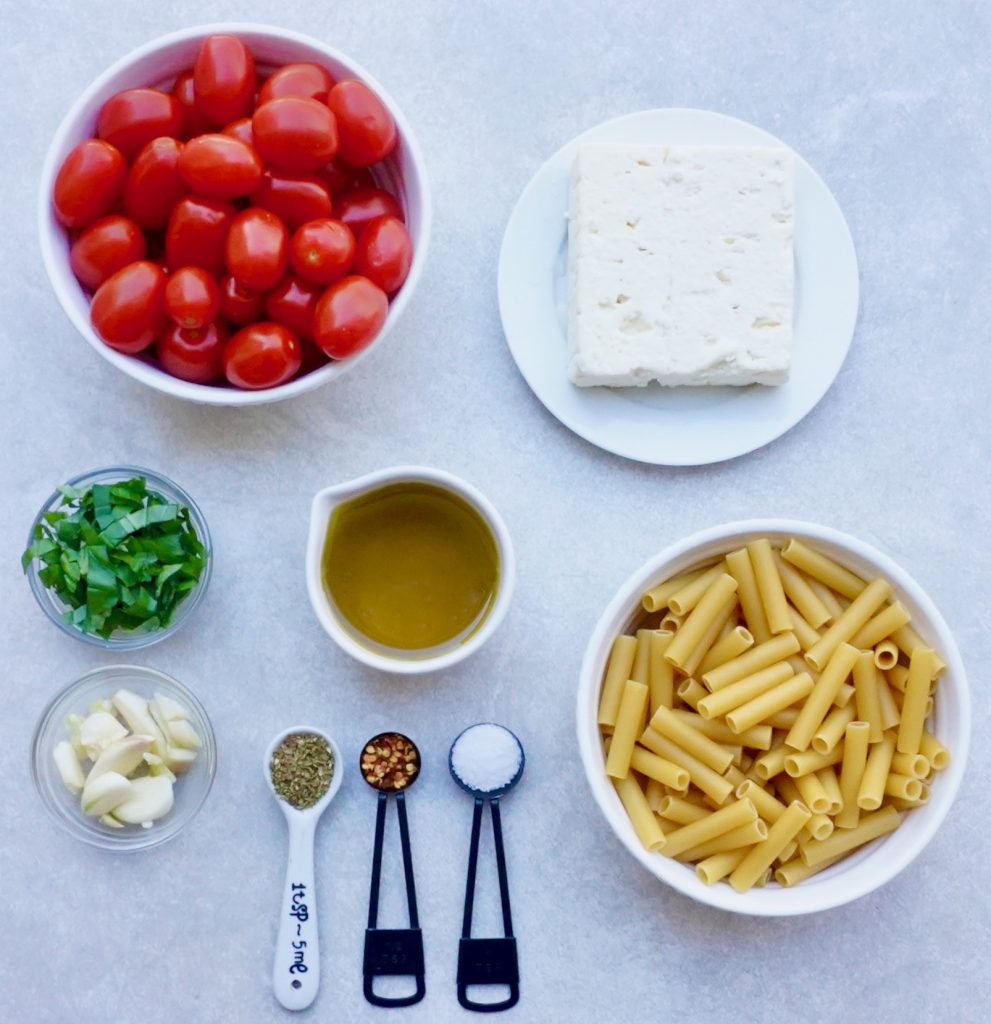 Baked Feta Ziti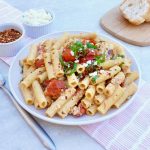 Print This
Ingredients
4 cups grape tomatoes

3 cloves garlic, peeled and crushed

½ cup olive oil, divided (reserve 1 tablespoon)

1 teaspoon dried oregano

1 teaspoon kosher salt

½ teaspoon crushed red pepper

1 (8 ounce) block feta cheese

1 pound box dried ziti pasta

½ cup reserved pasta cooking water

3 tablespoons fresh basil leaves, chopped
Instructions
Preheat the oven to 400 degrees.
In a 9″ x 13″ baking dish add the grape tomatoes, crushed garlic, olive oil, oregano, kosher salt and crushed red pepper. Combine well.
Make a space in the middle of the tomato mixture to add the feta cheese block. Drizzle the reserved tablespoon of olive oil over the top of the feta.
Roast for 35-40 minutes until the grape tomatoes have burst and the feta is a light golden brown.
When the feta has been roasting for 20 minutes, heat a large pot of water to a boil over high heat.
Add the ziti and cook it to the tenderness that you desire based on the timing on the box.
Reserve ½ cup of the pasta water and drain the pasta. Return it to the pot.
Add the roasted feta and tomatoes to the pot and combine well.
Add the reserved pasta water to create a creamy sauce, stirring over low heat.
Remove from the heat and stir in the basil. Combine well and serve.