This recipe for Orzo with Mint Tomato and Feta is a part of my long story with mint. Or maybe I should correct myself and say my long war with mint. I am talking about fresh mint. Mint that I have growing in my herb garden.
It all started a few years ago when I was on one of my no carb diets. I had seen a recipe for a skinny Mojito where you created a simple syrup made with Splenda. Real healthy right? The recipe called for fresh mint so I bought the cutest little mint plant and placed it into my herb garden. Long story short, I made the drink once and I am still dealing with that cute little plant to this day.
Mint does not stay small. It overtakes your herb garden. It sends out roots that will keep moving out of the garden into the grass! Every year I would pull big bags full of the plants out of the garden to no avail. You can't kill it. You can't control it. So I did the only thing that I could do and I learned to love it!!
The thing with fresh mint is that it can work in sweet and savory recipes. I use mint and cucumber to infuse my seltzer water and that is a great combination. I posted a recipe a few weeks ago for Watermelon Salad with cucumber, mint and feta which I really like. I have made Chimichurri Sauce with mint instead of parsley and that was really good. This Orzo with Mint, Tomato and Feta is my most recent way to cook with mint and we all enjoyed this recipe very much.
Do I use all of the mint in my garden even with all these recipes? No. That will never happen as it grows faster than any other herb I have ever planted. I have a simple piece of advice if you ever decide you want to grow fresh mint,put it in a planter and enjoy!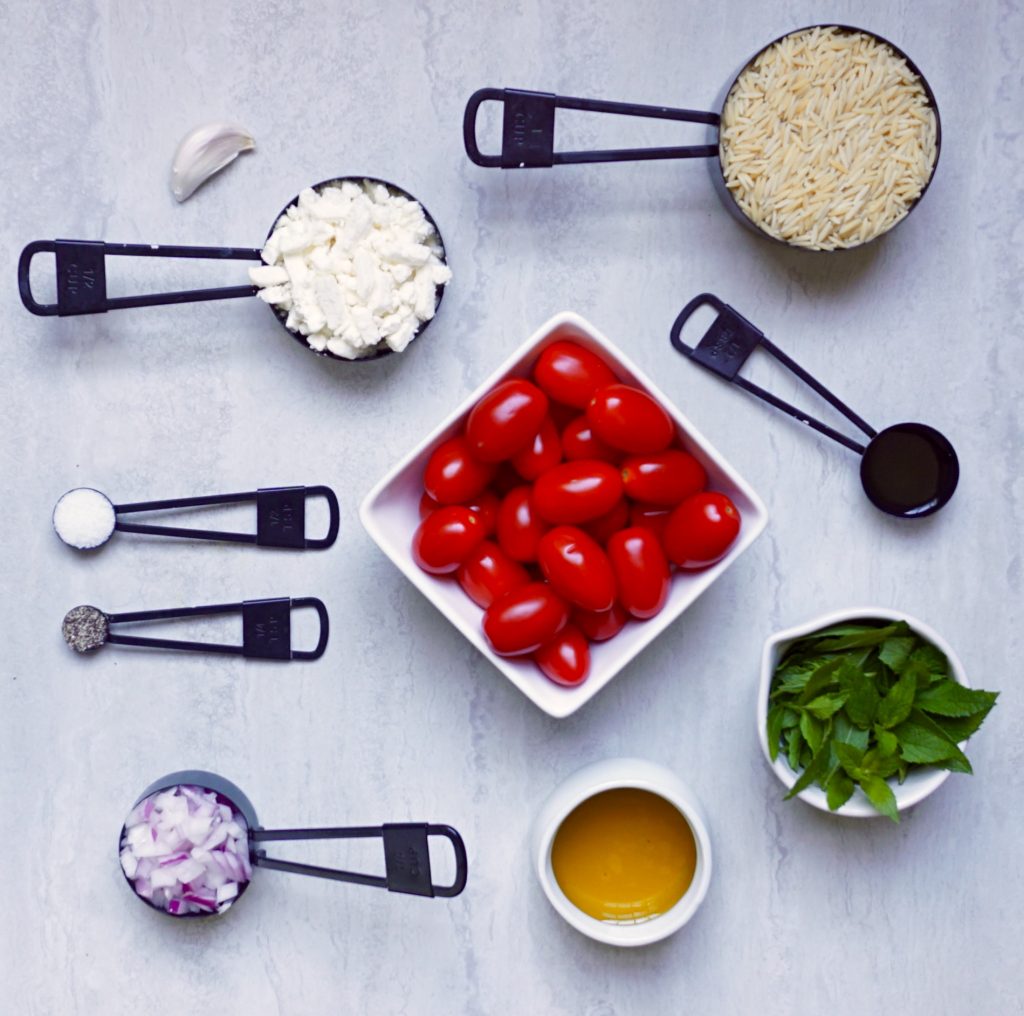 Orzo with Mint, Tomato and Feta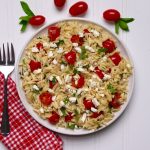 Print This
Ingredients
8 ounces orzo pasta

2 cups grape tomatoes, cut in half

¼ cup red onion, diced

1 clove garlic, minced

3 tablespoons olive oil, divided

1 tablespoon white balsamic vinegar

½ teaspoon salt

¼ teaspoon black pepper

½ cup feta cheese, crumbled

½ cup fresh mint,chopped
Instructions
Cook the orzo according to the directions on the box for the tenderness you like.
In a large skillet add 2 tablespoons of the olive oil, onion and garlic and cook over medium low heat  until they just begin to soften. This should take 1-2 minutes. Add the grape tomatoes and heat through about 2-3 minutes.
Drain the orzo and add the tomato mixture, feta, mint, balsamic vinegar, 1 tablespoon olive oil, salt and pepper.