Greek Salad Chicken is an easy recipe made with boneless chicken thighs and topped with fresh ingredients that are found in a classic Greek salad. There is a nice contrast between the warm chicken and the cool vegetables. It is a light and refreshing dish.
This is a simple and fast meal. The chicken cooks in 20 minutes. You can be preparing the topping while the chicken cooks and have dinner ready fast!  I served this with Orzo with Mint Tomato and Feta.
Make sure that you cut everything small as specified in the ingredients section. You want the topping to be similar to a salsa.
If you like to cook with boneless chicken thighs you should check out Turmeric Chicken and French Onion Chicken Thighs.
You might also like Margherita Chicken.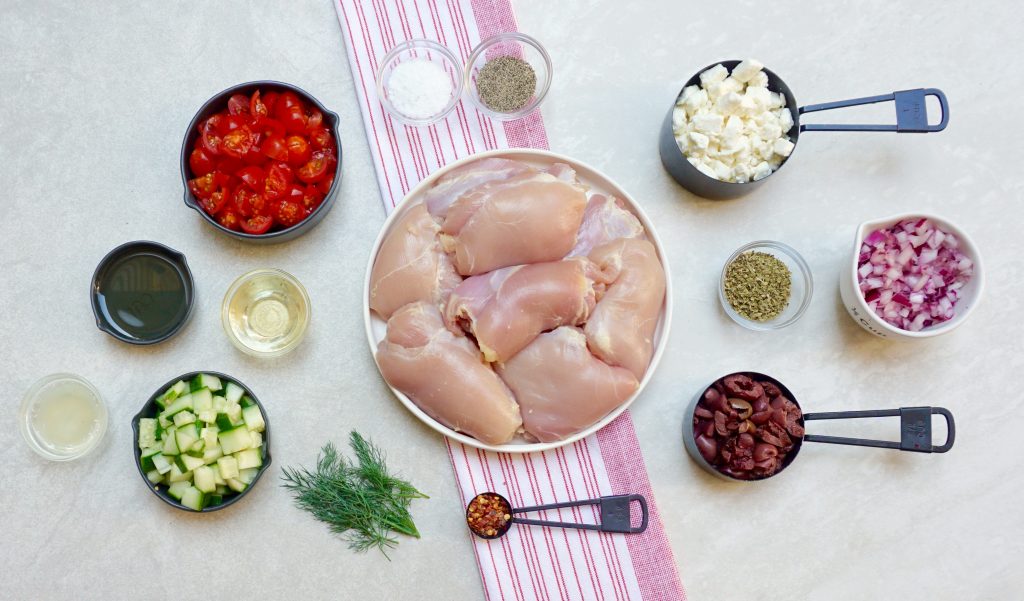 Greek Salad Chicken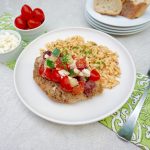 Print This
Ingredients
CHICKEN:

1 ½ pounds boneless chicken thighs, trimmed of fat

1 teaspoon kosher salt, divided

1 teaspoon black pepper, divided

2 tablespoons olive oil

1 tablespoon dried oregano

½ teaspoon crushed red pepper flakes

TOPPING:

1 cup feta cheese crumbles

½ cup Kalamata olives, cut into quarters

½ cup English cucumber, cut into ½ inch cubes

½ cup red onion, diced

1 cup grape tomatoes, cut into quarters

¼ cup olive oil

2 tablespoons lemon juice

½ teaspoon kosher salt

½ teaspoon black pepper
Instructions
Preheat your oven to 350 degrees.
Season the chicken thighs with salt and pepper. 
Heat the oil in a large skillet over medium heat. Add the chicken thighs smooth side down to the pan and cook for 3 minutes without disturbing so they become nicely browned. Turn them over and cook an additional 2 minutes.
Place the thighs into a baking dish and sprinkle the oregano and red pepper flakes evenly over the tops.
Bake for 15 minutes until they are cooked through.
TOPPING:
In a large bowl, combine the feta cheese, olives, cucumber, red onion  and grape tomatoes.
In a small bowl whisk together the olive oil, lemon juice, salt and pepper. 
Pour the dressing over the vegetables and combine well. 
Spoon the topping evenly over the tops of the chicken thighs and serve.