Oven Baked Potato Skins are crispy, cheesy appetizers that are easy to make. They have lots of flavor and are fun to eat!
Baked potatoes are scooped out and the skins are baked with a bit of olive oil.  The result is nicely browned and crispy skins without frying. They are topped with cheddar cheese and bacon and served with sour cream and green onions. 
These are real crowd pleasers. Oven Baked Potato Skins are classics and for good reason. They are simply delicious and make a great appetizer for game day gatherings!
If you want to try another fun way to serve potatoes check out Boxty.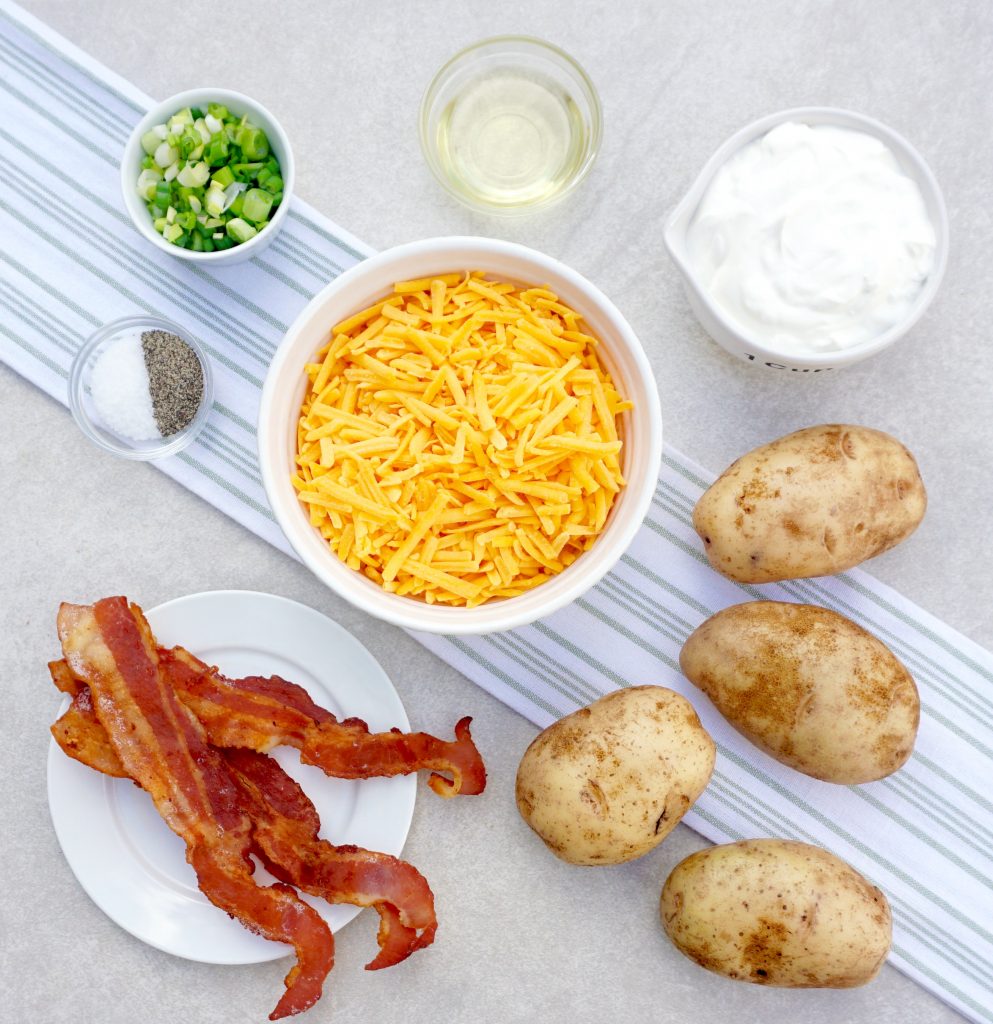 Oven Baked Potato Skins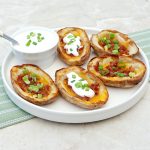 Print This
Ingredients
4 medium Russet potatoes

3 tablespoon olive oil

1 cup cheddar cheese shredded

2 green onions, chopped

3 slices bacon, cooked and chopped into bits

1 cup sour cream
Instructions
Preheat your oven to 350 degrees
Scrub the potatoes well. Pierce each potato with a fork in a few different places so the steam can vent. 
Lightly brush the potatoes with olive oil.
Place on a lined baking sheet and bake for about one hour. The skin should be slightly crisp and you should be able to insert a fork with no resistance. Baking times may vary based on the size of the potatoes you are baking.
Cut each potato in half and scoop out the potato, leaving ¼ inch thickness of the potato in the skin. Reserve the potato for another use.
Brush both the inside and outside of the potato skins with olive oil. 
Place them back on the baking sheet cut side down and bake for 10 minutes. Turn them over and bake for an additional 5 minutes. They should be browned and crisp. Remove from the oven.
Add 1 tablespoon of cheddar cheese to each potato skin and top with 1 teaspoon of the bacon bits.
Return to the oven and bake for 5 minutes, until the cheese is melted.
Sprinkle the chopped green onion on to the potato skins and serve at once with sour cream.