Crispy Chive Potatoes are a simple side dish that is made with fresh chives.
This recipe is a two step cooking process in which the potatoes are boiled, flattened and then roasted. The result is a potato with a crunchy exterior and a soft center. Lime Aioli would make a good topping for them.
Fresh chives are very flavorful when they first come up in the spring. If you are interested in some other recipes that use them check out, Cheesy Chive Potatoes, Parmesan Chive Popovers, Lemon Chive Quinoa Patties, and Herbed Potato Salad.
SOME THINGS TO KNOW:
INGREDIENT INFORMATION:
Chives are at their most flavorful in the spring and fall. Considered to be a cool season plant, they will be the most flavorful when the temperatures are lower.
Chives are available freeze dried. If you use freeze dried chives in the recipe, add them all at once to the potatoes while you are baking them so they have time to soften and release their flavor.
Baby potatoes are simply potatoes that are picked before they reach their full size.
HOW TO STORE AND REHEAT CRISPY CHIVE POTATOES:
You can keep any leftovers in the refrigerator  in an airtight container for up to 5 days.
You can freeze any leftovers for 2-3 months. Place the potatoes onto a baking sheet and place them into the freezer. Once they are frozen, place them into an airtight freezer container and return them to the freezer.
To reheat the potatoes, place the defrosted potatoes onto a baking sheet into a preheated 400 degree oven. Let them bake for 10- 15 minutes until they are heated through.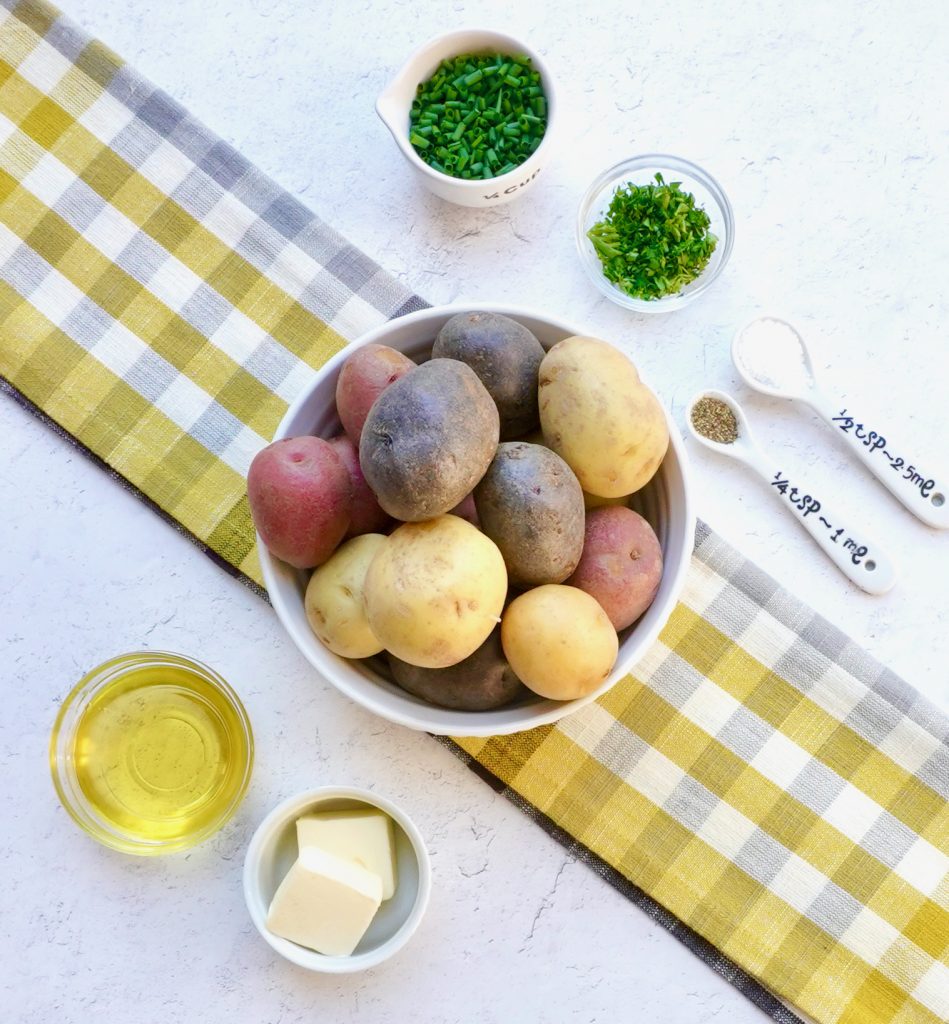 Crispy Chive Potatoes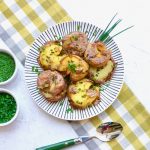 Print This
Ingredients
1 ½ pounds baby potatoes, scrubbed

2 tablespoons olive oil

2 tablespoons butter

½ teaspoon kosher salt

¼ teaspoon black pepper

¼ cup fresh chives, chopped

1 tablespoon fresh parsley, chopped
Instructions
Preheat the oven to 400 degrees.
Bring a large pot of water to a boil.
Add the potatoes to the pot and let them cook on a low boil for about 15 minutes until they are slightly tender.
Drain the potatoes.
Melt the butter in a small sauce pan over low heat.
Place the potatoes onto a baking  sheet. Line the sheet with foil for easier clean up.
Add the potatoes, olive oil, melted butter, salt and pepper. Use a rubber spatula to mix everything together, making sure that all the potatoes are fully coated.
Next you are going to smash the potatoes. You can bear down on them with a potato masher, a meat tenderizer or a glass. Press down gently. You want to flatten the potatoes but keep them intact.
Bake the potatoes for 10 minutes. Remove them from the oven and gently turn them over.
Sprinkle the potatoes with half of the chives and return them to the oven.
Bake for an additional 10- 15 minutes until the potatoes are golden brown.
Sprinkle the potatoes with the remaining chives and parsley to serve.