If you are a fan of chocolate cookies, you might want to try Chewy Carob Cookies. These simple to make cookies have a crispy, crackled outside and a moist chewy center.
While carob is somewhat similar to chocolate, It is sweeter than cocoa. It looks and tastes fairly similar but with a unique roasted flavor. The biggest benefit in baking with carob powder instead of cocoa is that is is full of antioxidants and fiber. It also does not contain caffeine like cocoa does.
If you are not familiar with carob, check out What Exactly is Carob Anyway?
Check out Chocolate Chip Cookies and  Chunky Chocolate Chip Cookies.  They are a couple of the best cookies to make if you would like to try using carob chips. You can swap them one for one for the chocolate chips in the recipes.
You could also make this Banana Cocoa Oatmeal even healthier by swapping out the cocoa with carob powder. You can also swap that out one for one.
Chocolate Chip Sugar Cookies and Holiday Spritz Cookies are other cookie recipes you could add carob chips to as well.
SOME THINGS TO KNOW:
SPECIAL EQUIPMENT NEEDED TO MAKE THIS RECIPE:
Stand Mixer or Electric Hand Mixer and large mixing bowl
Cookie sheets/baking sheets
Wire cooling rack
Metal spatula
WHAT SUBSTITUTIONS CAN I MAKE?
If you do not want to buy carob powder, you can use cocoa powder 1 for 1 in this recipe.
If you do have have unsalted butter on hand, salted butter or margarine can be used.
This recipe calls for both granulated sugar and light brown sugar. If you do not have both on hand, you can use 1½ cups of which ever one you have.
You can swap out the all purpose flour for equal parts of whole wheat flour.
If you do not have vanilla extract, you can use vanilla paste in a one for one swap. You can also use vanilla powder which is dried vanilla extract. This can be done as a one for one swap . You could also use equal parts of maple syrup.
HOW SHOULD I STORE THE COOKIES?
While the cookies will be the best on the day that they are baked, you can keep them for 3-4 days in a cookie jar with a lid or an airtight container at room temperature.
You can freeze Chewy Carob Cookies for 2-3 months. Place the cookies onto a baking sheet which has been lined with either parchment paper or wax paper into the freezer in a single layer. Once the cookies are frozen, place them into an airtight freezer container or freezer bag and return them to the freezer.
HOW DO I DEFROST THE COOKIES?
Defrost the cookies by placing them in a single layer onto a wire cooling rack until they are completely defrosted and at room temperature. Once they are defrosted, place them into an airtight container.
WHAT CAN I MAKE WITH THE COOKIES:
Chewy Carob Cookies make a great ice cream sandwich! Get the step by step directions in the printable recipe card.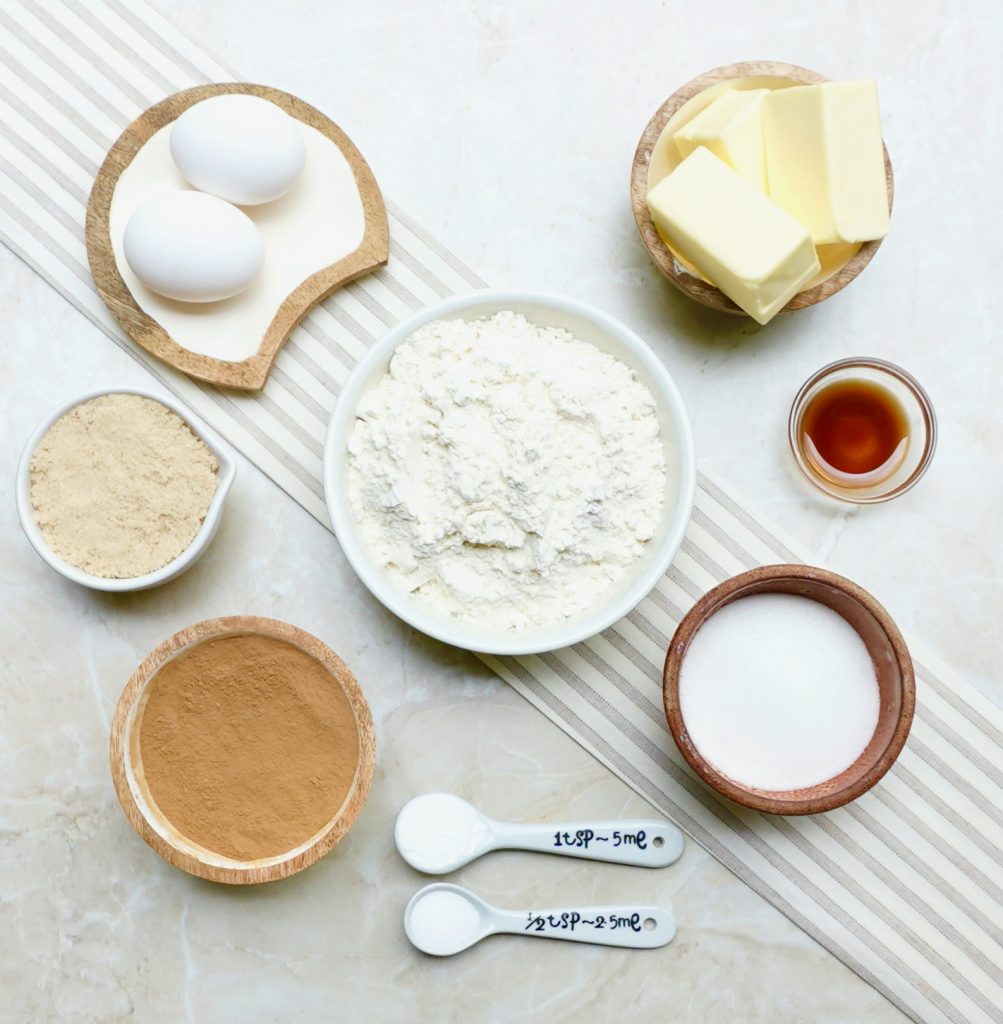 Chewy Carob Cookies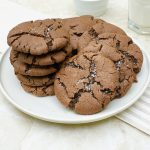 Print This
Ingredients
2 cups all purpose flour

⅔ cup carob powder

1 teaspoon baking soda

½ teaspoon salt

1½ sticks unsalted butter (12 tablespoons at room temperature)

1 cup granulated sugar

½ cup packed light brown sugar

2 large eggs

2 teaspoons vanilla extract
Instructions
COOKIES:
Preheat  the oven to 350 degrees.
In a small bowl, combine the flour, carob powder, baking soda and salt. Set aside.
In the bowl of a stand mixer with a paddle attachment, cream butter until it is light and fluffy with medium speed. Make sure that the butter is a room temperature and that it is very soft.
Add the white sugar and brown sugar. Beat until creamy. (This can also be done in a large bowl with a hand held electric mixer.)
Add the eggs, one at a time, to the butter mixture, beating well after each addition. Add the vanilla extract. Mix well.
Gradually add the  flour mixture to the wet ingredients. Combine them well, scraping down the sides of the bowl.
Use a tablespoon to scoop out the dough into slightly rounded tablespoons. Roll the dough into a ball and place it onto a  non greased cookie sheet. The ball should measure 1½ inches. Leave 2 inches of space between the balls as they will spread when baking.
Bake for 8-9 minutes until the tops of the cookies are set but the center of the cookie is still moist. Oven temperatures can vary. If your oven runs hot, take the cookies out right at 8 minutes in order to keep the cookie soft and chewy.
Remove them from the oven and let them sit on the baking sheet for a minute or two.
Use a metal spatula to remove the cookies to a wire cooling rack until they are completely cooled.
ICE CREAM SANDWICHES:
Let your ice cream soften slightly so you can easily scoop it.
Place a cookie face down on a board or plate.
Use an ice cream scoop to get a rounded scoop of ice cream.
Place the scoop of ice cream on top of the the overturned cookie.
Add a second cookie, right side up over the ice cream. Press down on the top cookie gently so the ice cream will be pushed to the outside edges of the cookie.
Add mini chocolate chips or sprinkles to a small plate and dip the edges of the ice cream sandwiches into them.
Place a baking tray into the freezer that is lined with parchment paper or wax paper. Place the ice cream sandwiches on to the tray,  one at a time as you make them.
Let the sandwiches freeze solid. Wrap them in plastic wrap or place them into a freezer container until you serve them. They should keep well frozen for 1 month.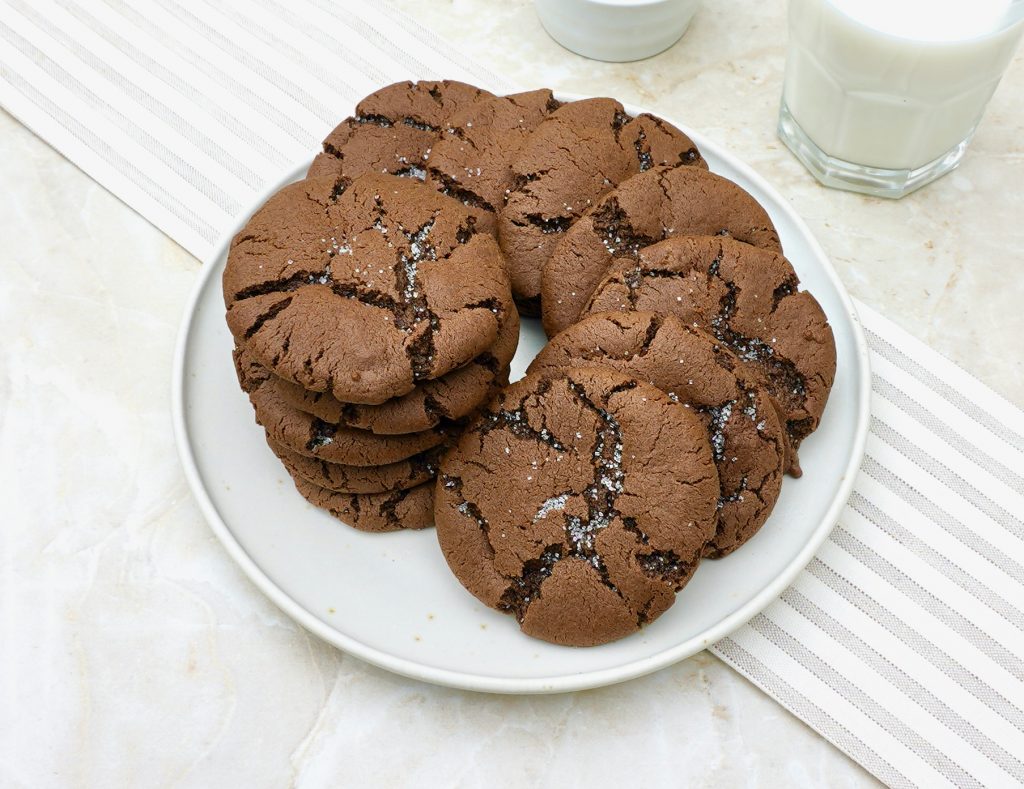 Chewy Carob Cookies are soft cookies that are good to use as an ice cream cookie sandwich.