Are you looking for a simple spread to serve with some crusty bread when you are entertaining? This Sun Dried Tomato Baked Ricotta is just what you need! This is a very easy recipe to put together.  It will only take you about 5 minutes to combine and you can prepare it ahead of time and bake it when you are ready to serve.
Hot from the oven, Sun Dried Tomato Baked Ricotta is a hit with the crowd! There is something about warm cheese that it comforting and delicious. Serve on a large platter with baguette slices and crackers at your next party and you are good to go!
If you like warm cheese appetizers, check out Dubliner Cheese Dip and Queso Dip. 
You might also like Savory Baked Lemon Ricotta Cheese.
If you would like to try a pasta recipe that uses sun dried tomatoes check out Creamy Tuscan Shrimp Fusilli. Put on a large pot of water to cook the pasta al dente while the delicious sauce comes together in a large skillet for this quick fix pasta night meal.
SOME THINGS TO KNOW:FAQ'S
INGREDIENT TIPS:
SPECIAL EQUIPMENT NEEDED:
Large bowl
2.5 cup ovenproof baking dish or ramekin
SUBSTITUTIONS:
Dry sun-dried tomatoes can be used if you do not have the oil packed. Add a teaspoon of extra virgin olive oil if you are using the dried tomatoes.
Asiago or Romano cheese can be substituted for the Parmesan cheese.
If you do not have dried basil, dried oregano leaves can be substituted.
HOW TO STORE LEFTOVER SUN DRIED TOMATO BAKED RICOTTA:
You can keep the leftover ricotta in an airtight container in the refrigerator for 2-3 days.
The ricotta can be frozen in an airtight freezer container for up to 3 months.
HOW TO REHEAT SUN DRIED TOMATO BAKED RICOTTA:
You can reheat the ricotta covered in a microwave safe dish in the microwave. Heat at 1-2 minute intervals, stirring until heated through.
You can place the ricotta into a preheated 350 degree oven to reheat as well. The time to heat through will vary based on the amount of ricotta you are reheating.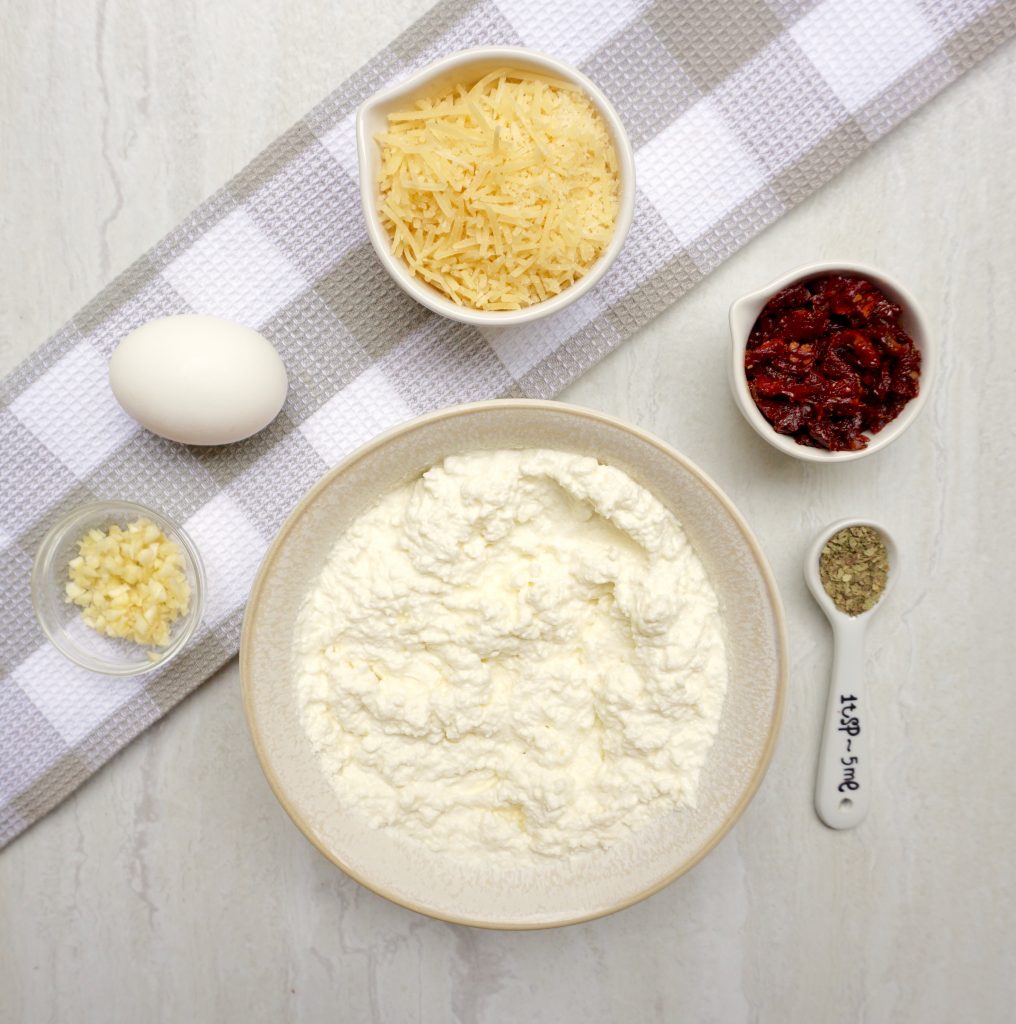 Sun Dried Tomato Baked Ricotta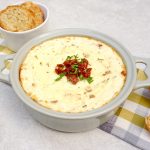 Print This
Ingredients
3 cups ricotta cheese

2 cloves garlic, minced

1 large egg

½ cup grated parmesan cheese

¼ sun-dried tomatoes in oil, drained and diced

1 teaspoon dried basil
Instructions
Pre heat your oven to 350 degrees.
In a medium bowl, beat the egg.
Add the ricotta, parmesan, sun dried tomatoes and basil. Combine well, scraping down the sides of the bowl. You could also do this in a food processor.
Lightly oil a 2.5 cup baking dish or ramekin. Spoon the cheese mixture into the dish.
Place the ricotta mixture into the preheated oven bake for 30 minutes until the cheese is golden brown and bubbly around the edges.
Serve with baguette slices and crackers.
Notes
This can be made up to a day ahead. Combine all ingredients, place in the baking dish then cover and refrigerate until you are ready to bake.