Are you ready to try a  flavorful recipe that will surely become a favorite at your next barbecue, picnic, or family gathering? This is a Southern twist on the classic potato salad which incorporates Cajun flavors and vibrant colors. This Creamy Cajun Style Potato Salad Recipe is not only delicious but also incredibly simple to make.
Potato salad is a staple at many gatherings, and while the classic recipe is always a hit, this is a different way to elevate this perfect side dish. This Creamy Cajun Style Potato Salad Recipe is a good example of how a few simple ingredients being swapped can make a world of difference. This recipe is a beautiful medley of baby red potatoes, boiled eggs, colorful bell peppers, and zesty Creole flavors that will have everyone asking for seconds.
If you like this cajun potato salad recipe made with baby red potatoes, you might also like Herbed Potato Salad. This is made with baby potatoes as well. If you would like to try some other salads with a spicy flavor and creamy dressing, that are great for your summer barbecue, check out Southwest Pasta Salad and Mexican Street Corn Pasta Salad. You might also like 30 Simple Summer Cookout Side Dishes.
SOME THINGS TO KNOW:
SPECIAL EQUIPMENT NEEDED:
Large pot
Small Saucepan
Large Bowl
WHAT IS THE BEST TYPE POTATO FOR THIS RECIPE?
A  waxy potato such as red potatoes, fingerling potatoes, Yukon Gold potatoes or new potatoes are the best when making a potato salad. They will hold their shape better that other varieties and because they have very thin skins, if you prefer not to peel them, you will not have to. You can use either baby potatoes or large potatoes in the recipe as long as you have 24 ounces of potato.
WHAT IS THE DIFFERENCE BETWEEN CAJUN AND CREOLE SEASONING?
Cajun and Creole seasoning are similar and are sometimes used interchangeably. They both have a base of garlic powder, onion powder, black pepper and cayenne pepper. Creole seasoning has some extra additions like paprika and oregano.
WHAT IS CREOLE MUSTARD?
Creole mustard is a whole grain mustard that is most commonly in the Southeastern region of the United States. It is made with whole brown mustard seeds which are marinated in vinegar and combined with horseradish and spices. If it is not available in your area, you can find it online at Amazon and Walmart.
WHAT SUBSTITUTIONS CAN I MAKE?
Dill pickle relish can be used instead of the sweet relish. You could also finely chop ¼ cup of dill pickles.
If you cannot locate creole seasoning, you can make it at home. Simply mix together 1 teaspoon paprika, 1 teaspoon garlic powder, 1 teaspoon dried oregano, ½ teaspoon kosher salt, ½ teaspoon onion powder, ¼ teaspoon black pepper and ¼ teaspoon cayenne pepper. Mix them all together in a small bowl. This will be enough to make this potato salad recipe twice. You can store the extra in a small jar for the next time you make this.
You can substitute the red and green bell pepper with orange or yellow bell pepper.
If you do not want to purchase creole mustard, you can use whole grain mustard, yellow mustard, brown spicy mustard or dijon mustard.
If you do not have green onions, you can use red onions, yellow onions or sweet onions.
CAN I MAKE THIS POTATO SALAD A DAY AHEAD OF TIME?
Yes! It will only make it more flavorful. Just make sure that is kept in the refrigerator tightly covered.
HOW DO I STORE THE LEFTOVERS?
You can keep any leftover potato salad in an airtight container or in a bowl, tightly wrapped with plastic wrap for 2-3 days.
CAN I FREEZE THE LEFTOVER POTATO SALAD?
You should not try to freeze this potato salad as it made with mayonnaise which does not freeze well. The texture of mayonnaise changes when it is frozen and can become grainy and ruin the salad.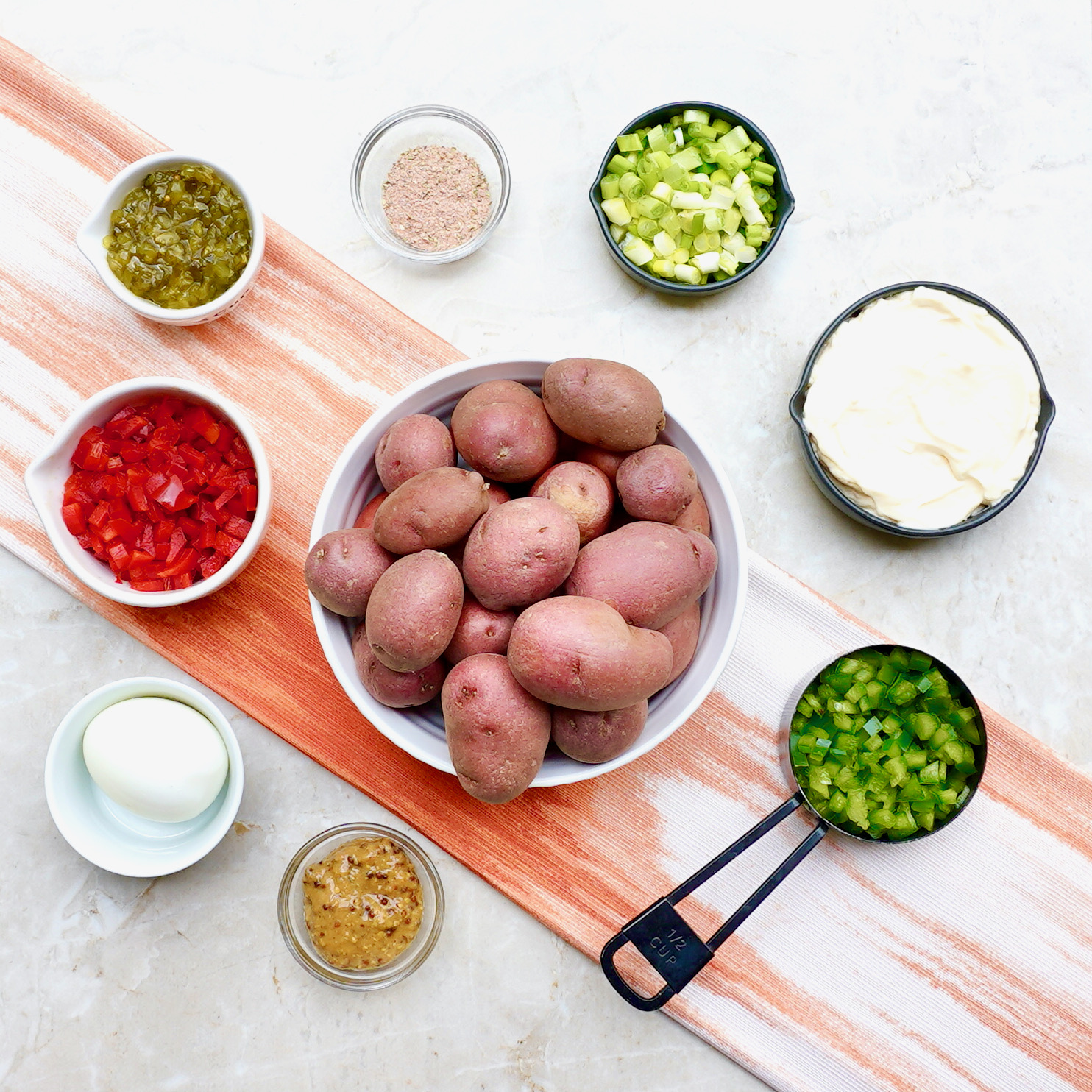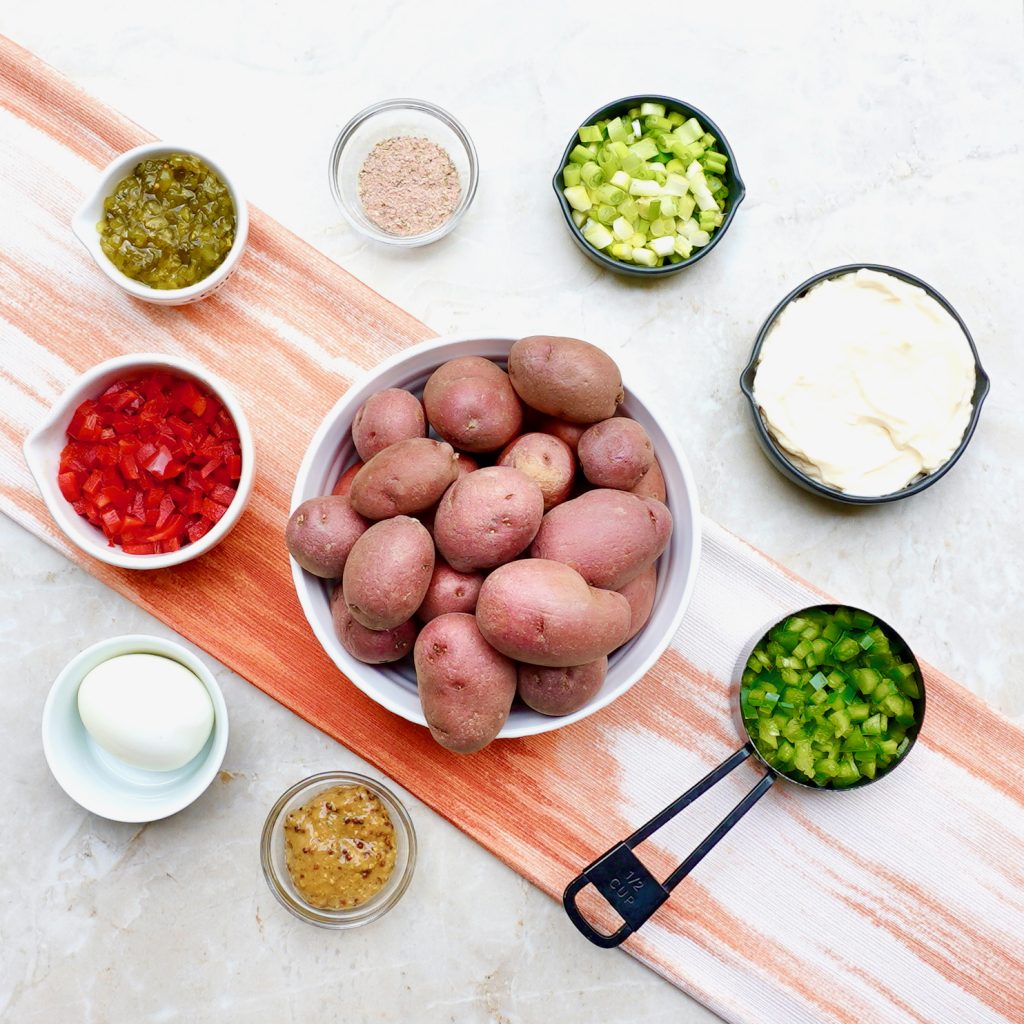 Creamy Cajun Potato Salad Recipe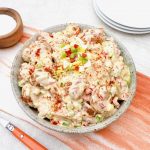 Print This
Ingredients
24 ounces baby red potatoes

1-2 large eggs

½ cup green bell peppers,diced

½ cup red bell pepper, diced

¼ cup green onions, chopped

¼ cup sweet relish

2 tablespoons Creole mustard

2 teaspoons Creole seasoning, or Cajun seasoning

½ cup mayonnaise

Optional garnish: fresh parsley, finely chopped
Instructions
Begin by preparing the baby red potatoes. After washing and scrubbing them thoroughly, cut the larger ones in halves or quarters so they are the same size as the tiny potatoes you will typically find in the bag. That way the small potatoes will not be overcooked in order to cook the larger one.
Next, place them in a large pot and add enough cold water so the potatoes are completely covered. Boil on medium-high heat, until you have tender potatoes, about 15-20 minutes. Drain the potatoes and let them cool for a few minutes until they are at room temperature.
At the same time as you are cooking the potatoes, fill a small saucepan with cold water and bring it to a boil. Once it is boiling, carefully add the eggs and let them boil for 10-12 minutes. It will take that long for the eggs to become hard boiled with both the egg yolk and egg whites fully cooked.
Once the eggs are cooked, drain them and rinse them in cold water to help speed up the cooling process. Once the hard-boiled eggs are cooled, peel them and finely chop them.
While the potatoes are cooling, it's time to make the dressing.
In a medium-sized mixing bowl, combine the diced green and red bell peppers, chopped green onions, sweet relish, Creole mustard, Creole seasoning, and mayonnaise.  Mix it well to ensure all the ingredients are well combined.
Place the cooled potatoes and chopped eggs into a large bowl and pour the dressing over them. Gently toss the potatoes with the dressing, making sure they are evenly coated without breaking them.
Lastly, cover the bowl and refrigerate the potato salad for at least 2 hours. This step is essential, as it allows the flavors to meld together and create an even more delicious dish.
Once your potato salad is well-chilled, it's ready to serve! This unique and flavorful side dish is sure to be a hit at your next gathering. Enjoy!
I hope you enjoy making and sharing this delicious Creamy Cajun Style Potato Salad Recipe with your friends and family. Don't forget to explore the many other tasty recipes on AnotherTablespoon.com for more inspiration. As always, I love to hear your thoughts and suggestions, so please feel free to leave a comment below. Happy cooking!