Lemon Chiffon Cake is a light and airy cake. It is similar to an angel food cake but because the egg yolks are added as well as the egg whites, it has a more crumbly texture and richer taste. It has a nice subtle lemon flavor.
This is a recipe that you really need to read all the way through before you start out. There are a few steps and they need to be done exactly in order to be successful. The eggs are the most important part of the recipe and getting enough air beaten into them will determine the success of the cake. There are links in the instructions for you to see what both the beaten egg yolks and egg whites should look like as well as how to fold the egg whites into the batter.
Cakes made with citrus are bright and flavorful. If this is too much of a challenge, and you prefer an easy to bake cake  Orange Olive Oil Cake, Blood Orange Yogurt Cake, Blueberry Lemon Olive Oil Cake, Blueberry Orange Yogurt Cake, and Lemon Zucchini Cake are some other simple citrus cakes.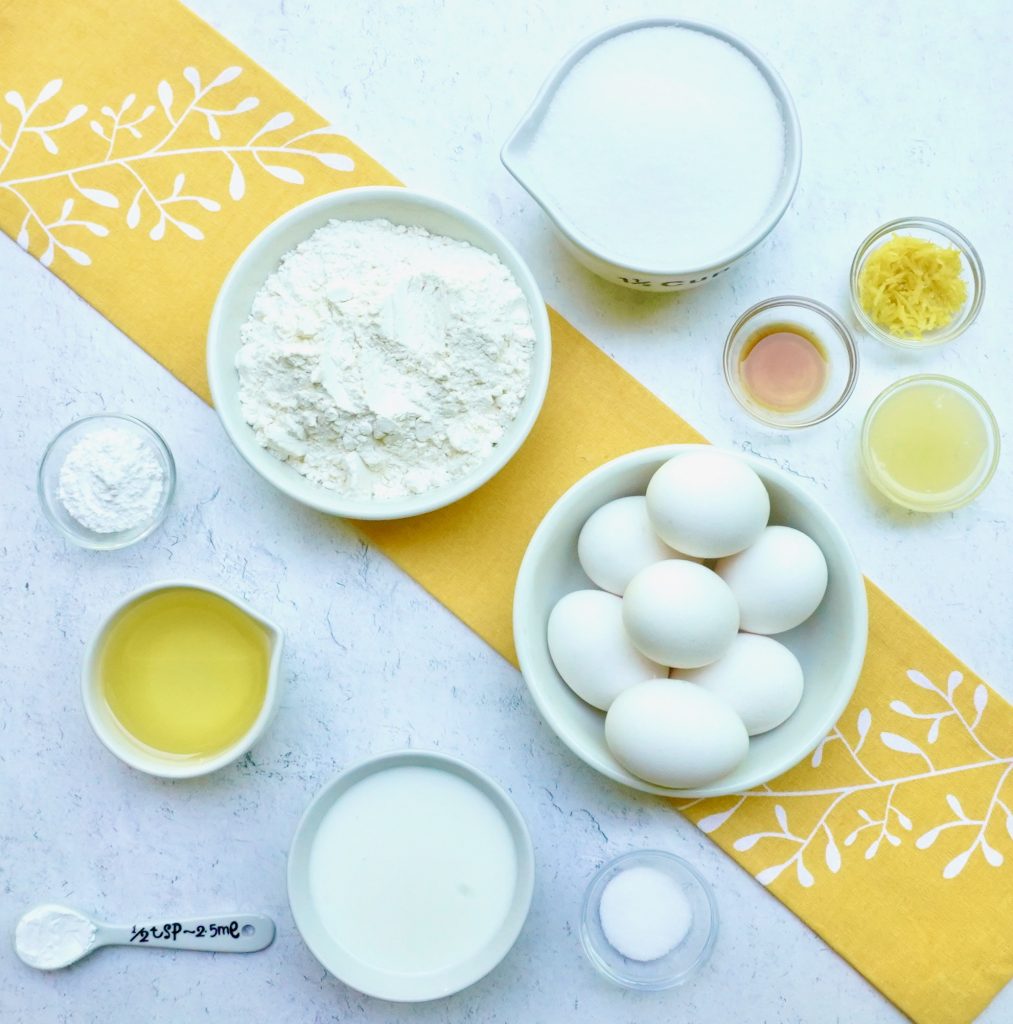 Lemon Chiffon Cake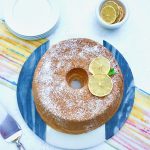 Print This
Ingredients
2 cups all purpose flour

1 ½ cups granulated sugar, divided

3 teaspoons baking powder

1 teaspoon iodized salt

7 large eggs, yolk and whites separated

1 tablespoon lemon zest

2 tablespoons lemon juice

1 teaspoon vanilla extract

½ cup canola oil

¾ cup whole milk

½ teaspoon cream of tartar

¾ cup whole milk
Instructions
Preheat the oven to 350 degrees
Grease and flour an angel cake tube pan.  Read how to grease a cake pan if you have never done it before. Make sure you add the optional flour as it allows you to easily see any spots you may have missed.
In a large bowl, combine the flour,1 cup of the sugar, baking powder and salt. Set aside.
In a large bowl, using an electric mixer, combine the egg yolks with the lemon zest, lemon juice, vanilla extract and canola oil. Beat the mixture on high speed until the egg yolks become thick and a very pale yellow. It is called the ribbon stage.  If you have never done this before you should check out the link.
In a large bowl, combine the egg whites with the remaining ½ cup of sugar and cream of tartar. Beat them on high speed until they become thick and hold a firm peak. If you have never done this before check out the link. 
Add the dry ingredients, alternating with the milk to the egg yolk mixture. Beat together well after each addition.
Fold the egg whites into the batter by hand.
Spoon the batter into the prepared cake pan. You need to leave an inch of space at the top of the pan to prevent over spilling. Each pan is different. If you need to hold back a bit of the batter, you should do that.
Bake for 50 minutes or until the top is set and a toothpick inserted into the cake comes out clean.