Rotelle Ratatouille combines some of summer's best vegetables with pasta to make an easy vegetarian meal or a side dish that would pair well with just about anything you may be grilling.
The vegetables are combined with olive oil, red wine vinegar, tomato paste, crushed red pepper and dried oregano to give them extra flavor.  They are roasted on a sheet pan until they are caramelized and just starting to break down. When stirred into the cooked pasta and combined with parmesan cheese and some reserved pasta cooking water, they create a flavorful sauce. Some fresh basil and parsley added at the end make it bright. It's like summer on a dish. The ingredient photo will help you in selecting the size of the vegetables.
Roasted vegetables are great combination for pasta. Check out Roasted Summer Vegetable Penne, Roasted Eggplant Ziti, and Roasted Cherry Tomato Penne for some other simple meals.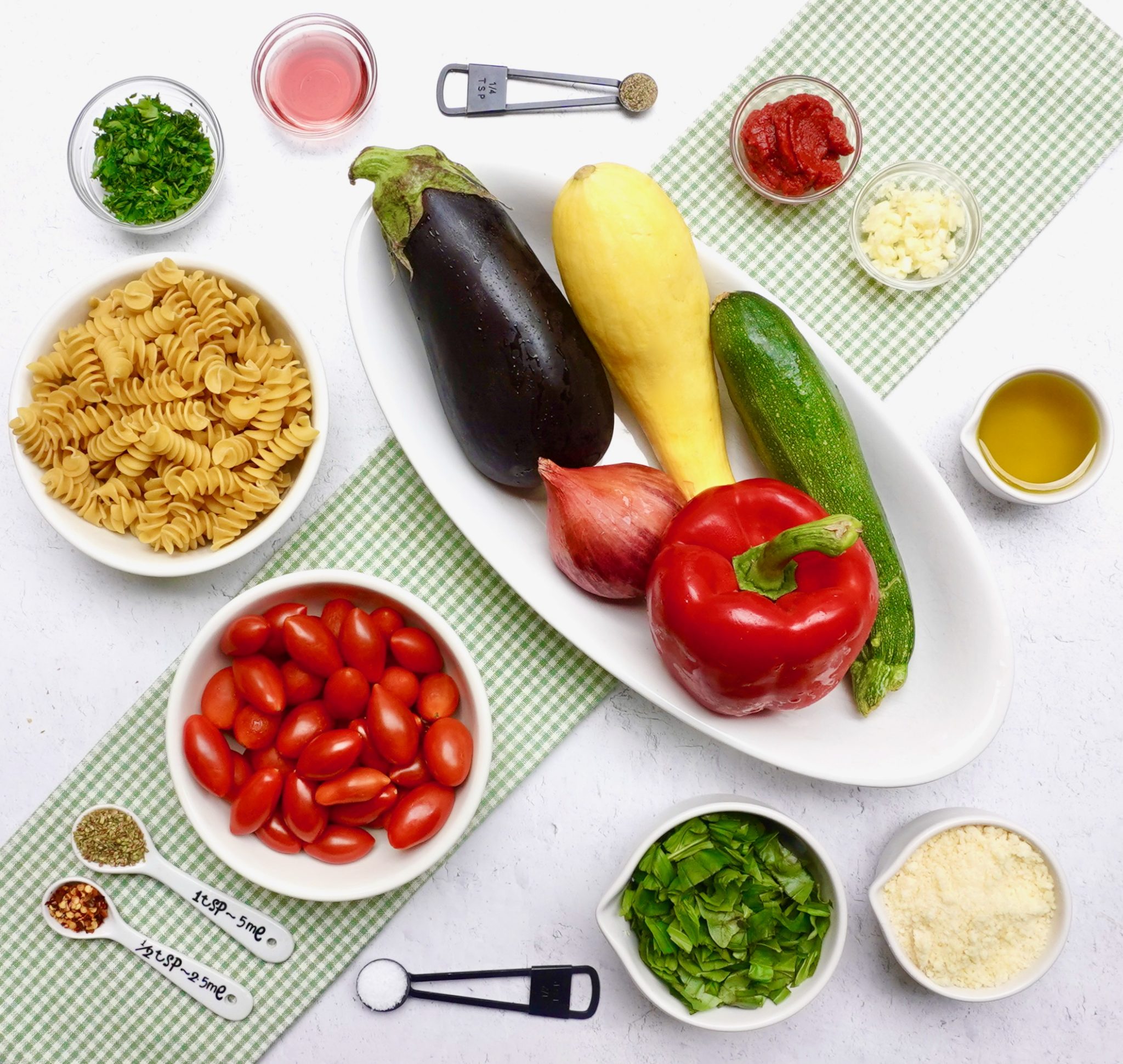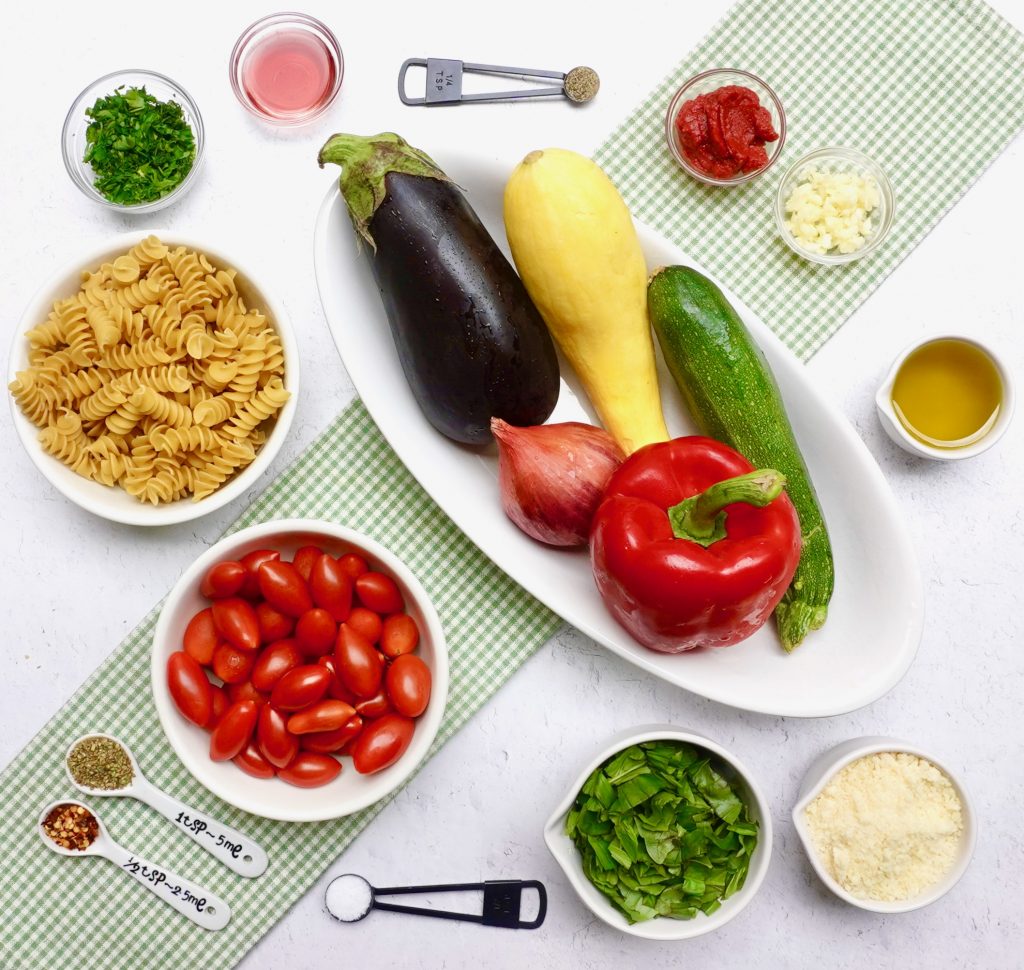 Rotelle Ratatouille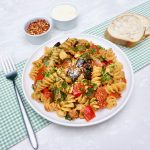 Print This
Ingredients
1 small eggplant, cut into 1 inch cubes

1 small zucchini, cut into 1 inch cubes

1 small yellow squash, cut into 1 inch cubes

1 small red bell pepper, cut into 1 inch cubes

2 cups cherry or grape tomatoes, whole

1 large shallot, diced

2 cloves garlic, minced

¼ olive oil

1 tablespoon red wine vinegar

2 tablespoons tomato paste

1 teaspoon dried oregano

½ teaspoon crushed red pepper

½ teaspoon kosher salt

¼ teaspoon black pepper

8 ounces rotelle pasta, can substitute any short, thick shape

½ cup grated parmesan cheese

½ cup reserved pasta cooking water

1 cup fresh basil leaves, chopped

2 tablespoon fresh parsley, chopped
Instructions
Preheat the oven to 400 degrees.
Line a large sheet pan with foil.
In a large bowl combine the eggplant, zucchini, yellow squash, red bell pepper, tomatoes, shallot and garlic.
In a small bowl, whisk together the olive oil, red wine vinegar, tomato paste, oregano, crushed red pepper, salt and pepper. Pour it over the vegetables and combine well.
Spread the vegetables in a single layer on the sheet pan.
Place the vegetables into the oven and roast for 45 minutes, stirring them after 15 minutes and again at 30 minutes.
When  the vegetables have 20 minutes of roasting time left,  bring a large pot of water to a boil over high heat. Add the rotelle and cook according to the directions on the package for the doneness you prefer.
Make sure to reserve ½ cup of the pasta cooking water. You need it to create the sauce.
Drain the pasta and return it to the pot.
Add the roasted vegetables and combine.
Turn the heat on to medium low. Add the parmesan cheese and reserved pasta cooking water.
Stir until well combined, making sure that everything is heated through.
Stir in the basil and parsley. Serve.