Chicken Abruzzi is a simple, traditional recipe from Italy. It is made with tender bone-in chicken thighs simmered in a delightful tomato and wine sauce that is infused with aromatic herbs and roasted red peppers.
This recipe begins with the searing of the chicken thighs, locking in their juicy tenderness. The garlic and onion follow. Then comes the white wine and the San Marzano tomatoes, which lend their exceptional flavor and texture to the mix. Roasted red peppers bring a delightful smokiness, while Italian seasoning and fresh rosemary tie everything together. As the chicken simmers its juices combine with the simple ingredients of the sauce, creating a flavorful dish.
Chicken Abruzzi is a versatile dish that can be served with a variety of sides. Traditional Italian options include pasta or Creamy Corn Polenta made with burst cherry tomatoes.  The chicken would also go well with risotto. Check out Lemon Asparagus Risotto, Red Pepper Corn Risotto, and Orzo Risotto for some other good side options. Red Pepper Green Beans would also be a good addition.
If you would like to try some other Italian chicken main courses, check out Chicken Marsala, Lemon Chicken Milanese, Sicilian Chicken, Chicken Piccata and Chicken Cacciatore.
SOME THINGS TO KNOW:
INGREDIENT TIPS:
 San Marzano tomato is a variety of plum tomato originating from the Campania region of Italy. It is known for its flavor and quality as a canning tomato. 
Check out Roasted Red Peppers if you want to make your own at home.
SPECIAL EQUIPMENT NEEDED:
Large skillet or dutch oven with a lid.
SUBSTITUTIONS:
You can use bone in chicken breasts in place of the chicken thighs. You could also substitute boneless chicken breasts or boneless chicken thighs.
If you do not have olive oil, canola oil or vegetable oil can be substituted.
If you prefer a non-alcoholic option, substitute the white wine with chicken stock or vegetable broth.
Use fresh red bell peppers if roasted ones are unavailable. Simply roast them yourself by placing them under a broiler or on a gas stove flame until the skin blackens, then peel and chop.
If you prefer some heat, substitute cherry jarred hot peppers for the roasted red peppers. You could also add a bit of crushed chili peppers for some extra heat.
You can make your own Italian seasoning by combining equal parts of dried basil, oregano, thyme, and rosemary. Adjust the ratios to your taste preference.
If fresh rosemary is not available, substitute 1 teaspoon of dried rosemary.
​
HOW TO STORE LEFTOVER CHICKEN ABRUZZI:
You can store the leftover chicken in an airtight container or covered in plastic wrap in the refrigerator. Be sure to cool the dish to room temperature before refrigerating to prevent condensation inside the container. Properly stored, Chicken Abruzzi can be kept in the fridge for up to 3-4 days.
Allow the Chicken Abruzzi to cool completely to room temperature before freezing. Hot food can raise the temperature inside the freezer and affect the quality of other frozen items.Place the chicken into an airtight freezer container, leaving a bit of space at the top to accommodate any expansion during freezing. You can use heavy-duty freezer bags, removing as much air as possible before sealing.
Thaw your frozen Chicken Abruzzi in the refrigerator overnight or for several hours. This gradual thawing helps maintain the texture and flavor.
HOW TO REHEAT LEFTOVER CHICKEN ABRUZZI:
Place the thawed Chicken Abruzzi in a skillet or saucepan over medium-low heat. Gently reheat, stirring occasionally, until it reaches the desired temperature. You may need to add a splash of chicken broth or cold water if the sauce thickened during freezing.
You can reheat individual portions in the microwave. Use a microwave-safe container, cover it loosely to allow steam to escape, and heat in short 1-2 minute intervals, stirring in between, until it's hot throughout.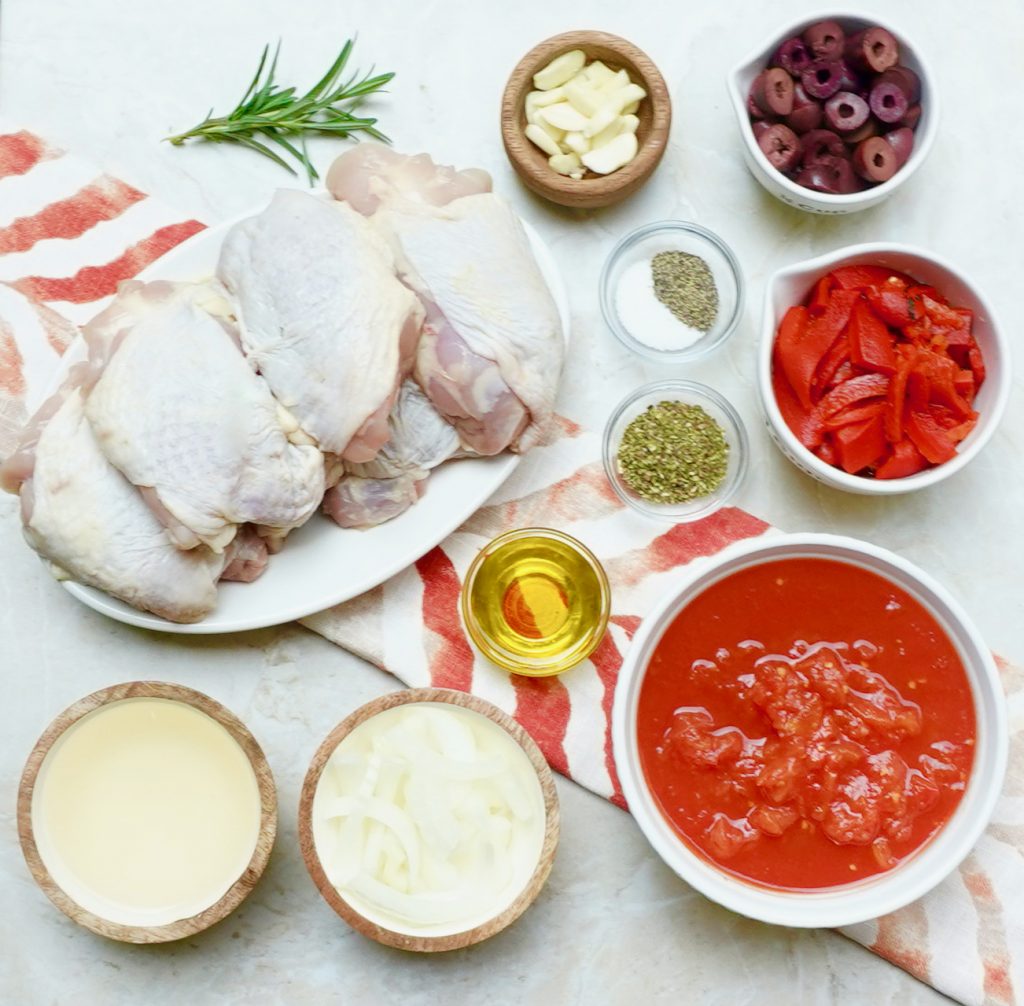 Season the chicken thighs with salt and pepper. Heat the olive oil and brown the chicken thighs. Remove to a plate.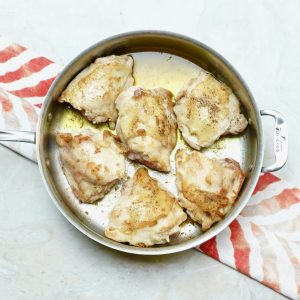 Add the onions and garlic to the pan and cook for 2-3 minutes until they become tender.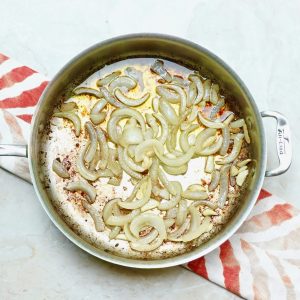 Add the tomatoes, wine, red peppers, Italian seasoning and rosemary. Simmer uncovered for 10 minutes.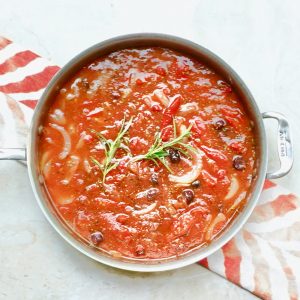 Add the chicken back to the skillet and cook covered for an additional 20 minutes.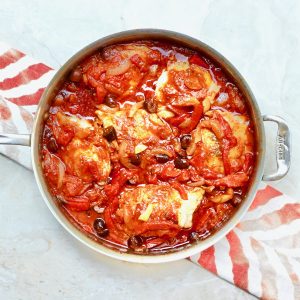 Chicken Abruzzi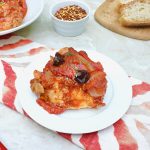 Print This
Ingredients
8 bone-in chicken thighs

Salt and black pepper, to taste

2 tablespoons olive oil

3 cloves garlic, minced

1 cup chopped yellow onion

1 cup dry white wine

1 can (28 ounces) San Marzano tomatoes

1 cup roasted red peppers, chopped

2 teaspoons Italian seasoning

1 tablespoon fresh rosemary, chopped

Optional

1 tablespoon of tomato paste
Instructions
Season the chicken pieces generously with salt and pepper.
In a large skillet or Dutch oven, heat the olive oil over medium heat. Add the chicken thighs with the skin side down in a single layer to the hot oil and sear them until they are browned on both sides, about 3-4 minutes per side. Remove the chicken from the skillet and set it aside.
In the same skillet, add minced garlic cloves and chopped onion. Sauté for about 2 minutes until the onion is translucent and the garlic is fragrant.
Pour in the white wine and bring it to a simmer. Allow it to cook for 2-3 minutes to reduce slightly.
Add the San Marzano tomatoes, crushing them with your hands or a wooden spoon as you add them to the skillet. Stir in the roasted red peppers, Italian seasoning, and fresh rosemary.
Bring the mixture to a boil over medium-high heat. Once it reaches a boil, cook over low heat and let the sauce simmer, uncovered for 10 minutes until thickened. If you want a thicker sauce, added the optional tomato paste.
Return the seared chicken thighs to the skillet, nestling them into the tomato mixture.
Cover the skillet and simmer for about 20-25 minutes, or until the chicken is cooked through. You want the internal temperature of the chicken thighs to reach 165 degrees.
Serve the Chicken Abruzzi hot, garnished with fresh rosemary if desired.
Enjoy this flavorful Italian-inspired dish!