Sun-Dried Tomato Aioli is a flavor-packed sauce that combines the creamy richness of mayonnaise with the intense, tangy sweetness of sun-dried tomatoes, and spices. It would be good as a dip for French fries, vegetables or shell-on shrimp. It would also make a flavorful spread for sandwiches, chicken burgers, grilled meats or crusty bread.
This easy recipe is ready in minutes. There are only 5 ingredients and everything is quickly combined in a food processor.
If you like this luscious sun-dried tomato aioli and you would like to try another flavorful aioli recipe with rich flavor, check out Lime Aioli. You might also like Aioli Grilled Vegetables. This summertime recipe combines summer vegetables that are grilled and served with a garlic aioli sauce. Any one of these aioli recipes would make a good addition to the vegetables.
SOME THINGS TO KNOW:FAQ'S
INGREDIENT TIPS:
Traditional Aioli is a sauce that is basically the same as mayonnaise. It is a Mediterranean sauce made with olive oil combined in a steady stream with egg yolks, lemon juice and garlic. Because raw eggs can sometimes contain Salmonella bacteria, this recipe starts with store bought mayonnaise.
If you are using sun-dried tomatoes that are not packed in oil, begin by rehydrating tomatoes. Place them in a bowl of warm water for about 15-20 minutes until they soften. Once softened, drain any excess water and finely chop the tomatoes. Set aside. Read How to Reconstitute Sun-Dried Tomatoes.
SPECIAL EQUIPMENT NEEDED:
Food processor
Small Bowl
SUBSTITUTIONS:
For a healthier twist, you can substitute Greek yogurt or sour cream for mayonnaise, although the flavor and texture may vary slightly.
If you are not using oil packed sun-dried tomatoes, add a teaspoon of olive oil to the recipe.
If you're out of sundried tomatoes, roasted red peppers can offer a similar sweet and tangy profile.
Fresh basil leaves can be a great substitute for the dried basil if you have them on hand, but use about twice the amount for a more potent flavor
 If you prefer a milder heat, you can omit the red pepper flakes or replace them with a pinch of paprika for color without the spice.
HOW TO STORE LEFTOVER SUN-DRIED TOMATO AIOLI: 
You can store the leftover aioli covered with plastic wrap or in an airtight container in the refrigerator for 2-3 days.
Because the mayonnaise in the recipe can separate and change consistency in the freezer, freezing the aioli is not recommended.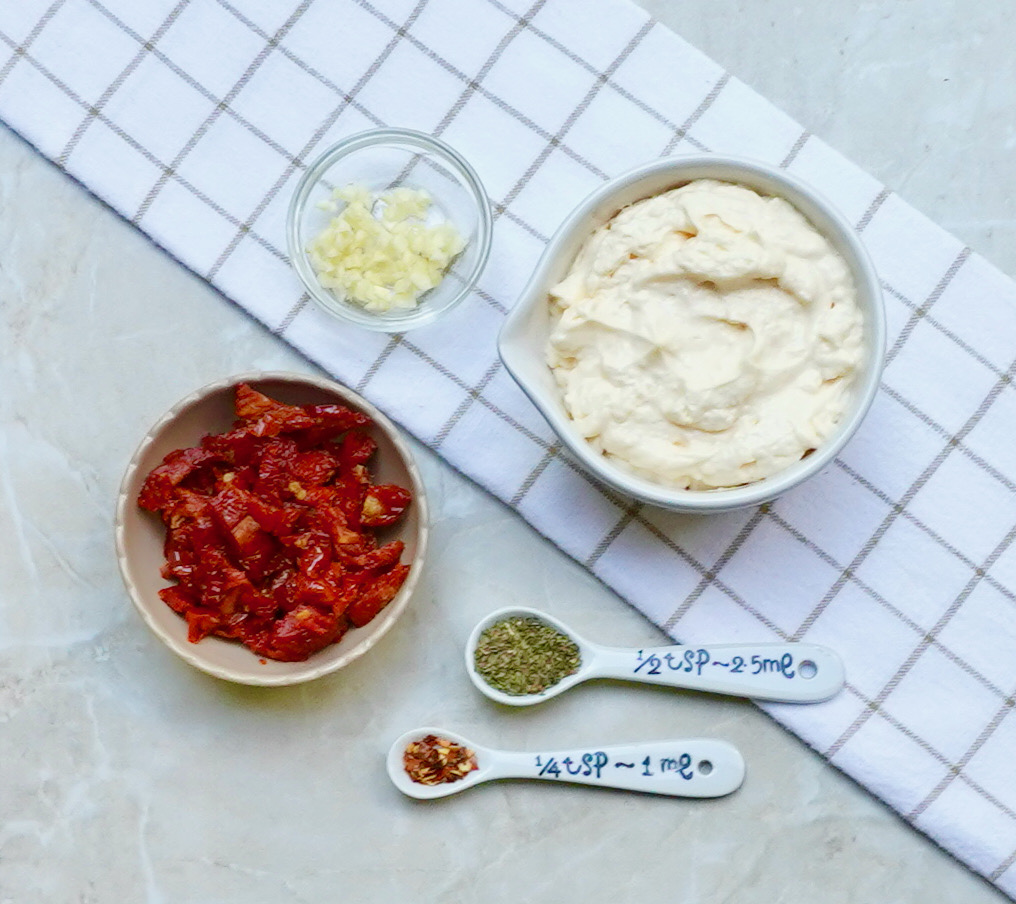 Place all of the ingredients into the bowl of a small food processor.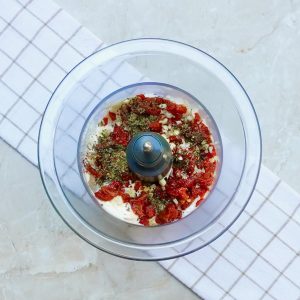 Pulse to combine well, scraping down the sides of the bowl.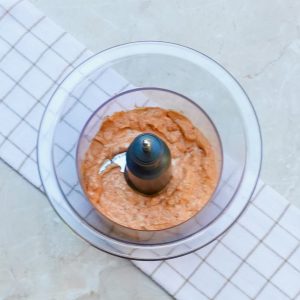 Sun-Dried Tomato Aioli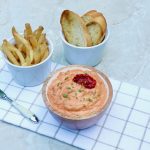 Print This
Ingredients
1 cup mayonnaise
¼ cup oil-packed sun-dried tomatoes
1 garlic clove, chopped
½ teaspoon dried basil
¼ teaspoon red pepper flakes
Instructions
In a food processor, combine the mayonnaise, chopped sun-dried tomatoes, chopped garlic clove, dried basil, and red pepper flakes. Pulse the mixture until it forms a coarse paste. This will infuse the aioli with a robust flavor and vibrant color.
Check the consistency of the aioli. If you prefer a thinner texture, you can add a splash of water or lemon juice and mix until you achieve your desired thickness.
Taste the aioli and adjust the seasoning by adding more dried basil or red pepper flakes according to your personal taste or a pinch of salt if needed.
Place the aioli into a bowl and cover it with plastic wrap or transfer the aioli to an airtight container. Place it in the refrigerator for at least 30 minutes. Chilling allows the flavors to meld together, resulting in a more delicious aioli.
Once chilled, your Sun-Dried Tomato Aioli can be served as a dipping sauce alongside crispy fries, spread it on sandwiches or wraps, or use it as a flavorful accompaniment to grilled meats and veggies. The options are endless!