Chicken Milano is one of those easy recipes that is perfect for a weeknight dinner. There is minimal prep involved and the cooking time is 20 minutes. You can be cooking the pasta at the same time you brown the chicken and make the sauce. You will have it on the dinner table before you know it!
This recipe has a creamy sauce that is made very flavorful with the addition of sun dried tomatoes. It is veggie packed, hearty and comforting. It is an easy dish that everyone will love!
If you like this Chicken Milano recipe, you might want to check out Creamy Sun Dried Tomato Chicken. You might also like Creamy Lemon Chicken and Creamy Mushroom Spinach Chicken. They are all simple quick fix meals that are good for dinner.
SOME THINGS TO KNOW:
SUBSTITUTIONS:
If you prefer dark meat chicken over white meat chicken cutlets, you can use a pound of boneless chicken thighs.
If you do not have sun dried tomatoes, you could roast cherry tomatoes according to the directions in this Roasted Tomato Herb Chicken recipe. You will just need to roast ½ cup of the tomatoes and chop them fine after roasting.
If you do not have grated parmesan cheese, you can use shredded parmesan or fresh grated from a chunk of parmesan cheese. Another cheese that would work is Pecorino cheese which is similar to parmesan but made out of sheep's milk. It has a sharper taste. Romano cheese and Asiago cheese would also be good options.
If you do not have fettuccini pasta, some good substitutes would be linguini, tagliatelle, or pappardelle pasta.
STORAGE:
You can keep any leftovers in the refrigerator in an airtight container for 2-3 days.
Sauces that contain cream can separate when frozen. It is not recommended that you freeze the leftovers.
To reheat the pasta, place any leftovers into a large saucepan and heat it over low heat, stirring occasionally until it hot. The pasta may have absorbed some of the sauce and you may want to add a small amount of chicken broth or cream while reheating. You could also save some of your pasta cooking water for this purpose.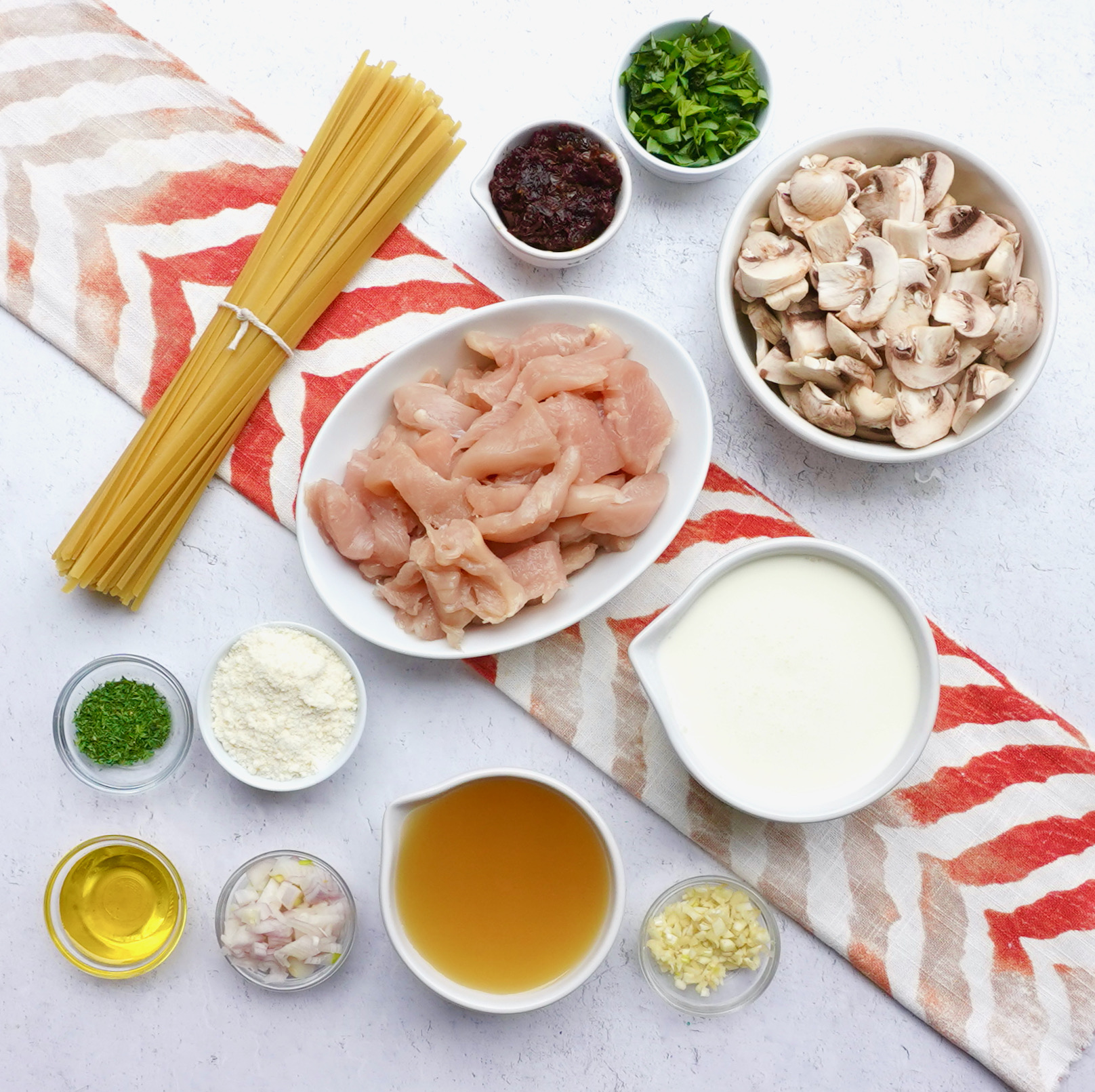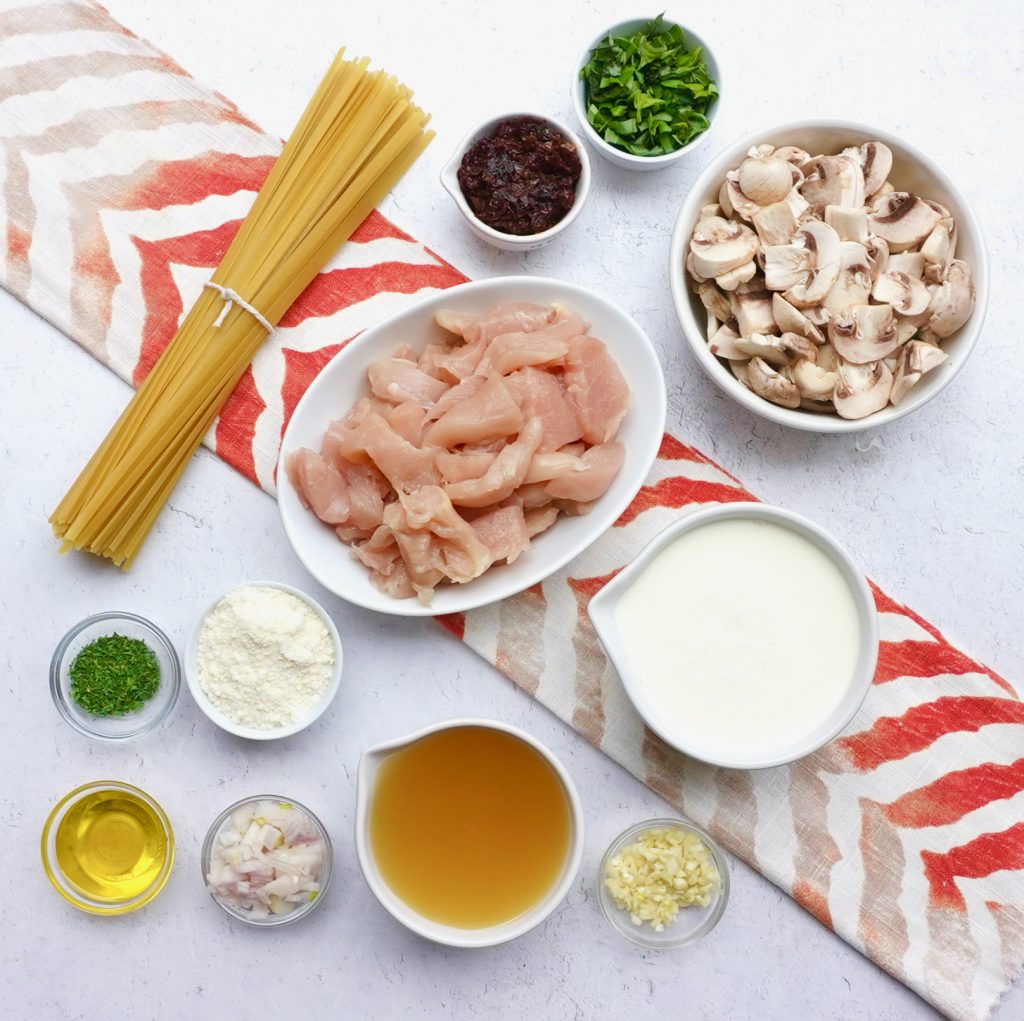 Chicken Milano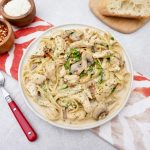 Print This
Ingredients
2 tablespoons olive oil

1 pound boneless skinless chicken breasts, cut into 1 inch by ½ inch strips

8 ounces white mushrooms, cleaned and sliced

¼ cup sun-dried tomatoes, chopped fine

1 small shallot, minced

2 cloves garlic, minced

1 cup chicken broth

1 cup heavy cream

¼ cup grated parmesan cheese

2 tablespoons fresh basil, finely chopped

8 ounces fettuccini pasta
Instructions
Fill a large pot with water and place it on the stove over medium high-heat to bring it to a boil. You will be cooking the pasta at the same time you are making the cream sauce. Once the water comes to a boil, add the pasta to the pot and cook it according to the package directions for al dente tenderness.  This should take between 8-10 minutes. Drain the pasta and set it aside.
Heat the olive in a large skillet over medium heat.
When you have warm oil, place the chicken strips into the skillet in a single layer so you will be able to brown them on the first side. Let the chicken cook on the first side for three minutes.
Turn the chicken pieces over to the other side. Saute chicken on the second side for 2 minutes.
Remove the cooked chicken from the skillet with a slotted spatula to a plate or shallow dish.
Add the mushrooms to the skillet and cook them over medium low heat. If you do not have a lot of pan juices to cook them in, add another tablespoon of olive oil or melt butter in the amount of 1 tablespoon in the pan to cook them.Cook the mushrooms, stirring occasionally for 4-5 minutes until they have released their liquids.
Add the sun dried  tomatoes, shallots and garlic to the mushrooms in the skillet and let them cook, stirring occasionally for 2 minutes.
Add the chicken broth and heavy cream to the skillet. Bring it to a boil over medium high heat.
Lower the heat to medium low and stir in the parmesan cheese. Let it simmer for 5 minutes until the sauce thickens. You want it to be thick enough so that it clings to the back of a spoon.
Add the basil to the pan. Stir it into the sauce.
Return the chicken to the skillet and add the drained pasta. Combine well.
Let the mixture heat through for 2-3 minutes before serving.