Baked Brie With Honey and Dried Cranberries is a perfect easy appetizer for the holiday season. The star is the melted, slightly sweetened brie cheese that you can serve with baguette slices, fruits, or crackers. The cranberry mixture on the top of the cheese makes it seasonal and flavorful.
This is one of the easiest appetizers you could make for entertaining. With just a few simple ingredients and 10 minutes in the oven, you can create something wonderful.
Baked Brie with Honey and Dried Cranberries is a perfect appetizer recipe for Thanksgiving as well. It is quick, colorful and delicious and it looks pretty as part of a cheese platter.
Cranberry Brie Pull Apart Bread is another easy elegant appetizer to make this time of year for a holiday party.  It is made with fresh cranberries and melty cheese in a golden brown bread. Adding some fresh thyme or fresh rosemary sprigs as a garnish makes it pretty and festive for a Christmas party.
If you would like to see some more easy cheese appetizer recipes, check out Sun Dried Tomato Baked Ricotta and Dubliner Cheese Dip. If you would like to try another brie appetizer check out Brie Fondue.
If you would like to try some other holiday recipes check out Cranberry Chili Glazed Meatballs and Wreath Cheese Spread.
SOME THINGS TO KNOW:FAQ'S
INGREDIENT TIPS:
Choose a high quality Brie for the best flavor and texture. Look for one that feels soft to the touch, indicating it will melt well.  Check out Tips and Tricks for Choosing Your Brie Wisely.
Make sure that the dried cranberries are plump and moist. You can even soak them in a bit of orange juice or a sweet liqueur for an extra flavor.
 Brie is best served warm, but not too hot. Letting it sit for a few minutes after baking will make it easier to slice without being too runny.
SPECIAL EQUIPMENT NEEDED:
Baking Sheet: To bake the Brie. If you don't have a baking sheet, any oven-safe dish or pan will do.
Parchment Paper: This is optional, but it helps prevent the cheese from sticking and makes cleanup easier. You can also use aluminum foil.
Spatula or Pie Server: To transfer the baked Brie from the baking sheet to a serving dish without breaking it.
Serving Platter or Cheese Board: To serve the baked brie along with the sliced apples, grapes, and a baguette or crackers.
SUBSTITUTIONS:
 If you can't find Brie at your grocery stores, Camembert is a great substitute. They are both soft cheeses with a similar creamy texture and rich flavor.
If you are out of honey or prefer not to use it, maple syrup is a good alternative.
 If dried cranberries are not available another dried fruit can be substituted. Dried cherries, raisins, or chopped dried apricots can be used. These fruits will provide a similar texture and sweet flavor.
Green grapes, black grapes, or even a mix can be used instead of the red grapes.
HOW TO STORE BAKED BRIE WITH HONEY AND DRIED CRANBERRIES:
To store the brie in the refrigerator make sure that it has cooled down to room temperature. Place the brie into an airtight container or wrap it tightly in plastic wrap or aluminum foil. It can be kept in the refrigerator for a few days.
Brie can be frozen, although it is not usually recommended because the texture can change. If you choose to freeze it wrap the Brie tightly in plastic wrap and then place it in a freezer bag or an airtight container.
HOW TO REHEAT BAKED BRIE WITH HONEY AND DRIED CRANBERRIES:
To reheat the brie in the oven, preheat your oven to a low temperature, around 275°F (135°C). Place the Brie on a rimmed baking sheet into the preheated oven and warm it just until it is heated through, which should take about 10-15 minutes.
To reheat the brie in the microwave, place the Brie on a microwave-safe dish and heat it on a low setting in short intervals (15-20 seconds), checking regularly to make sure that it doesn't overheat or become too runny.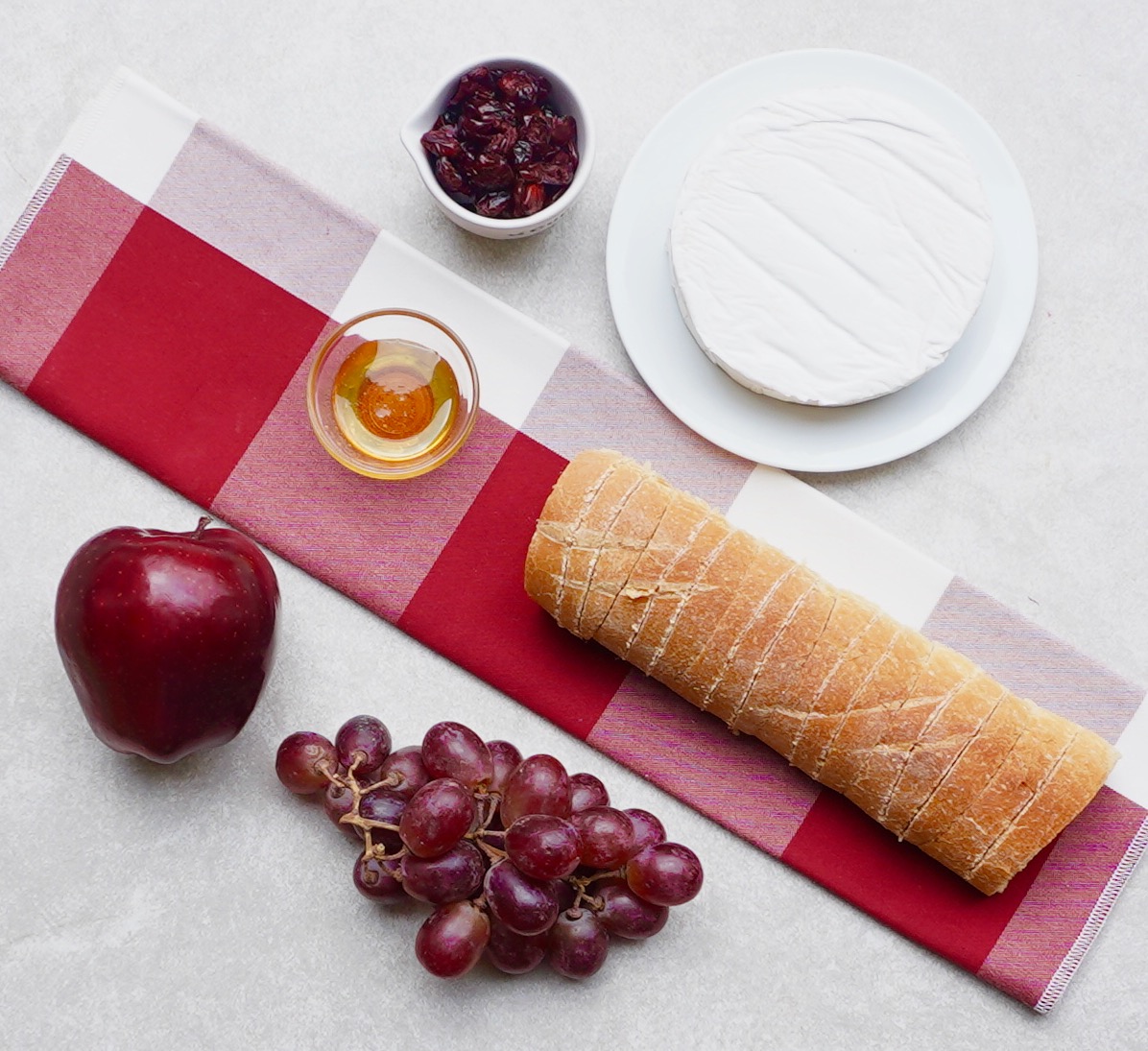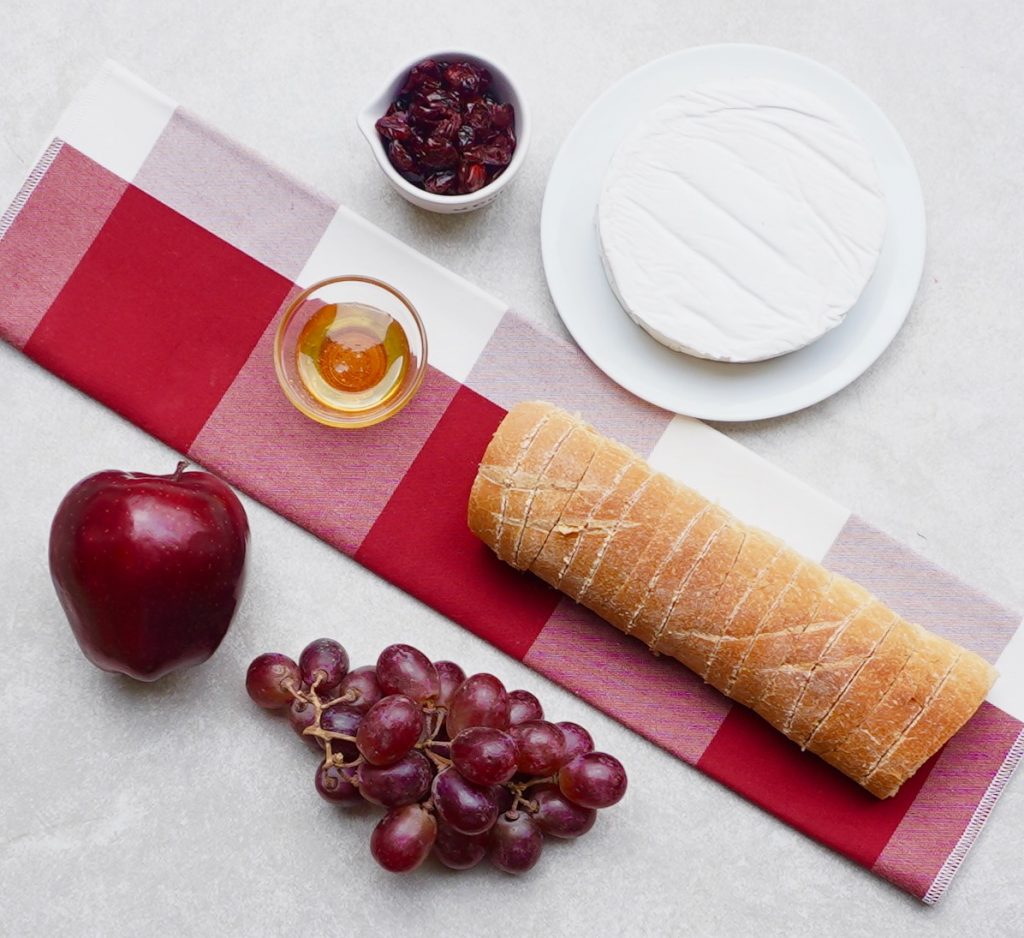 Baked Brie With Honey and Dried Cranberries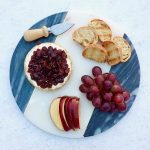 Print This
Ingredients
1 - 8 ounce round wheel of brie

2 tablespoons honey

1/4 cup dried cranberries

1 Red Delicious apple

one cluster red grapes

baguette or crackers for serving
Instructions
Preheat oven to 350 degrees
Remove the top of the rind on your brie. This can easily be scraped off by using a vegetable peeler.
Place brie on a baking sheet or oven proof dish.  Spread the dried cranberries on the top of the brie and drizzle with the honey.
Bake for 10 minutes until the cheese is softened but not oozing.
While the cheese is baking, slice the baguette and toast if desired. Arrange the slices on your serving platter.
Add a cluster of grapes to the platter and just before the cheese comes out of the oven, slice the apples and arrange on the platter.  A squeeze of lemon juice over the apples helps to slow the browning process. The apples should be the last thing added to the platter as they tend to brown after slicing.
Check the cheese at 10 minutes and make sure it is soft and warm. Add a few more minutes of baking time if needed.
Remove the brie to the board and drizzle with a bit more honey if desired.
Serve the brie with fresh fruit like grapes and apples and some sliced bread or crackers to hold the melted cheese.