Whole Wheat Pasta Salad is a good combination of Mediterranean flavors. It is made with whole wheat fusilli pasta, fresh veggies, Kalamata olives, and feta cheese. It is tossed in a tangy vinaigrette made with extra virgin olive oil, red wine vinegar, and Dijon mustard. This pasta salad is as flavorful as it is colorful. Whether you're hosting a picnic, a potluck, or just looking for a healthy lunch, this side dish recipe is for you! This is a great pasta salad for a summer cookout because it is not made with mayonnaise and can tolerate the heat without spoiling.
You can make this delicious pasta salad a day in advance. The fresh ingredients will be even more flavorful the next day.
This healthy pasta salad is made with whole wheat pasta which has a slightly nutty taste and a bit coarser texture. You can substitute whole wheat pasta in any pasta salad to make it healthier. If you want to try it in a Greek pasta salad, check out Mediterranean Pasta Salad. It would also be good in this Italian pasta salad. Check out, Italian Tuna Pasta Salad.
Vegetable Ranch Pasta Salad and Southwest Pasta Salad would also benefit with the addition of the whole grain pasta. You can really make any pasta salad into a healthier whole wheat pasta salad.
SOME THINGS TO KNOW:FAQ'S
WHY USE WHOLE WHEAT PASTA?:
Whole wheat pasta is made with whole grain flour. The entire grain kernel of the wheat is preserved in its milling process . When flour is processed to make regular pasta, the bran and germ are stripped away. Whole grains are known for their health-promoting properties, such as improved heart health, blood sugar control and weight management. They contain fiber, antioxidants, protein, healthy fats and vitamins B and E. To read more, check out, 9 Health Benefits of Eating Whole Grains.
SPECIAL EQUIPMENT NEEDED:
Large pot to cook the pasta.
Large bowl, small bowl
Whisk
SUBSTITUTIONS:
You can use any type of pasta you have on hand. Regular fusilli, penne, or Farfalle would all work well.
 If you don't have Kalamata olives, you can use black or green olives.
If you're not a fan of tangy feta cheese, you can use goat cheese or mozzarella pearls.
If you don't have extra virgin olive oil, you can use regular olive oil or any other neutral-tasting oil.
If you don't have red wine vinegar, you can use white wine vinegar, balsamic vinegar or apple cider vinegar. You could also use lemon juice.
You can substitute any kind of bell peppers for the red peppers in the recipe.
If you do not have red onion, you can use yellow onion or green onions.
HOW TO STORE LEFTOVER WHOLE WHEAT PASTA SALAD:
You can keep any leftover pasta salad in the refrigerator in an airtight container for up to 3 days.
Freezing is not recommended. The texture of the fresh uncooked vegetables in the recipe will change if frozen.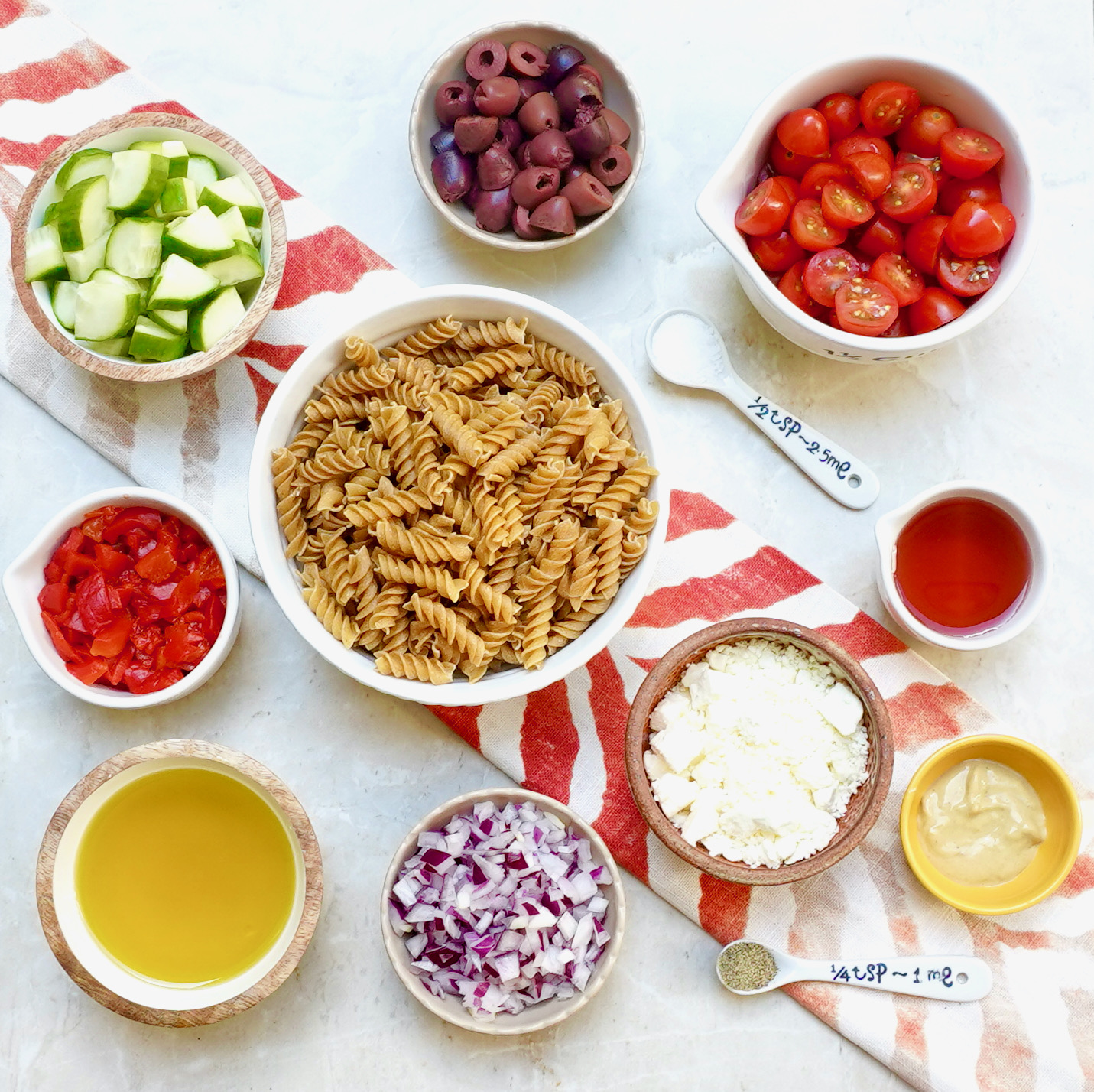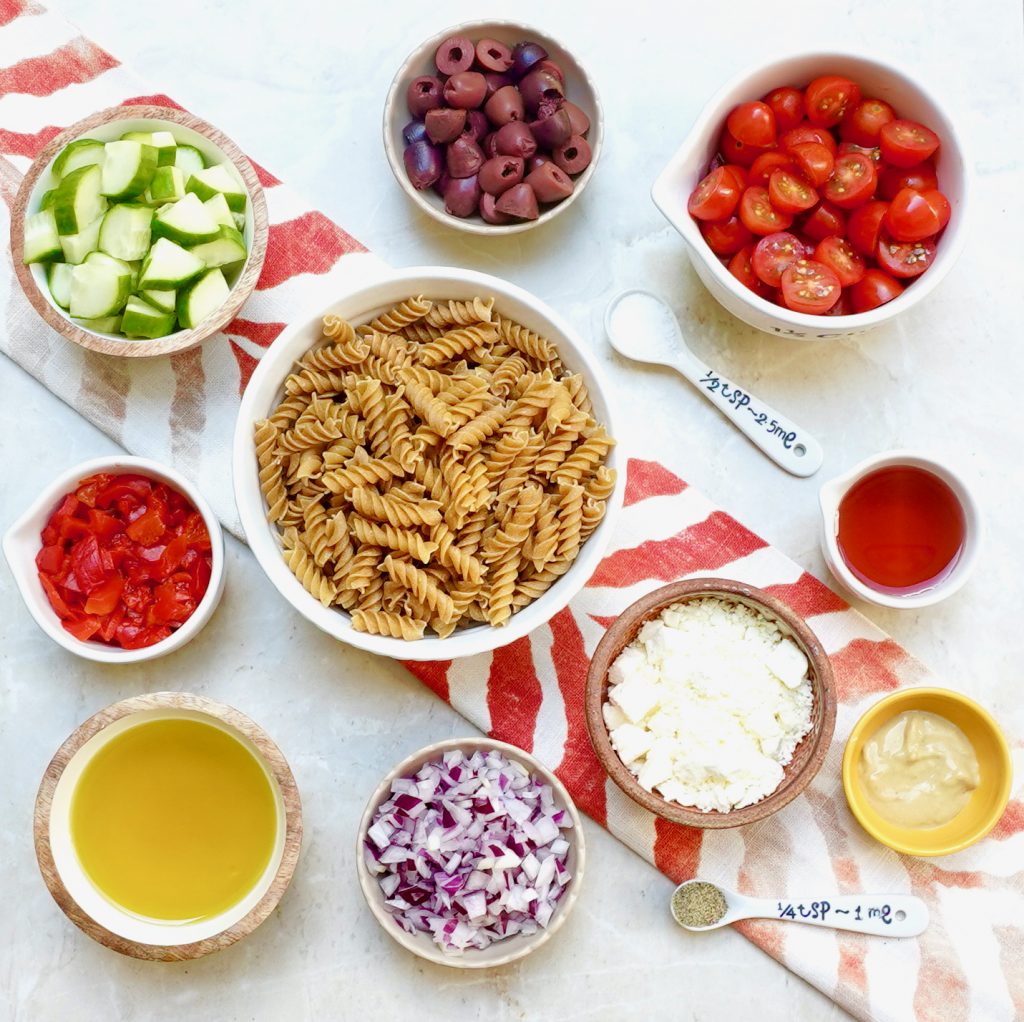 Cook the fusilli pasta, drain the pasta and rinse with cold water to stop the cooking process.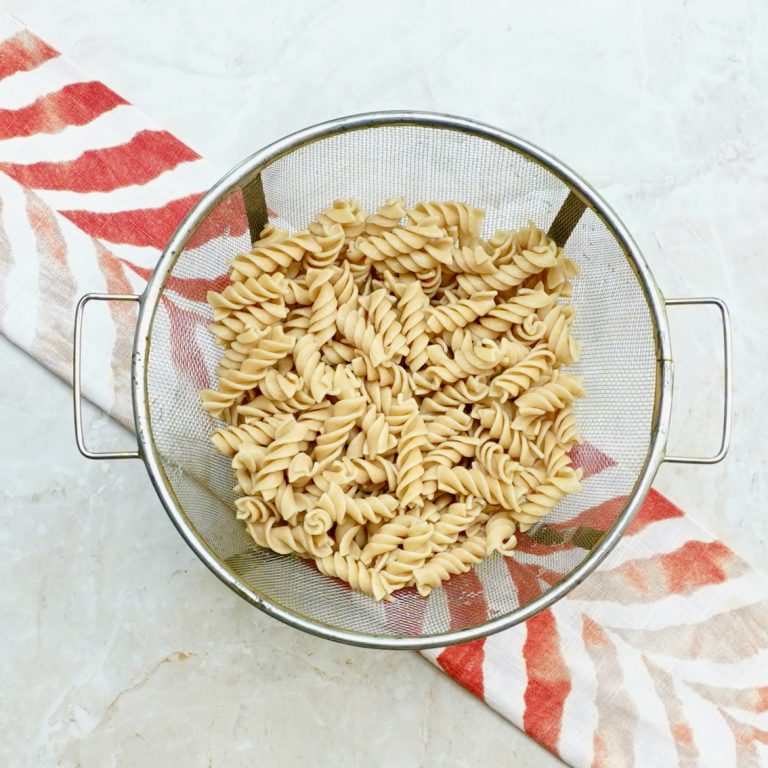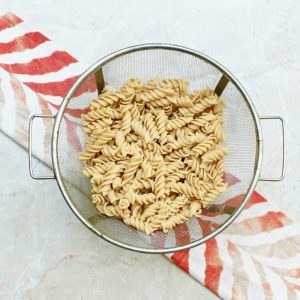 Add the fusilli, tomatoes, cucumber, red onion, olives, red peppers, and feta cheese into a large bowl.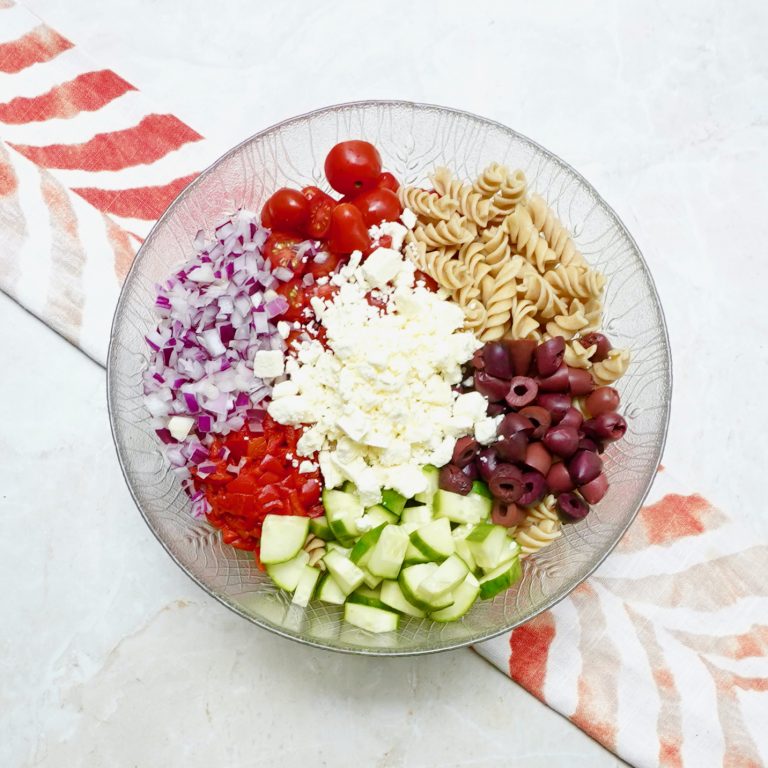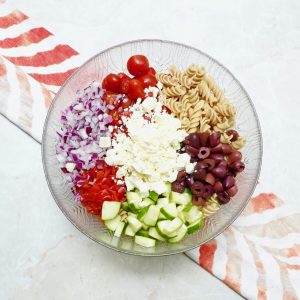 Combine the olive oil, red wine vinegar, dijon mustard, salt and pepper in a small bowl.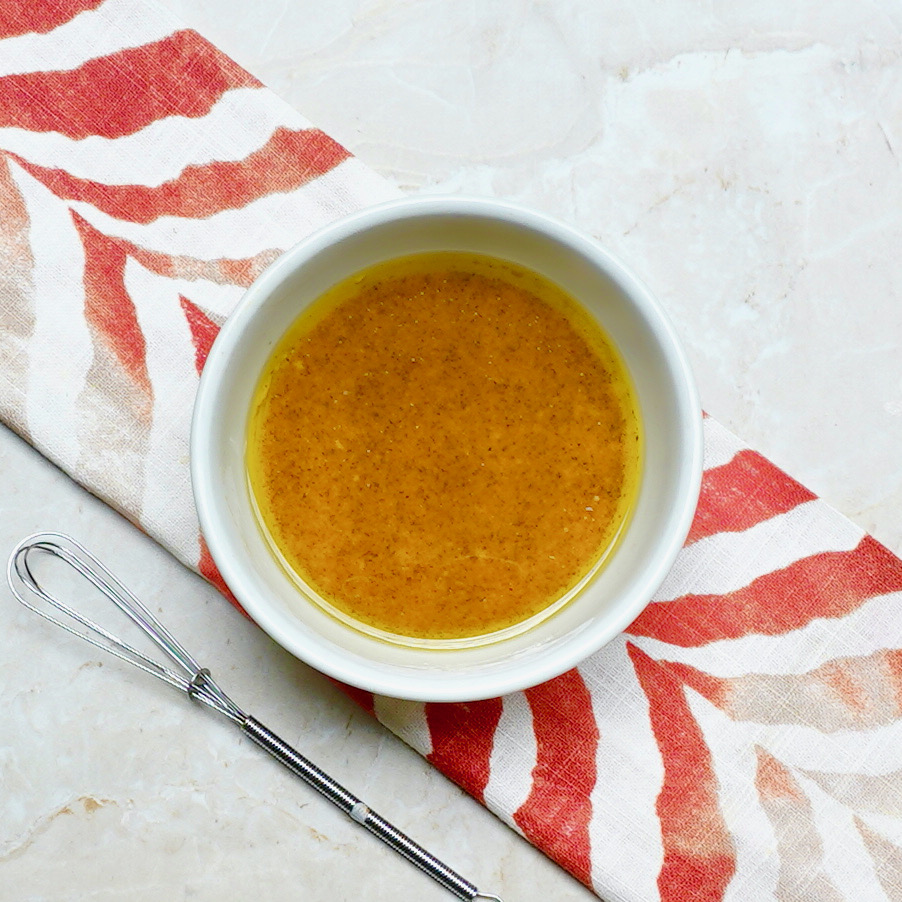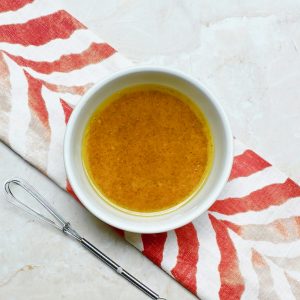 Pour the dressing over the pasta and vegetables and combine well.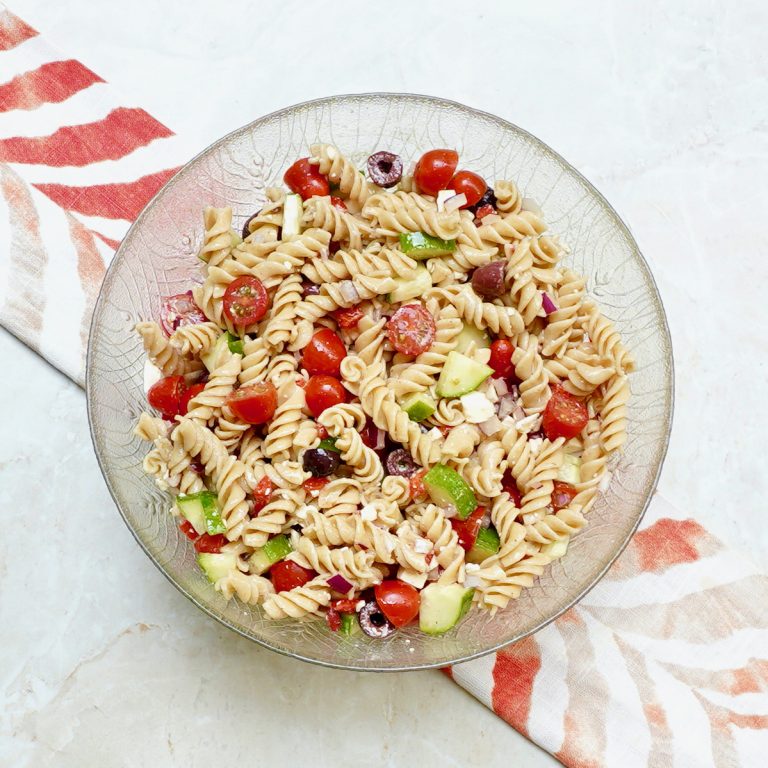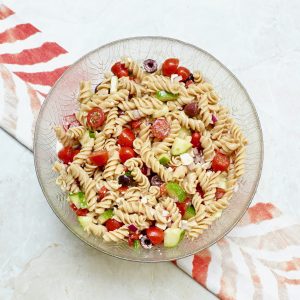 Whole Wheat Pasta Salad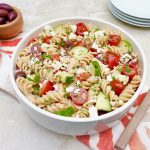 Print This
Ingredients
8 ounces whole wheat fusilli pasta

1½ cups cherry tomatoes, halved

1 cup English cucumber, diced

½ cup red onions, minced

½ cup Kalamata olives, halved

½ cup roasted red peppers, chopped

½ cup feta cheese, crumbled

½ cup extra virgin olive oil

¼ cup red wine vinegar

2 teaspoons Dijon mustard

½ teaspoon kosher salt

¼ black pepper

Optional garnish:

2 tablespoons fresh parsley, chopped or fresh herbs of your choice
Instructions
Bring a large pot of salted water to a boil over medium- high heat.
Cook the whole wheat fusilli pasta according to the package instructions for the firmness that you prefer. The cook time will be about 8 minutes for al dente pasta to 10 minutes for tender pasta.
While the pasta cooks, chop the fresh vegetables.
When the pasta is done cooking, drain and rinse it under cold water to stop the cooking process and cool the pasta to room temperature.
In a large mixing bowl, combine the cooked pasta, cherry tomatoes, cucumber, red onions, Kalamata olives, roasted red peppers, and feta cheese.
In a separate small bowl, whisk together the extra virgin olive oil, red wine vinegar, Dijon mustard, salt and pepper to make the vinaigrette.
Pour the vinaigrette over the pasta salad and toss until everything is well coated.
Add the parsley as a garnish if you are using it.
Chill the salad in the refrigerator for at least an hour before serving to allow the flavors to meld together.
Serve and enjoy!